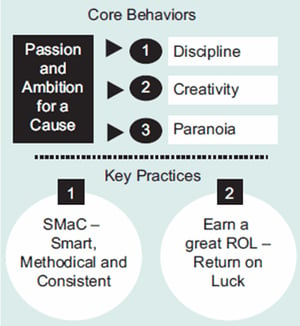 How do you achieve success in a rapidly changing industry and economic environment?
Last Thursday I meet with a fast-growing international company to help them define their SMaC recipe.
We started the meeting reviewing their Flywheel, and Hedgehog Concept.
Immediately following my short presentation of examples and reasons for having a SMaC recipe the first question from one of their leaders, David, was, "With all the changes going on, and the significant change in just the last 6 months due to COVID, is it really possible for us to come up with an enduring SMaC recipe? It this even relevant in today's environment?"
The leadership team of seven concluded despite this frequent, and constant disruption, many of their business practices should remain specific, methodical, and consistent.
In fact, this is the irony SMaC reveals about successful companies. Most everyone acknowledges how difficult it is to accomplish change.
Yet in Great by Choice their research discovered poor performing companies change frequently, while great companies change less often. In fact, the comparison company's in Good to Great change much more, at a scale of 4 to 1.
Great by Choice is not from a long-ago era. It was published October 11, 2011, just ten years after Good to Great.
The question Great by Choice asked is, "Why do some companies thrive in uncertainty, even chaos, and others do not?"
The surprising answer: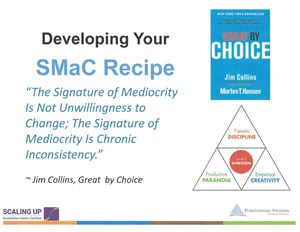 "The Signature of Mediocrity Is Not Unwillingness to Change; The Signature of Mediocrity Is Chronic Inconsistency."
Change is much more frequent, more disruptive today.
Collins concluded the more uncertain, fast-changing, and unforgiving your environment the more SMaC you need to be. A SMaC recipe reflects empirical validation and insight about what actually works and why.
Far more difficult than implementing change is figuring out what works, understanding why it works, grasping when to change, and know when not to. In Great by Choice Collins indicates they anticipated innovation might be a primary distinguishing factor for the 10X success in unstable environments characterized by rapid change.
3 Core Behaviors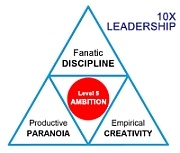 The supreme difference between the company's in Great by Choice who were 10Xers and those that failed were 3 Core Behaviors identified as
Fanatic Discipline is not the same as regimentation, measurement, obedience to authority, adherence to social stricture, or compliance with bureaucratic rules. True discipline requires mental independence, and an ability to remain consistent in the face of herd instinct and social pressures. Fanatic discipline often means being a nonconformist.
Empirical Creativity gives 10Xers a level of confidence that, to outsiders, can look like foolhardy boldness; in fact, empirical validation allows them to simultaneously make bold moves and bound their risk. Being empirical doesn't mean being indecisive. 10Xers don't favor analysis over action; they favor empiricism as the foundation for decisive action.
Productive Paranoia enables creative action. By presuming worst-case scenarios and preparing for them, 10Xers minimize the chances that a disruptive event or huge piece of bad luck will stop them from their creative work.
Fanatic discipline keeps 10X enterprises on track, empirical creativity keeps them vibrant, productive paranoia keeps them alive, and Level 5 ambition provides inspired motivation.
One of my coaching customers had the prescient paranoia and empirical creativity to develop a new service for their business 2 years ago in their annual planning meeting. This new service will provide $2 Million in new business this year.
It's the same creativity and paranoia Intel displayed in 1985 when they moved their focus from memory chips to microprocessors, a product they'd been working on for years.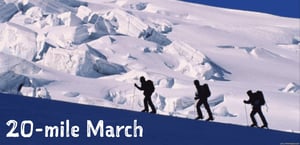 3 Fundamental Practices
These 3 Core Behaviors translated into three Fundamental Practices they all followed to achieve 10X the results of the comparison company's Collins team studied.
20 Mile March - The 20 Mile March is more than a philosophy. It's about having concrete, clear, intelligent, and rigorously pursued performance mechanisms that keep you on track. The 20 Mile March creates two types of self-imposed discomfort: (1) the discomfort of unwavering commitment to high performance in difficult conditions, and (2) the discomfort of holding back in good conditions.
Fire Bullets Than Cannonballs - A bullet is a low-cost, low-risk, and low-distraction test or experiment. 10Xers use bullets to empirically validate what will actually work. Based on that empirical validation, they then concentrate their resources to fire a cannonball, enabling large returns from concentrated bets.
SMaC Recipe - A SMaC Recipe is a set of durable operating practices that create a replicable and consistent success formula. The word "SMaC" stands for Specific, Methodical and Consistent. The clarity and specificity of a SMaC recipe helps people keep their bearings and sustain high performance when in extreme conditions.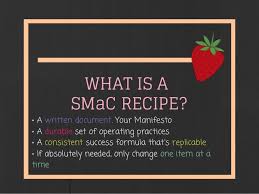 On Thursday, we invested 4 hours exploring what my customer's SMaC recipe might be focusing on 5 questions:
Make a list of Success your enterprise has achieved:
Make a list of Disappointments your enterprise has experienced:
What specific practices correlate with the successes but not the disappointments?
What specific practices correlate with the disappointments but not the successes?
Which of these practices can last perhaps ten to thirty years and apply across a wide range of circumstances?
The team arrived at nearly 20 different possibilities. They'll meet again to discuss and determine which are and have been the key recipe for success they need to adhere to guarantee future success.
Does your business understand why you have been successful? Is it time to develop your SMaC recipe and understand the Habits/Practices of your business success? Contact us today to schedule a free exploratory meeting.
Growth demands Strategic Discipline.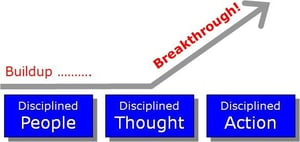 To build an enduring great organization, requires disciplined people, disciplined thought, disciplined action, to produce superior results, and make a distinctive impact in the world.
Discipline sustains momentum, over a long period of time, laying the foundations for lasting endurance.
A winning habit starts with 3 Strategic Disciplines: Priority, Metrics and Meeting Rhythms.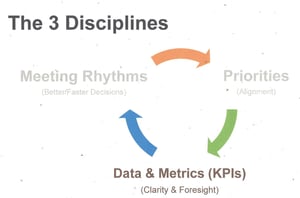 Forecasting, accountability, individual, and team performance improve dramatically.
Meeting Rhythms achieve a disciplined focus on performance metrics to drive growth.
Let Positioning Systems help your business achieve these outcomes on the Four most Important Decisions your business faces:
DECISION

RESULT/OUTCOME

PEOPLE

STRATEGY

EXECUTION

CASH
Positioning Systems helps mid-sized ($5M - $250M) business Scale-UP. We align your business to focus on Your One Thing! Contact dwick@positioningsystems.com to Scale Up your business! Take our Four Decisions Needs Assessment to discover how your business measures against other Scaled Up companies. We'll contact you.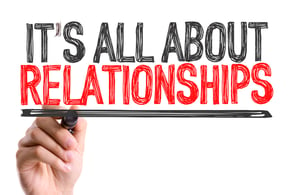 NEXT BLOG – Working Relationships
Relationships work best when your partner challenges you. In business the best leadership teams should too! Next blog why.