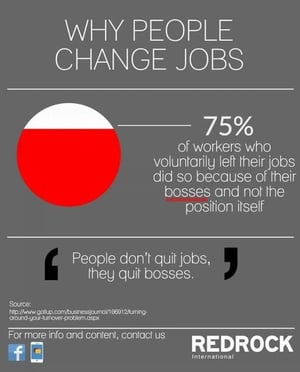 As a leader and/or manager, how responsible are you?
Two weeks ago, serving as Toastmasters for my local Toastmasters club I acted irresponsible.
On Sunday of that week I discovered I was assigned to be the Club's Toastmaster for the day. The theme for the day was "Time Capsules."
Time Capsules didn't excite me! I did some research in preparation for the meeting.
Wikipedia disclosed, "most intentional time capsules usually do not provide much useful historical information: they are typically filled with "useless junk", new and pristine in condition, that tells little about the people of the time."
My curiosity increased; excitement diminished!
The first "modern" time capsule is reputed to have been the Crypt of Civilization (1936) at Oglethorpe University in Russia. It is intended to be opened in 8113. During the socialist period in the USSR, many time capsules were buried with messages to a future communist society.
My lack of enthusiasm diminished!
There are several other reasons my enthusiasm failed to build for being Toastmaster that day, none of which excuse me from my failure to deliver a performance worthy of having been selected.
The reality is I neglected my responsibility to prepare and deliver a meaningful Toastmaster performance, up to my typical standards.
I apologized to our Director of Toastmaster Meetings and should to those who attended.
Leadership Responsibility
Many leaders and managers fail to accept their responsibility for the performance of their teams.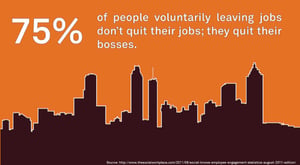 Fifty percent of employees indicate they left their jobs because of their managers, and 70% reported managers are responsible for how engaged they feel at work.
People don't quit their jobs, they quit their managers. This graphic shares 75% of the responsibility for employee departures are on the boss!
Full Employment
Many companies are having difficulty finding employees with unemployment so low (2.5% in Iowa, 3.9% in US) .
What's the fastest way to find, hire and keep good people?
Have good managers!
Gallup's latest book, It's the Manager, emphasizes this, as does Nine Lies About Work.
As these graphics display, many people currently working can be attracted to a new job.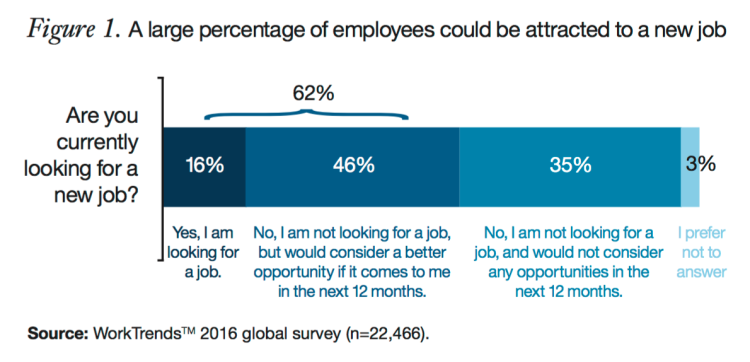 Losing people is costly. Hiring the wrong people is costly, yet we continue to make mistakes on not only who is a good fit for our business, but who can manage, and how we train our managers and leaders.
Why Employees Leave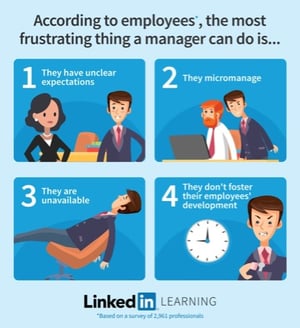 There are a large number or reasons employees leave or want to leave their jobs. When 75% of those who leave cite their manager, it's not to difficult to determine what to do to prevent employee turnover.
Train, hire, recruit and develop better leaders and managers.
Positioning Systems can help you find, hire, train, and develop better leaders.
We have a variety of tools to help you. Most importantly developing meeting rhythms is an essential tool to achieve better leadership.
Leadership meetings help managers observe and learn from your best leaders, from each other. Problems with employees are discussed and resolved. Training programs like the Growth Institute provide learning opportunities for your team to discover and master skills on a variety of leadership topics from world renown leaders and authors.
Human Potential = Attitude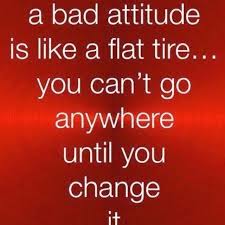 Finally, always remember this: "Your attitude, at the beginning of a task, more than anything else determines the outcome of that task!"
As I shared in Kids Say the Darndest Things – Formula for Human Potential our attitude is critical to our outcomes and potential. Had I proceeded with a better attitude as Toastmaster two weeks ago I'd would have created a much different outcome.
Hire people with great attitudes. People with positive expectant beliefs always perform better and achieve better results through others!
Growth demands Strategic Discipline.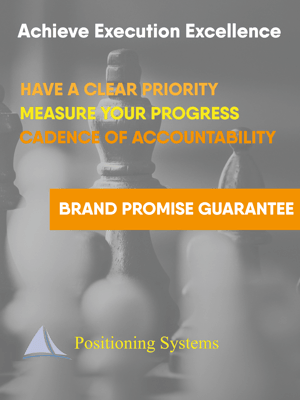 To build an enduring great organization, you need disciplined people, engaged in disciplined thought, to take disciplined action, to produce superior results, to make a distinctive impact in the world.
Discipline sustains momentum, over a long period of time, to lay the foundations for lasting endurance.
It's the framework for Good to Great:
Stage 1: Disciplined People
Stage 2: Disciplined Thought
Stage 3: Disciplined Action
Stage 4: Build Greatness
A winning habit starts with 3 Strategic Disciplines: Priority, Metrics and Meeting Rhythms.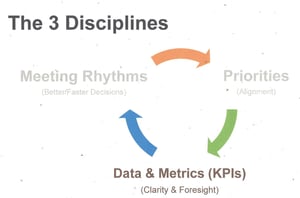 Forecasting, accountability, individual, and team performance improve dramatically.
Meeting Rhythms achieve a disciplined focus on performance metrics to drive growth.
Let Positioning Systems help your business achieve these outcomes on the Four most Important Decisions your business faces:
DECISION

RESULT/OUTCOME

PEOPLE

STRATEGY

EXECUTION

CASH
Positioning Systems helps mid-sized ($5M - $250M) business Scale-UP. We align your business to focus on Your One Thing! Contact dwick@positioningsystems.com to Scale Up your business! Take our Four Decisions Needs Assessment to discover how your business measures against other Scaled Up companies. We'll contact you.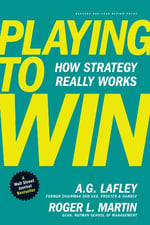 Next Blog – Is Your Business Built to Win?
Two of my coaching customers are approaching $10 Million in revenue. Big changes occur when your business reaches ten Million in revenue, not the least of which, your competitors start to notice you. The right strategy is critical in order to grow beyond $10 Million. We'll explore keys to a Winning Strategy next blog.