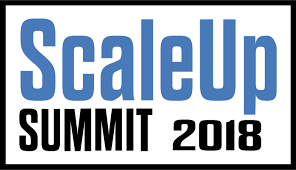 will know our first guest speaker at the Denver Scale Up Summit last week, if you're a fan of Shark.

Richard Manders, LovePop's ScaleUp coach, introduced Love Pop CEO, Wombi Rose. Throughout the Denver ScaleUp Summit several Gazelles Coached companies presented their testimonies on their success achieved from Verne Harnish's ScalingUp principles and their growth through coaching.

LovePop founders Wombi Rose and John Wise became best friends at Webb Institute training to become naval architects. After school, they traveled to Vietnam where they discovered incredible hand-crafted paper cards.

Their appearance on Shark Tank in Season 7 set their business soaring on a national stage.

Wombi Rose shared they've recently hit $18 Million in revenue.

The update video from Shark Tank shares their remarkable growth.

Wombi Rose emphasized the help they've received from their ScaleUp Coach and the Scaling Up principles. Scaling this fast wouldn't have been possible without their Scale Up Coach.

Take-Away #1 - BHAG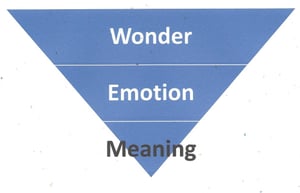 Rose shared a graphic to illustrate the magic their product creates. Rose believes customers buy at all stages of the triangle (see picture), but it's most powerful when they find meaning.
Should you being ask yourself this question, "What's the meaning your business purchase provides for your customers?"
For LovePop's an occasion or event is something much more meaningful than just a card. Wedding invitations, birthday cards, Mother's and Father's day cards suddenly become more then a reminder, they are a keepsake!
LovePop's BHAG is to create One Billion Magical Moments. Their customer contact line is aptly named, "Happiness Line!" It's a clear alignment with how your BHAG should follow 3 rules:
10 years plus
Ambitious, not Braggadocios
Reinforce Business Fundamentals.
Take-Away #2 - Quit What You Suck At

Wombi Rose's short presentation might well have been a preview to Great At Work Morten Hansen's presentation two speakers later. One of his short quotes he displayed during his presentation, "Quit What You Suck At," ties directly to Hansen's Seven Work Smart practices, #4: Seek roles that match your passion with a strong sense of purpose.

Wombi Rose has channeled his passion for design into a purpose, exemplified by his BHAG, to create one billion magical moments.

As this video shares, a LovePop card captures much more than the traditional message of a greeting card.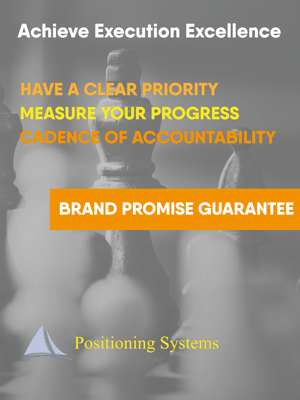 Growth demands Strategic Discipline.
Positioning Systems is fanatically driven to improve your business and your teams execution at work. 3 Strategic Disciplines: Priority, Metrics and Meeting Rhythms help your business dramatically improve your forecasting, individual and team performance to create alignment. It empowers your team to achieve accelerated growth.
As an Execution Decision, Strategic Discipline increases your businesses Profitability.
Positioning Systems helps your business achieve these outcomes on the Four most Important Decisions your business faces:
DECISION

RESULT/OUTCOME

PEOPLE

STRATEGY

EXECUTION

CASH
We help your business achieve Execution Excellence.
Positioning Systems helps mid-sized ($5M - $250M) business Scale-UP. We align your business to focus on Your One Thing! To achieve growth, you need to evolve in today's rapidly changing economic environment. Have you been avoiding a conversation on how you can successfully grow your business? Contact dwick@positioningsystems.com to Scale Up your business! Take our Four Decisions Needs Assessment to discover how your business measures against other Scaled Up companies. We'll contact you.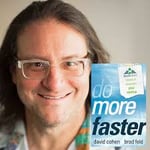 Next Blog – Brad Feld on Marketing Timing
Brad Fled, Author of Do More Faster: TechStars Lessons to Accelerate Your Startup, is cofounder of Foundry Group, Mobious Venture Capital and Techstars. He was asked about market timing and how to keep perspective. I'll share his Q&A with Verne Harnish in my next blog.