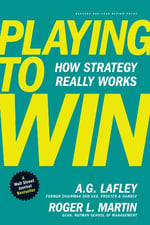 Last blog, What Strategy Is And Isn't: Playing to Win we shared: Strategy is about making specific choices to win in the marketplace.
Is your business strategy Playing to Win?
Strategy is an integrated set of choices uniquely positioning your firm in your industry to create sustainable advantage and superior value relative to the competition.
Today we define strategy deeper. As explained in Playing to Win: How Strategy Really Works, by AG Lafley and Roger Martin; Strategy is a coordinated and integrated set of five choices: a winning aspiration, where to play, how to win, core capabilities, and management systems.
My experience coaching tells me few mid-size businesses explore a strategy to this degree.
The argument is: Doug we're not Proctor & Gamble. We don't have the resources or time to explore and discover strategy to this degree.
The Answer: Are you okay limiting your top-line revenue Growth? If your answer is not to explore a strategy to this degree/level, you lack the required commitment to achieve growth with your business.
When I asked Verne Harnish whether or not a small to mid-sized business should invest in a Strategic Advisory Council, and how much time they should dedicate to this, Verne responded, "Douglas – generally it's an hour a week. OTG Software, which scaled from startup to over $1 billion market cap, held their's every Monday morning at 7 am for an hour. At Scaling Up ours is 9 am – 10 am every Monday."
Has your business looked at strategy through these Five Choices?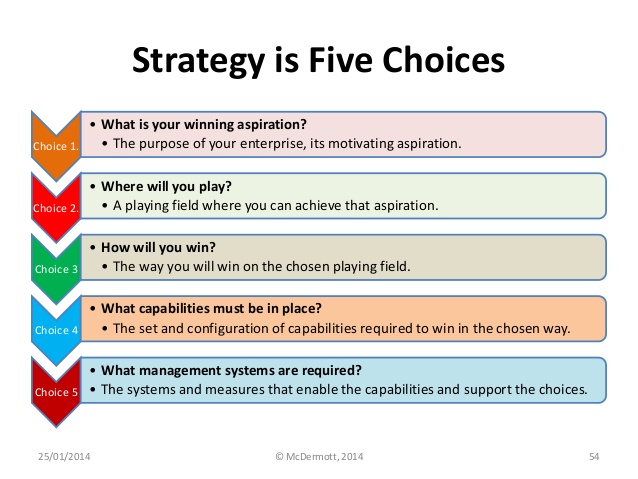 Questions to Ask: Your Strategy
The following questions intentionally press on a few key points:
Is your company winning in your specific category?
Is your business team sure?
How do you/they really know?
What are the opportunities related to your consumers' unmet needs?
What are the most promising innovations and technologies?
What are the threats to category, country, or channel structural attractiveness?
What core capabilities is your business lacking?
What is your most troubling or threatening competitor?
The focus is on very basic, fundamental questions with the intent of helping you/your team make better strategic choices.
You should spend three or four hours chewing on the few critical issues together. This might be the first exploratory and discovery meeting for your Strategic Advisory Council.
Strategy's 5 Choices
For most businesses strategy can seem mystical and mysterious. It isn't. It is easily defined. It is a set of choices about winning. It is an integrated set of choices, uniquely positioning your firm in its industry to create sustainable advantage and superior value relative to the competition.
Strategy is the answer to these five interrelated questions: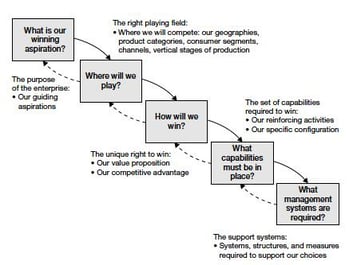 What is your winning aspiration? The purpose of your enterprise, its motivating aspiration.
Where will you play? A playing field where you can achieve that aspiration.
How will you win? The way you will win on the chosen playing field.
What capabilities must be in place? The set and configuration of capabilities required to win in the chosen way.
What management systems are required? The systems and measures that enable the capabilities and support the choices.
These choices and the relationship between them can be understood as a reinforcing cascade, with the choices at the top of the cascade setting the context for the choices below, and choices at the bottom influencing and refining the choices above.
If your business is small, there may well be a single choice cascade that defines the set of choices for the entire organization. In larger companies, there are multiple levels of choices and interconnected cascades. As Lafley and Martin explain, "at P&G, for instance, there is a brand-level strategy that articulates the five choices for a brand such as Olay or Pampers. There is a category strategy that covers multiple related brands, like skincare or diapers. There is a sector strategy that covers multiple categories, for example, beauty or baby care. And finally, there is a strategy at the company level, too."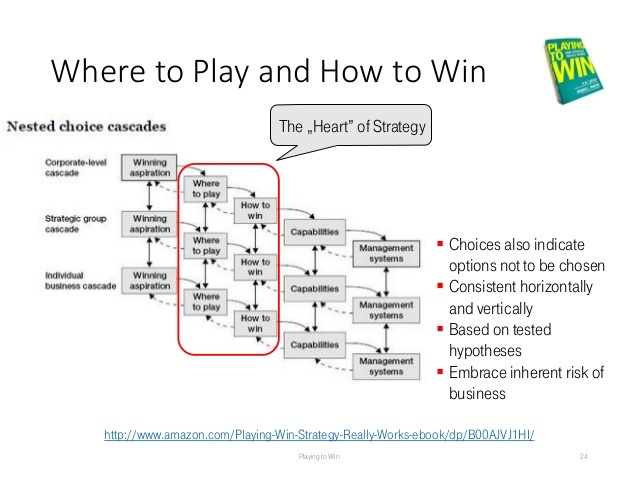 Each strategy influences and is influenced by the choices above and below it; company-level where-to-play choices, for instance, guide choices at the sector level, which in turn affect the category-level and brand-level choices. And the brand-level choices influence the category-level choices, which influence the sector- and company-level choices. The result is a set of nested cascades that cover the full organization.
How does your business do on strategy through these Five Choices?
If you struggle to achieve revenue growth, it's time you make better decisions about your strategy.
Read Playing to Win: How Strategy Really Works, by AG Lafley and Roger Martin.
When you decide you need help contact Positioning Systems. From these basic fundamentals through the Outthinker Process, we can help you achieve revenue growth, discover innovative ways to redefine your business, identify revenue-producing products, services, or markets, to grow your business.
Growth demands Strategic Discipline.
The 3 Strategic Disciplines: Priority, Metrics, and Meeting Rhythms help your business dramatically improve your forecasting, and alignment, empowering your team to achieve accelerated growth. These Execution principles pave the road to success on your 3-5 year plan.
Your Strategy Decisions should result in top-line revenue growth. Positioning Systems helps you navigate and determine your best strategy for your future growth. With experts like Kaihan Krippendorff (Outthinker Process) we bring superior experience to elevate your Strategy idea generation and decision-making.
Count on Positioning Systems to help your business achieve the following outcomes on the Four most Important Decisions your business faces:
DECISION

RESULT/OUTCOME

PEOPLE

STRATEGY

EXECUTION

CASH
We help your business achieve Execution Excellence.
Positioning Systems helps mid-sized ($5M - $250M) business Scale-UP. We align your business to focus on Your One Thing! To achieve growth, you need to evolve in today's rapidly changing economic environment. Are you avoiding a conversation with yourself on how to can successfully grow your business? Contact dwick@positioningsystems.com to Scale Up your business! Take our Four Decisions Needs Assessment to discover how your business measures against other Scaled Up companies. We'll contact you.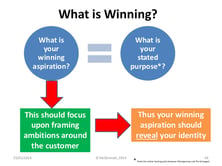 PLAYING TO WIN – ASPIRATIONS
Aspirations are statements about the ideal future. Does your company have a statement about your ideal future? Do you tie your aspirations to specific benchmarks to measure your progress toward them? How you achieve this, next blog.