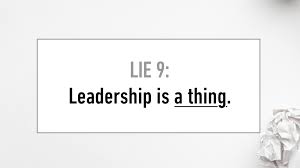 We should know this. Leadership is not a thing.
If you've read Strengths Based Leadership you know there's no one size fits all leader. We've shared insights in Business Development Tool – Strength Based Leadership Test. In Customer Commonality - Leadership I shared my customers leadership styles with respect to Strengths Based Leadership, and how different and similar they are.
This Lie #9: Leadership is a Thing is the last of the Nine Lies About Work: A Freethinking Leader's Guide to the Real World, by authors Marcus Buckingham and Ashley Goodall.
What do they mean by leadership is a thing?
It means leadership can be defined in advance by an abstract list of competencies and attributes. Your company can look at its previous best leaders, assess this group's leadership skills, and then by predicting who has these same qualities, you will find your next leader.
WRONG!
Buckingham and Goodall believe, "Leading and following are not abstractions. They are human interactions; human relationships. And their currency is the currency of all human relationships-the currency of emotional bond, of trust, and of love. If you, as a leader forget these things, and yet master everything that theory world tells you matters, you will find yourself alone. But if you understand who you are, at your core, and hone that understanding into a few special abilities, each of which refracts and magnifies your intent, your essence, and your humanity, then, in the real world, we will see you. And we will follow."
"Each truly effective leader cultivates his or her mastery in a way that communicates something certain and vivid."
The only thing true about all leaders is they have followers.
We're focusing on the wrong things. Because all Leaders are different.
Instead of focusing on qualities of leadership, we should focus on qualities of followers.
Watch Marcus Buckingham explain:
GROW YOUR LEADERSHIP?
In America leadership training is a $14 Billion-dollar industry. Few if any courses focus on you.
The question to start with for leadership is, "Who are YOU?"
Why would anyone follow you?
Why do we follow?
What is it that makes us work hard late into the night—to go beyond what's expected of us?
What makes us move someone to the front of our queue?
What makes us voluntarily place some part of our destiny in the hands of another human being?
What makes us give our breath to another?
What Followers Want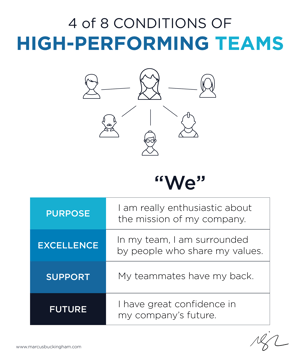 Your followers want to feel part of something bigger than our self—the "Best of We"—while, at the same time, feel our leader knows and values us for who we are as unique individual – the "Best of Me."
Visit Nine Lies About Work - #1 People Care Which Company They Work For and scroll to What Do We Want from our Leader?
These are not a list of qualities in a leader, but a set of feelings in followers.
When we say to ourselves that leadership is indeed a thing, because we know it when we see it, we're not really seeing any definable characteristic of another human.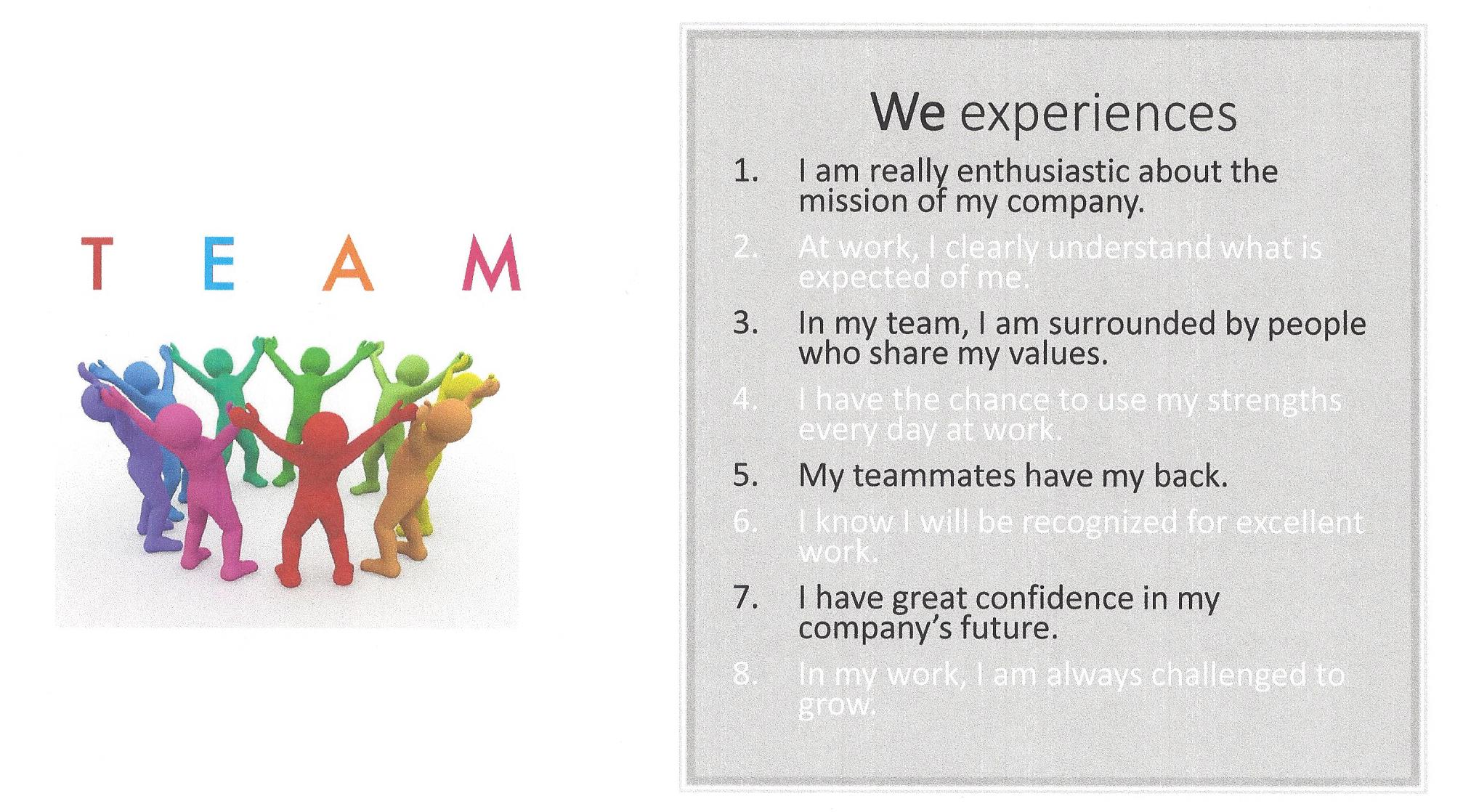 What we are "seeing" is in fact our own feelings as a follower.
Those eight items introduced in chapter 1 are a valid measure of a leader's effectiveness!
Leadership isn't a thing, because it cannot be measured reliably. Followership is a thing, because it can be.
It's a lie that leadership is a thing because no two leaders create follower in quite the same way.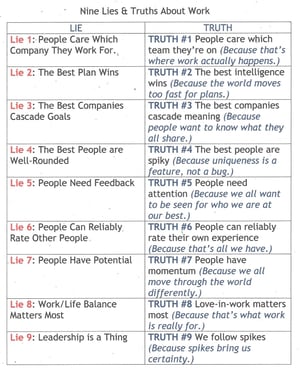 In the real-world leading is many different things.
Your challenge as a leader is not to try to acquire the complete set of abstract leader competencies—you will fail, because the first hurdle you fail at is authenticity.
Your challenge is to find and refine your own idiosyncratic way of creating in your team these eight emotional outcomes. Do this well and you will lead well. [Click here for Idiosyncrasy of Leaders (Extremist)]
Your ability to create the outcomes you want in your followers is directly tied to how seriously and intelligently you cultivate your own idiosyncrasy.
I Have a Dream
As humans we fear the unknown. The future is an uncertain place.
We seek reassurance. Confidence in the future is the antidote to our universal uncertainty. It explains why we follow.
Truly effective leaders cultivate their mastery in a way that communicates to us something certain and vivid. We trust leaders when they prove to us they've opened more doors than us, seen around more corners than us, taken themselves more serious than we have.
We trust the seriousness of this.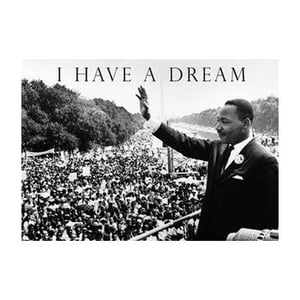 We trust its predictability. We are drawn to its specialness. We sense its authenticity. We are attracted to the beautiful clarity of great ability, the brief moments of awe. We ignore everything else.
If you have a serious desire to become a leader, read Lie #9: Leadership is a Thing in Nine Lies About Work: A Freethinking Leader's Guide to the Real World. The story of Martin Luther King's leadership journey through the Memphis National Civil Rights Museum is an inspiring example of leadership.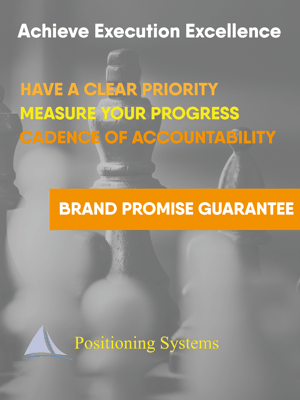 Growth demands Strategic Discipline.
How can you build an enduring great organization? How can you be a leader?
To make a distinctive impact in the world you need to understand your strengths first, your core. Then discover your purpose. We coach how to discover these.
Discipline sustains momentum, over a long period of time, to lay the foundations for lasting endurance. It's the framework for Good to Great:
Stage 1: Disciplined People
Stage 2: Disciplined Thought
Stage 3: Disciplined Action
Stage 4: Build Greatness
Positioning Systems is obsessively driven to elevate you and your teams Discipline. A winning habit starts with 3 Strategic Disciplines: Priority, Metrics and Meeting Rhythms.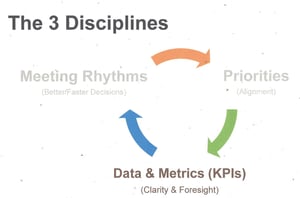 Your business dramatically improves forecasting, accountability, individual, and team performance.
Creating Execution Excellence demands creating/defining, understanding, with creativity and DISCIPLINE your Flywheel.
Meeting Rhythms achieve a disciplined focus on performance metrics to drive growth.
Positioning Systems helps your business achieve these outcomes on the Four most Important Decisions your business faces:
DECISION

RESULT/OUTCOME

PEOPLE

STRATEGY

EXECUTION

CASH
We help your business Achieve Execution Excellence.
Positioning Systems helps mid-sized ($5M - $250M) business Scale-UP. We align your business to focus on Your One Thing! Contact dwick@positioningsystems.com to Scale Up your business! Take our Four Decisions Needs Assessment to discover how your business measures against other Scaled Up companies. We'll contact you.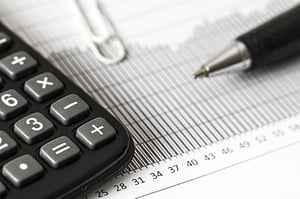 Next Blog – Taking The Next Step As A Business Owner: When Is It Right To Retire?
Next blog Karoline Gore will be sharing when is it the right time to retire. She'll be sharing some interesting numbers around business retirement and how to prepare and plan. I'll be back the following week with more ideas on how your team can plan better with Red Teaming.