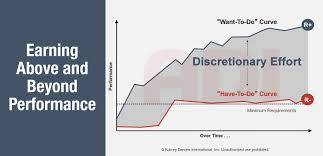 You've adjusted to the new normal. All the previous challenges to allow our employees to work from home have been erased by COVID19.
Now what?
How do we adjust to this "new" normal, and Elevate Remote Workers Performance?
Read how Google is adapting: Google will try 'hybrid' work-from-home models, as most employees don't want to come in every day
McKinsey surveyed What 800 executives envision for the postpandemic workforce. The results revealed 85 percent of respondents in the McKinsey survey have somewhat or greatly accelerated the implementation of technologies that digitally enable employee interaction and collaboration, such as videoconferencing and filesharing. 15 percent of executives surveyed said at least one-tenth of their employees could work remotely two or more days a week going forward, almost double the 8 percent of respondents who expressed that intention before COVID-19. The results share "one silver lining from the pandemic is companies have found they can adopt new technologies much faster than previously thought. As Microsoft's CEO has famously said, 'We've seen two years' worth of digital transformation in two months.'"
Two other notable survey results: Companies plan to increase roles in health and hygiene and when hiring for on-site roles, and executives expect to rely much more on contractors and temporary workers.
The latter speaks to the importance of providing feedback. What your team needs most is to Create Safety, Belonging, Mattering.
YOUR LEADERSHIP STYLE ISN'T WORKING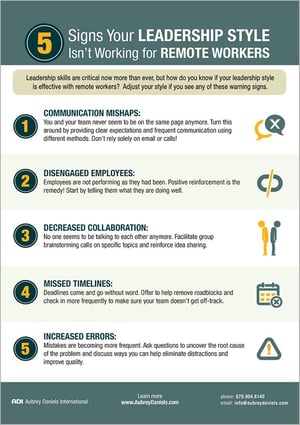 Aubrey Daniels, my favorite source for employee performance, shared an infographic (shown here) to help understand how to identify your leadership style isn't working with your remote team.
Examine the list here.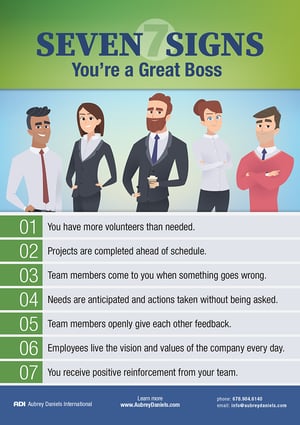 Compare it to these 7 Signs You're a great boss.
If you're interested in making the leap to being a great boss, please check out aubreydaniels.com from great ideas to elevate your management performance. I'd recommend starting by reading Bringing Out the Best in People by Aubrey Daniels.
What are practices you can do to elevate your team's performance?
HOW TO ELEVATE YOUR TEAM
This isn't different than what it's been, the biggest difference is your team isn't as visible as they once were. It's possible you weren't very good at recognizing or noticing them when they were in the office. The job of recognizing and providing feedback is more critical now. Look at these graphics from Gallup.
IF you're searching for answers on Remote working performance Gallup's Working Remotely: Careers, Management and Strategy is a great source to research.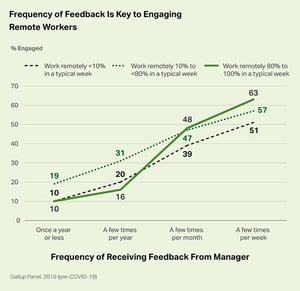 In Remote Work Trends to Guide High Performance During COVID-19 they provide 3 recommendations:
Communication yields engagement.
Accountability comes from expectations.
Individualize to optimize.
None are earth-shattering breakthroughs. Yet in today's remote environment this can be more difficult. Remote workers often are faced with more distractions than office employees. This has only intensified if they have children at home, don't have an office set up, and our improvising in their kitchen, living room, or bedroom.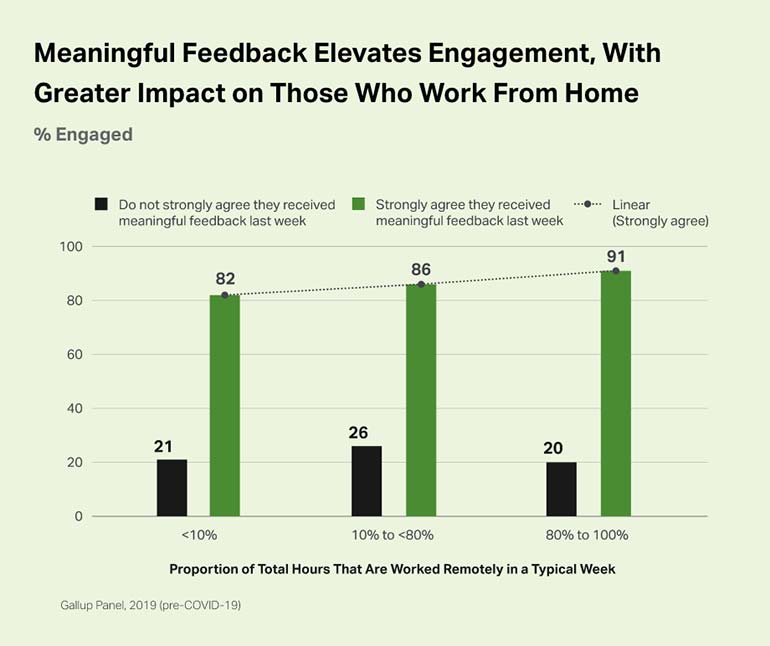 Make sure your people have the tools and resources required to get the job done. One of my customers' Operation Manager spent a day delivering his team's work computer monitors to their homes to ensure they had the proper equipment to do their jobs.
Many of the ideas suggested here have been presented previously and echo Marcus Buckingham and Ashley Goodall in Nine Lies About Work: A Freethinking Leader's Guide to the Real World. Buckingham notes in Lie #5: People Need Feedback – Truth: People Need Attention, feedback isn't what your team is looking for, they want attention. Read this blog to learn the three false assumptions about feedback.
In Raise the Bar – Methods & Ideas to Improve Employee Engagement we shared changing demands in the workplace evident even before COVID. These changes have only been exacerbated by COVID. If you're a boss now, and you're not in coaching mode, you're a dinosaur. Your methods for inspiring your team are outmoded.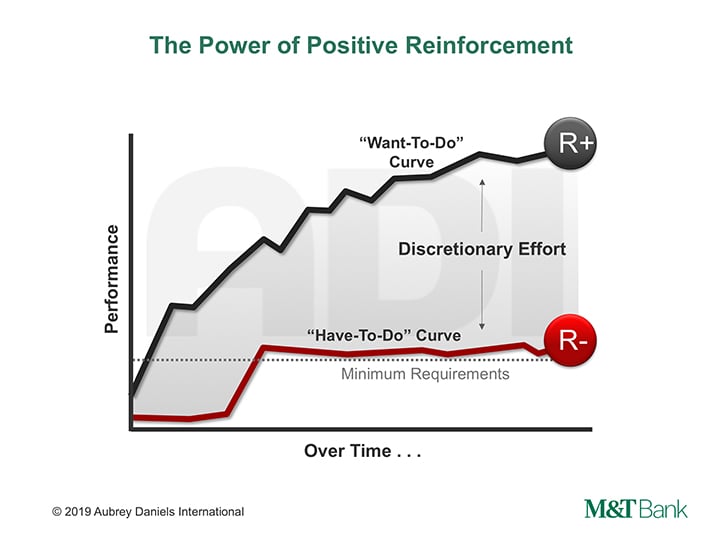 Finally, remember the importance of positive reinforcement as offered by Aubrey Daniels. Read 4 Rules of Positive Reinforcement to learn how to elevate your team's performance.
Daniel's 4 simple steps:
Make it personal
Make it contingent
Make it immediate
Make sure it's frequent

Most managers fail to do the first two. The best managers make time and effort to do it immediately and be frequent in their recognition. The proper ratio of praise to criticism is 4 to 1. Keep score this week on how you are doing. Tally how many times you recognize your team.
Need help? Develop the Habits for business success. Contact us today to schedule a free exploratory meeting.
Growth demands Strategic Discipline.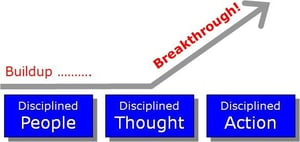 To build an enduring great organization, requires disciplined people, disciplined thought, disciplined action, to produce superior results, and make a distinctive impact in the world.
Discipline sustains momentum, over a long period of time, laying the foundations for lasting endurance.
A winning habit starts with 3 Strategic Disciplines: Priority, Metrics and Meeting Rhythms.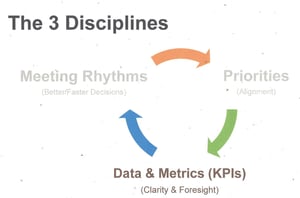 Forecasting, accountability, individual, and team performance improve dramatically.
Meeting Rhythms achieve a disciplined focus on performance metrics to drive growth.
Let Positioning Systems help your business achieve these outcomes on the Four most Important Decisions your business faces:
DECISION

RESULT/OUTCOME

PEOPLE

STRATEGY

EXECUTION

CASH
Positioning Systems helps mid-sized ($5M - $250M) business Scale-UP. We align your business to focus on Your One Thing! Contact dwick@positioningsystems.com to Scale Up your business! Take our Four Decisions Needs Assessment to discover how your business measures against other Scaled Up companies. We'll contact you.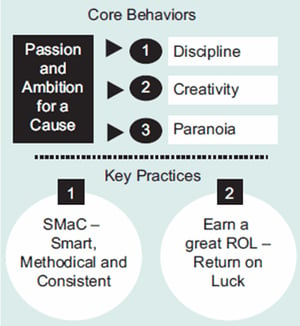 NEXT BLOG – SMaC stand for Specific, Methodical and Consistent – Deliver 10X success.
The more uncertain, fast-changing, and unforgiving your environment the more SMaC you need to be. A SMaC recipe reflects empirical validation and insight about what actually works and why. Thursday I'll be helping a customer develop their SMaC Recipe. Why you should have one as well, next blog.