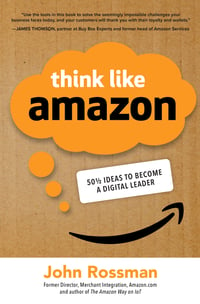 I've worked with 300+ businesses in my coaching career, which stared in 1999 shortly after the radio station I was part owner in sold.
Few businesses achieve optimization of their enterprise through their compensation program. In many cases, the compensation program is detrimental to the businesses growth.
How does your company optimize compensation for the business to grow.
Quoting directly from John Rossman, Think Like Amazon: 50 1/2 Ideas to Become a Digital Leader, here's a snippet on how Amazon optimize enterprise growth:
Amazon presents an interesting and radical example of compensation structure, and it's worked for them. Especially since 2008, the stock has seen a meteoric increase going from $41 to over $2,000 a share in 2018. It may not be the right recipe for any other enterprise. But if a CEO or team leader needs to make a quick and decisive change, when "business as usual" will not cut it anymore, the CEO should rethink the compensation structure of the executive team and make sure that (a) we win only if dramatic changes are made, and (b) we win only with enterprise improvements. Team or individual achievements will not be rewarded.
As W. Edwards Deming said, "Sub-optimization is when everyone is for himself. Optimization is when everyone is working to help the company." Guess what else a poor compensation strategy can buy you? A country club.
A country club is Rossman's next chapter in the book. It alludes to the atmosphere permeating Microsoft at the time Bezos started Amazon. Bezos wanted to be sure Amazon would never become a country club. That's why he preaches Day 1 as the culture and mindset of Amazon.
The Day 1 mentality means that even though Amazon is nearly 25 years old, the company treats every day like it's the first day of their new startup. Day 1 is an incredible idea – it's a way to stay relevant and on your toes. Every successful startup begins with a solution to some problem or need. Watch this video to understand:
Amazon's reward and compensation package is driven by this mindset.
While Amazon's recipe may not be right for your business. It should be a concept and practice your business strives to achieve.
"Is everyone for himself or is everyone working to help the company at your organization?" ~ W Edwards Deming
OWNERSHIP FOR EVERYONE
A commonly held belief is Amazon's top salary in the organization is $165,000 per year. The only other compensation is stock grants. Rossman notes this is not universally consistent across Amazon. Amazon does avoid individual or team-based bonus structures and keeps salaries low relative to market.
Why is that?
People game the system. It's human nature to optimize those functions for which we are measured and rewarded. It's just human nature.
My own experience in compensating sales managers and salespeople indicates this. No matter what compensation you develop people will figure out how to make it work to their advantage. A compensation package either needs to be fluid, or like Amazon's, structured to eliminate gaming the system.
As a first-time sales manager I got paid on collections each month, and a bonus for hitting a specific monthly target. There were many times I befriended our bookkeeper to make sure when we were close to hitting the monthly bonus, we'd sneak that target in.
Here's Rossman's Idea 7: Craft a compensation structure incenting long-term enterprise value creation. Communicate the strategy and value of your compensation structure often to build alignment. When dramatic shifts are needed in a business, dramatic shifts in compensation structure become necessary.
Ownership drives Amazon's compensation strategy. It's Amazon's Leadership Principle 2. "Leaders are owners. They think long term and don't sacrifice long-term value for short-term results. They act on behalf of the entire company, beyond just their own team. They never say, 'That's not my job'":
Watch this 60 second video on Amazon's Customer Obsession & Ownership. Owneship starts at :29
"We pay very low cash compensation relative to most companies," says Bezos. "We also have no incentive compensation of any kind. And the reason we don't is because it is detrimental to teamwork."
If your business is struggling right now through COVID19, Rossman suggests you need to create commitment to hard change. You likely need to align your compensation structure. Make it clear we will all win, and we will only win when we have accomplished our enterprise objectives.
If you lose some people over this, you're likely better off. With the job market what it is, this is a good time to search for the right people. It's also the best time for people to adapt to this mindset..
QUESTIONS TO CONSIDER
Is compensation optimizing for enterprise results?
Do you see suboptimization happening due to goals and compensation?
Is everyone aligned to increasing enterprise value?
The Key: Stay Hungry Even When You're Successful
Ironically, in a changing world, playing it safe is one of the riskiest things you can do. —Reid Hoffman
If your business needs to reconsider its compensation philosophy or upgrade your people, we can help. Please contact us today to schedule an exploratory meeting.
Growth demands Strategic Discipline.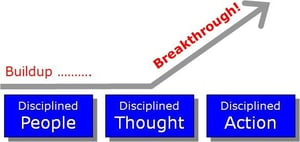 To build an enduring great organization, requires disciplined people, disciplined thought, disciplined action, to produce superior results, and make a distinctive impact in the world.
Discipline sustains momentum, over a long period of time, laying the foundations for lasting endurance.
A winning habit starts with 3 Strategic Disciplines: Priority, Metrics and Meeting Rhythms. Forecasting, accountability, individual, and team performance improve dramatically.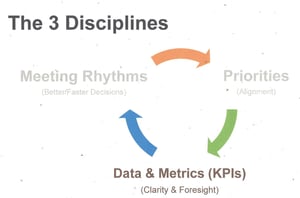 Meeting Rhythms achieve a disciplined focus on performance metrics to drive growth.
Let Positioning Systems help your business achieve these outcomes on the Four most Important Decisions your business faces:
DECISION

RESULT/OUTCOME

PEOPLE

STRATEGY

EXECUTION

CASH
Positioning Systems helps mid-sized ($5M - $250M) business Scale-UP. We align your business to focus on Your One Thing! Contact dwick@positioningsystems.com to Scale Up your business! Take our Four Decisions Needs Assessment to discover how your business measures against other Scaled Up companies. We'll contact you.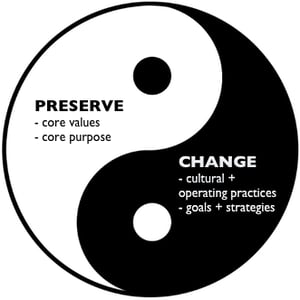 NEXT BLOG – Innovation Requires a Different Mindset
Many businesses struggle with change and innovation. If you define, manage, staff, and evaluate innovation investments the same way you do less risky investments, the system will not lead to the outcomes you've intended. You need a different governance framework. We'll discover Amazon's different approach to Innovation, and why you need a different framework to unleash innovation in your business. , That's next blog.