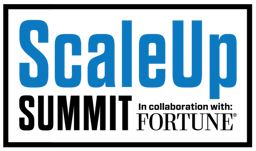 A reoccurring theme at our Forbes Sponsored Summits (Scale Up & Growth) is Verne Harnish's emphasis on the need to change organizational thinking from managing to coaching.
One of the first things I learned when I became a Gazelles Coach is the principle of being a catalyst.
Gregg Thompson, author of The Master Coach, Leading with Character, Building Connections, and Engaging in Extraordinary Conversations, speaking at the St. Louis Scale Up Summit admonished all of us to learn how, "..to shift to be a catalyst to others."
A Catalyst to Others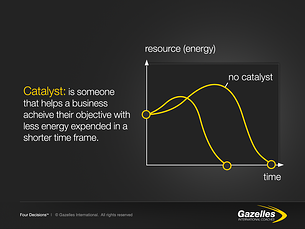 What's a catalyst?

I've written a number of blogs on what a catalyst is:

A catalyst gets comments like these from his customers, "Enjoyed the time together and look forward to gaining new ground with your help. These retreats have been off the charts with the knowledge and learning gained. It's like a 500 gallon fill up of fuel in a vehicle made to drive a year."

And, "As we discussed this week, our company is better with you involved and look forward to continuing to work with you."

Two comments from my customer I worked with last week in the Punta Cano for two days. You'll hear more about their work in a future blog.

Watch this video from Thompson's business to understand his 3 C coaching model, and the challenge each of us has in being a good coach.

What I noticed and liked best about Thompson's approach is he asked questions, versus giving a lot of advice. It provided a powerful message on how to coach.

Where to start?

Thompson reminded us, "Coaching starts with who you are as a person."

He emphasized:
Leadership is a love affair with an idea.

Brings out the very best in you.

Most leadership happens one conversation at a time. He asked questions to make our audience think:
"Do others leave conversations with me better in some way?"
"If it was illegal to be a great coach, would there be enough evidence to convict you?"
"Are other people perform at a better level because of you? More committed, agile, engaged, productive, aligned, innovative?"
BEST COACH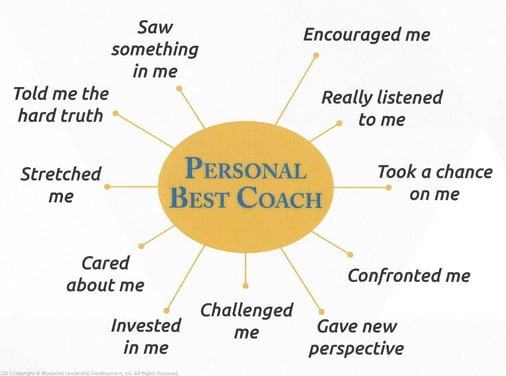 This graphic from Thompson's presentation represents someone whose been a best coach for you. I've written about several of my coaches including my best, my high school basketball coach, The Best Coach in the World and Bone Marrow Transplant Update – Last Week's Clinic Visit.
Thompson reminded us what this person looks like: Imagine someone who holds you accountable. Saying you have value, you are important, we need you.
He asked us to consider, when you are with someone, do your people want to be special around you?
He asked penetrating questions, "Imagine someone who was special to you, because of them you are a better person? And Who was your best coach? He or she saw something in us that we didn't see in ourselves."
His presentation exemplified this. It's something he's learned in coaching, "Giving advice – doesn't show up in your story (It shows up at about a 6 on scale of 1-10)"
"REAL IMPACT IS SOMETHING ELSE OTHER THAN ADVICE."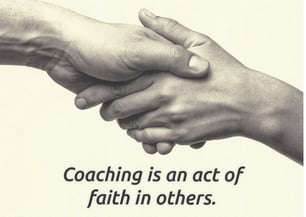 Three C Coaching Model
If you've watched Thompson's video in this blog you already know this. Here are his 3 C's of coaching:
Character – The role of the coach is not self-assumed but , rather, one that is earned. Simply put, leaders earn the right to coach others through the quality of their character. Integrity, interpersonal courage and noble intention are the key qualities defining the true coach.
Connection – All coaching requires the creation of a special relationship in which the person being coached welcomes feedback, accepts personal responsibility, challenges long -held assumptions, explores radically different options, and creates a new pathway forward.
Conversation – A coaching conversation is distinctively fresh, inquisitive, and thought-provoking, and stimulates the person being coached to think and act in new ways. Great coaching conversations alternate between constructive confrontation, intense questioning, sincere affirmation, and idea generation from the other units.
Thompson reminded us, "Coaching, like swimming, cannot be learned by reading about it."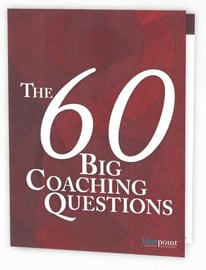 The Power of Question
Thompson shared The 60 Big Coaching Questions (you can download these through the link).
At our group tables, Thompson asked us to review the list and circle a few we felt were critical for us or someone we know. I chose these six:
#23 What will happen if you take your foot off the brake?
#27 What would need to happen for you to feel powerful and in control?
#28 What thoughts, attitudes and habits no longer serve you well?
#29 What would you do if you had unlimited resources?
#40 What will make you happy?
#57 How will you know when you are on the new road?
The questions are broken into three categories, Discovery: Exploration and learning, Creation: Possibilities & Opportunities, and Commitment: Action & execution.
Echoing the words and thoughts of Ryan Holiday's, The Obstacle is the Way, Thompson noted, "Look back at our success, it's almost all about the constraints we overcame.
Thompson left us with two thoughtful ideas, "Unless someone makes the commitment to take action, coaching is just talk."
His final thought, should tell you how close all of us can be to a breakthrough in our lives, "85% of people in room, avoiding having a conversation with someone that they know will make it better if they have it."
Are you avoiding a conversation with yourself on how you can grow your business? We are experts helping your business to scale up!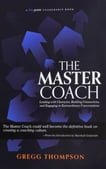 Contact dwick@positioningsystems.com. Or take our Four Decisions Needs Assessment to discover how your business measures against other Scaled Up companies. We'll contact you.
Eight Characteristics of Great Coaches
Next blog will share Thompson's characteristics of great coaches. Join us.