"Happiness is a direction, not a place." -Syndey J. Harris
"Beautiful! Simply Beautiful, you're numbers Doug are beautiful!" You can't imagine how uplifting those words are to someone who at one time faced certain death from Acute Myeloid Leukemia.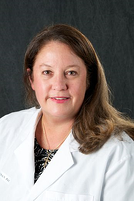 Sue Aunan, the Physician Assistant at University of Iowa Hospital and Clinics, expressed the joy, confidence, and redemption in a tone I've only felt a few times in my life.
So many of you supported me through my nearly 30+ month ordeal of Acute Myeloid Leukemia and subsequent Bone Marrow Transplant that I thought I should share with you the very positive results Sue gave me at my last appointment.
First let me recount my journey so you may fully understand and appreciate where I've been and what your prayers, support, gifts, and encouragement meant to me.
Unbelievable is the word I used to describe my life in my first Toastmaster's "Ice Breaker" speech delivered February 15, 2012.
Unbelievable can cover a lot of territory.
Just ten days from that unbelievable speech I discovered I had Acute Myeloid Leukemia. How many of you have had cancer? How many of you know someone close to you, a family member or friend that had cancer?
You can imagine how devastating it was to me and my family to discover I had cancer. For the first few hours of my discovery I admit that I felt like giving up.
The doctor told me on Sunday, February 26th that I could expect to be out of work for year and only if I survived.
If you believe that's bad, it got worse.
My first week at University of Iowa Hospital a stream of white smocked nurses and physicians entered my room to reveal to me the 3 categories of my type of cancer. It didn't require a PHD to understand that I was in the least likely to survive this type of cancer (Less than 10%).
The news continued to worsen. They discovered I had a rare case of AML called Monosomy 7: you may know that our cells have paired chromosomes. In my Leukemia the #7 chromosome was unpaired, making it much more difficult to treat and get into remission.
When I entered the hospital the percentage of my blood that contains leukemia cells was 85%. Through five chemotherapies that number never diminished below 42%. In order to be eligible for bone marrow transplant, your percentage needs to be less than 10%.
When we reached the final biopsy, about 3 weeks after my chemo ended, we had a decision to make. There were no more options for normal chemotherapy treatment.
To continue any treatment would require clinical trials, or choosing another hospital. This was desperation time. My chances of survival were less than 3%.
I recall visiting the local clinic when I was allowed to leave the hospital for a short period in this decision making window. The doctor who helped with my infusions there called me into her office.
I'm sure her intentions were good; however what she said to my wife and I angered me. After listening to us relate how treatment had gone so far and then asking her input on our possibly treatment options going forward, she offered her reality of the situation. She directed her comments to my wife, almost as if I was not present in the room. She said, "At some point you have to consider abandoning treatment and enjoying the rest of your time together as best you can."
My wife Michelle immediately began to cry.
That may have been a turning point for me. Through meditation and positive thinking I'd resolved to defeat cancer. Had Michelle not been in the room, I'm sure I would have bolted out of her office. I was angry!
Shortly before my doctors arrived in my hospital room the first week I'd already committed to a daily meditation routine. I decided I would not wear the hospital gowns, but instead get up every morning and dress as if I were still at my office working. In addition my Physician Assistant agreed to allow me to work each day just as I had been. He required me to pass about 15 minutes of testing each morning, similar to a sobriety test in many ways, to ensure I was at full capacity. Strategic Discipline, the same Rockefeller Habits/Gazelles coaching practices I work with my customers, Priorities, Meeting Rhythms and Metrics, continued to be a daily part of my routine in the hospital. I can't tell you how many nurses, doctors, and sometimes friends couldn't get into my room due to a sign on the door that indicated I was in a meeting or meditating. At least one doctor wasn't happy with me!
Rather than choose another hospital like MD Anderson or Sloan and Kettering in New York, Michelle and I decided to give University of Iowa Hospital and Clinic's and my physician Dr. Carter one my try. It would offer the close support of our family and friends, and people like you who had been so supportive through my trial.
What I'm about to reveal to you, I've told very few people. I believe it demonstrates the power of faith in God and a positive attitude.
During my clinical trial I caught pneumonia, and struggling through this just before July 4th I recall a difficult evening speaking to my wife regarding the doctors attempt to give me some drugs that could affect my kidneys. Having diabetes already and seeing the challenges one of my brothers went through with bad kidneys I was having difficulty giving them permission to administer the drug.
From about 10:30 until almost 11:30 Michelle tried to persuade me to take the drug. Call it chemo brain or simple exhaustion Michelle recalled I was taking in circles and not completing sentences. The physicians arrived immediately after attempting to convince me to take the drug. Once again I either couldn't make a decision or refused to allow them to administer it.
The struggle with these physicians and the decision conflict wouldn't allow me to sleep. I sat in my hospital bed working on my computer. With my computer on my lap at about 2 AM suddenly it felt like my computer had been charged with a bolt of electricity. The screen sparkled and sprinkled a shower snow as an image. Suddenly a message emerged in the middle of the screen in dark blue. The message said, "CANCER CURED."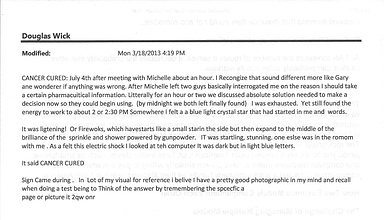 To this day it feels so surreal, it felt like I dreamt it, yet I recall typing about it on my computer note pad in Outlook. I still have those notes which I printed out and scanned on March 16th for this blog. You can see that at that hour there were some unreadable portions.
Frankly it's not important to me what exactly happened. I only know that even though that next day I went into ICU due to my pneumonia, I was never so sure that I would conquer this cancer and get it into remission.
While these were the darkest days for my wife, she was firmly convinced that going into ICU would be the last of me, I was supremely confident. I remained that way through my clinical trial.
Just three weeks later, after the biopsy where they drill a hole into your spinal column to determine the condition of your bone marrow, Dr. Carter called me at 9 PM to tell me my blood was free of AML! Truly the miracle had come full circle!
My blood counts and vital numbers now are all in the normal range. Sue, through Dr. Silverman direction, reduced several of my medications this time including Tacrolimus, an immunosuppressive drug used mainly after allogeneic organ transplant to reduce the activity of the patient's immune system and to lower the risk of organ rejection. It's especially good news. When I asked Sue about moving to Arizona when I retire, I expected her to say not a good idea, since bone marrow transplant patients have sensitive skin and the sun can do severe damage if not protected. She indicated that in several years (after Noah graduates) I may not even have to worry about this. Wow!
Since October of 2014 I've gone through some additional challenges, ones I consider more difficult and emotionally testing to me than anything I encountered with my cancer ordeal. Personal issues of the emotional magnitude I've been through are much more difficult to overcome. Yet in these past 7 months I've often recalled my journey through cancer, the uplifting cards, notes, comments, and gifts people provided. Michelle's unselfish, dedicated efforts to ensure I was loved, cared for and properly treated. Gayle Richardson's efforts to create Warriors for Doug which generated funds and a basketball fund raising event that raised $25,000 to pay for my bone marrow transplant (insurance doesn't cover bone marrow transplants procedures). Countless people gave gifts, money, gift cards and meals to me and my family.
I'd like to direct you to an article from the New York Times that may help you decide what to do the next time someone you know is hurting emotionally or physically. It's entitled How to Be a Friend in Deed. Verne Harnish mentioned it in his weekly newsletter last week. It's spot on.
To recap the article, it sums up what I found to be so true in my cancer journey. Don't ask, "Let me know if there's anything you need." Instead simply do something. Shift the focus from the aggrieved to you. "Do Something!" Anything!
Several of Michelle's friends gave her gas gift cards to help with her daily visits to Iowa City from Cedar Rapids. Meals delivered to our home and gift cards for meals were a regular and well appreciated gift. One of my best friends sent me a check for $1000 shortly after he found out. So many people contributed to prayer groups and the basketball fund raising event. Unity church held two fund raisers with Barb Buchanan leading the cause.
Perhaps my journey helps you to understand why Sue Aunan's words were such a blessing! Thank you all for your support! Especially you Michelle!
Next blog will visit Christine Comaford's presentation on Smart Tribes from the Leadership Summit.