As a Business Leader do you need a business coach?
Perhaps.
However there should be absolutely no question that you need and want a Catalyst.
In What's a Catalyst? we describe three types of catalyst and how each of them brings something different and specific to your business. In order to achieve faster growth in less time in your business you should have arrangements to include all three types to help grow your business.
Need a quick reminder of what a catalyst is? A Catalyst is a resource or tool that enhances positive change so that the desired end outcome is achieved with less energy output and\or in a faster, timelier manner.
Take a look at the two curves on the graph – the blue curve represents the energy and time it takes to achieve a desired outcome. Take a look at the two curves on the graph – the blue curve represents the energy and time it takes to achieve a desired outcome.
The Red curve represents the energy and time it takes to achieve a desired outcome, but it is completed with less expenditure of energy and time – because a catalyst was involved in the acceleration process. That's what the right Business Advisor, Experienced Consultant, or Seasoned Coach can provide as a catalyst to you and your leadership team.
In the next several blogs I plan to share with you the impact several catalyst have had in my life, specifically as it relates to my business. How they've helped me to remain accountable and ask the tough questions regarding my Acute Myeloid Leukemia and Bone Marrow Transplant is critically important to understanding why this can be so impactful to your business.
Chief impact comes from my wife, who inspires me every day. In fact Michelle is the person most responsible for my recovery. She is constantly asking tough questions, watching that I stay away from areas that have germs and might be susceptible to my low immune system. She also keeps me on track with my medications and visits to the doctor.
It's a good example of how someone close to you can act as your coach. Wondering whether or not you can afford to have a coach? In this case I cannot afford to be without one, can I? Can you be without a Catalyst/Coach in your business?
History proves the value of coaching. I learned very early the value of a coach in sports (Best Coach in the World) as have others. Often times the principal of coaching is related to just sports. Business leaders have embraced this concept and expanded it.
The best leaders have coaches.
Here are some key points about coaching/catalyst:
The problem with business owners isn't that they lack the motivation or energy, in most cases they do, the problem is their inability to leverage themselves by hiring the right people and by getting these people involved in helping them. Leadership is more than great desire, passion, and motivation; it is recognizing your strengths and weaknesses and realizing you need help to achieve it, and finding those people who can raise your game to the aspiration you aspire to. Thus a coach can often be one of those missing links to success.
Coaching is about getting clients and businesses to change. It's about changing the status quo. This requires confrontation and a sincere deep desire to help others perform to their very best. It's not comfortable and it requires a very profound, confident and deep rooted belief in what you and your services can do for a client as well as a sincere belief in your client's ability to make something happen and achieve success by applying change.
Business Owners and Leaders often times have difficulty remaining objective in their business. Leadership demands emotional commitment and it's easy for the stress and demands of your business to get your objective and subjective nature out of balance at times. A coach/catalyst provides objectivity. This is the kind of help every business owner needs. A confidant he can share his concerns and feelings with without fear of losing confidence. He needs someone who is objective who can help him navigate tough decisions without being caught up in the emotions of the situation.
For those of you that believe catalyst are only for business owners who are weak or need help let's illustrate the power of a real life catalyst. The greatest leaders have catalysts to help them.
Bill Campbell is a good example of a real life personal executive Business Coach. Read The Secret Coach to see how he done working with Eric Schmidt (Google), the late Steve Jobs (Apple) and Jeff Bezos (Amazon.com).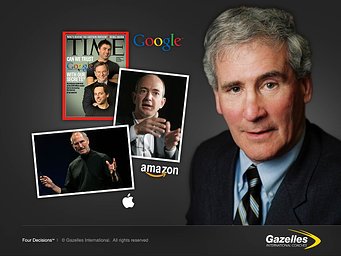 Bill has been a catalyst to each of these leaders by asking them the right questions – the tough questions – and holding them accountable for their leadership and commitments. Interesting that Campbell describes his role as, "You are a third-party Jiminy Cricket." (Recall Jiminy Cricket is Pinocchio's "conscience")
This is also what Positioning Systems and Gazelles International coaches are trained to do for our client.
If great leaders like Steve Jobs, Eric Schmidt and Jeff Bezos rely on coaches, what do they know that you don't know?
As previously mentioned coaches have had a big impact in my life. Ever since becoming an E-Myth Coach in 1998 I've had coaches that have worked with me to improve my performance, make me accountable and ask tough questions. Meeting weekly, monthly with these coaches has helped me grow immeasurably Nothing has been more challenging or reward than my journey through Acute Myeloid Leukemi and Bone Marrow Transplant.
Next blog the coach who reminded me of the tool to create a miracle.