Ask a Great question - Receive a Great answer.
Are you asking Great Questions?
If you are and you're not getting results, perhaps you're not answering with Great Answers.
Would you like to learn how to ask Great Questions and perfect Great Answers?
We've already explored the answer to this before in Priorities Discipline Requires Precision and Specificity.
In The ONE Thing: The Surprisingly Simple Truth Behind Extraordinary Results by Gary Keller, Jay Papasan, Keller offers two steps and calls it the Ultimate Success Habit: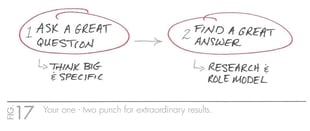 The figure provides a simple visual of this idea.
ASK A GREAT QUESTION: The Focusing Question helps you ask a great question. Great questions, like great goals, are big and specific. They push you, stretch you and aim you at big, specific answers. And because they're framed to be measurable, there's no wiggle room about what the results will look like.
Great questions can be framed into four quadrants. Again, look at the figure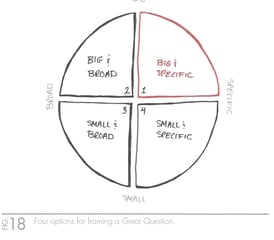 for help in visualizing this. There's also a specific example for sales provided here that breaks it down even further so you can see how it works.
Quadrant 4. Small & Specific: "What can I do to increase sales by 5 percent this year?" Nothing truly challenging about this, but at least it's specific. Truth be known, most salespeople can achieve a 5 percent increase in sales. It could just as easily happen because the market shifted in your favor as opposed to anything you might have done
Quadrant 3. Small & Broad: "What can I do to increase sales?" Really? This isn't an achievement question at all. It's more like a brainstorming question.
Quadrant 2. Big & Broad: "What can I do to double sales?" Big question, but there's nothing specific. The lack of specifics provides more questions than answers. Doubling sales in the next 20 years is very different from attempting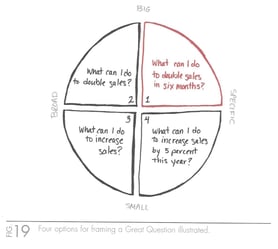 the same goal in a year or less.
Quadrant 1. Big & Specific: "What can I do to double sales in six months?" Here you have all the elements of a Great Question. It's a big goal and it's specific.
When you ask a Great Question, you're in essence pursuing a great goal. Whenever you do this, you see the same pattern—Big & Specific. A big, specific question leads to a big, specific answer, which is absolutely necessary for achieving a big goal.
CONVERT A GREAT QUESTION INTO THE FOCUSING QUESTION.
If "What can I do to double sales in six months?" is a Great Question, how do you make it more impactful?
Convert it to the Focusing Question: "What's the ONE Thing I can do to double sales in six months that by doing it, everything else will be easier or unnecessary?" When you turn it into the Focusing Question it goes to the heart of success. It forces you to identify what absolutely matters most and where you should start. That's where big success starts, too.
FIND A GREAT ANSWER
Once you ask a Great Question, the next step is to find a Great Answer.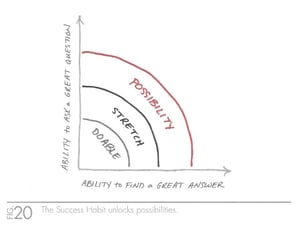 Keller breaks the answers down into three categories:
Doable: "Doable" is the most likely to be achieved. This answer you most likely know how to do it and won't have to change much to get it.
Stretch: You might have to extend yourself to the very limits of your current abilities. Still, this is potentially achievable and probable, depending on your effort. You'll need to do some research. Study what others have done to come up with your answer.
Possibility: High achievers understand the first two routes but reject them. Achievers choose to live at the outer limits of achievement. This answer is the hardest to come by. Know by extending yourself to find it, you expand and enrich your life for the better. Want the most from your answer? You must realize it lives outside your comfort zone. A Great Answer is essentially a new answer. Ask, "Has anyone else studied or accomplished this or something like it?" Almost always the answer is yes. Investigate to find out what others have learned. When you don't know the answer, go find your answer. Keller is a big reader and here he recommends discovering answers through books and Internet. He believes in the ideas we outline in A Players - The Magic Number is 24. Keller notes this advice from a college professor, "Gary, you're smart, but people have lived before you. You're not the first person to dream big, so you'd be wise to study what others have learned first, and then build your actions on the back of their lessons." Keller believes he was talking to you too.
Further insights from Keller: Whether it's figuring out how to leapfrog the competition, finding a cure for a disease or coming up with an action step for a personal goal, benchmarking and trending is your best option. Because your answer will be original, you'll probably have to reinvent yourself in some way to implement it. A new answer usually requires new behavior, so don't be surprised if along the way to sizable success, you change in the process. But don't let that stop you. This is where the magic happens and possibilities are unlimited. As challenging as it can be, trailblazing up the path of possibilities is always worth it—for when we maximize our reach, we maximize our life.
BIG IDEAS
Keller closes this chapter with his Big Ideas.
Think big and specific. Setting a goal you intend to achieve is like asking a question. It's a simple step from "I'd like to do that" to "How do I achieve that?" The best question—and by default, the best goal—is big and specific: big, because you're after extraordinary results; specific, to give you something to aim at and to leave no wiggle room about whether you hit the mark. A big and specific question, especially in the form of the Focusing Question, helps you zero in on the best possible answer.
Think possibilities. Setting a doable goal is almost like creating a task to check off your list. A stretch goal is more challenging. It aims you at the edge of your current abilities; you have to stretch to reach it. The best goal explores what's possible. When you see people and businesses that have undergone transformations, this is where they live.
Benchmark and trend for the best answer. No one has a crystal ball, but with practice, you can become surprisingly good at anticipating where things are heading. The people and businesses that get there first often enjoy the lion's share of the rewards, with few, if any, competitors. Benchmark and trend to find the extraordinary answer you need for extraordinary results.
If you've been reading this blog long, you know I love quotes.
This one is so appropriate to our next blog:
"Even if you're on the right track, you'll get run over if you just sit there." — Will Rogers
In the next blog, we'll be exploring extraordinary results and ideas close to my heart.