What does an A Player look like?
Are you an A Player?
If you've not watched Verne Harnish video on the #1 Barrier to Growth: Leadership Development It's a must! It's synthesizes the reason some leaders achieve and why others don't. It distinguishes A Players from B players. I assume if you're reading this blog you strive to be an A player. Watch it! It's just 1:19.
If Leadership Development is the #1 barrier to Scaling Up a business, what are you and your leadership team doing to develop your leadership skills?
Verne notes Brad Smart, author of Topgrading, discovered the only significant difference between A player executives and B and C players is their continuous focus on improving by reading 24 books a year!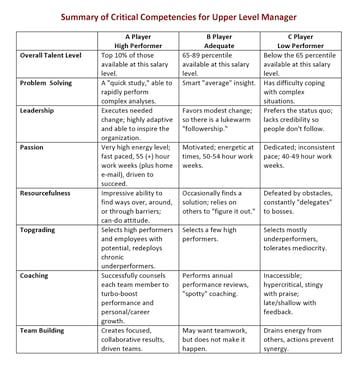 12 of these books should be serious, professional or business focused, while the other 12 can be fun books.
Dan McCarthy's Great Leadership blog How to Read Your Way into the Executive Suite shares some additional ideas on reading including what Periodicals A Player Executives read, what books they are reading, TV and radio information, and finally how to skim articles. You might want to share this with your executive team you feel struggle to meet the development levels you feel are necessary to scale up your business.
Every one of my Gazelles customers, if they don't already have a training and education plan or platform in their company, immediately recognize the importance of this element in growing their team and establish one for not only their leadership team but their company. Where do your next leaders come from? From the rank and file right? If you're not establishing patterns to achieve greater skill sets you'll need to look outside your business to grow it.
There's nothing wrong with hiring great talent from outside your business, yet these people always require ramp up time to become immersed in your culture and to learn the industry or nuances of how you do business. Far better to nurture and harvest your internal team for your leadership positions.
I love quotes and I hope this next one you will be able to enjoy in the context of this blog:
"All parents believe their children can do the impossible. They thought it the minute we were born, and no matter how hard we've tried to prove them wrong, they all think it about us now. And the really annoying thing is, they're probably right" -- Cathy Guisewite, Cartoonist
As leaders the greatest enjoyment is seeing one of your team apply the ideas you've coached and get outstanding results. When your people get it, the feeling is unlike any other.
Friday one of my customer's leadership team members, their sales manager, took a few moments to help me with my Google AdWords. After a short discussion I asked him how a meeting had gone with a prospective customer. He'd expected it to go very well since all the decision makers were on board and seemed to have bought in to moving forward. At this meeting, another team member, (not a decision maker) attended. This female seemed to have an objection for every portion of the proposal. So much so she disrupted the meeting and my customer was unable to complete the intended presentation.
We discussed what had happened. Was he able to gain rapport with this person? In Smart Tribes by Christine Comaford, she dedicates several chapters to Meta Programs, suggesting that by learning six of the 60 Meta Programs you can influence others and outcomes closing sales 50% faster.
These are her six Meta Programs:
Toward-Away. Are you motivated to go toward a goal or away from pain? Think salesperson versus accountant: what criteria do they "sort" with?
Options-Procedures. Do you like to have many options and choices or prefer a proven step-by-step process? What feels right to you?
General-Specific. Do you feel comfortable with a high-level overview or do you want specific details? When describing something, do you start with the details or the summary? Active-Reflective. Do you have short sentence structure and high action, or do you want to think about things first, using longer sentence structure with many clauses?
Internal-External. How do you know you've done a good job? Through external feedback or internal monitoring?
Sameness-Difference. Do you prefer to stay with one company in one position for a long time or do you need a change in your working environment or role every six months to two years? There are also options between these two poles.
Naturally this sales manager is interested in learning more. He's an A Player with a voracious appetite for learning. I'm sure he will not only pick up and read Smart Tribes but possibly explore Shelle Rose Charvet's book on Meta Programs Words That Change Minds as well to learn how can influence others.
This is an example of using what you learn to inspire and motivate someone you coach or lead. Are you reading 24 books a year? If you are, how are you applying this knowledge to help those you lead perform better?
Cathy Guisewite's quote reminds me that everyone believes they are capable of being and achieving more than they are currently realizing. Our job as leaders is to find that place in our team member's heart that yearns to be more, to achieve more. Then give them the knowledge and resources to inspire them achieve their full potential.
Your learning impacts not only your progress but the success of those around you.
Football season is approaching. My team, the Green Bay Packers, lost two of their middle linebackers, A.J. Hawk and Brad Jones. Most Packer fans consider this addition by subtraction based on these players performance last season.
Great Game of Business provides employees with a stake in the game, and as one of my customers learned increased his company's profitability by making his team realize adding employees didn't increase profits. We'll look at how GGOB can give your business addition by subtraction next blog.