The first day of the Dallas Growth Summit featured top though leaders and authors:
Greg Brenneman, Author of Right Away & All At Once sharing 5 Steps to Transform Your Business and Enrich Your life.
Patrick Lencioni, sharing ideas on two of his latest books, The Ideal Team Player: How to Recognize and Cultivate the Three Essential Values and The Truth About Employee Engagement.
Alex Osterwalder, Author of Value Proposition Design, sharing 10 Characteristics of Great Value Propositions
David Emerald Womeldorff, Author of The Power of TED (The Empowerment Dynamic) contributing ideas on Self-Leadership, and how we lead our own lives determines our leadership style, plus how to make the shift from drama to empowerment.
Cal Newport, Author of Deep Work: Rules for Focused Success in a Distracted World.
Ari Weinzweig, Founder and CEO of Zingerman's Community of Businesses, who shared his insights at the Atlanta Growth Summit on Bottom Line Change, offering how our own beliefs dictate our outcomes. His ideas on beliefs may cause you to rethink why your company projects don't work.
I'll share my best insights from each of their presentations in future blogs. For two days it felt like being feed great ideas from a firehose. I could easily compile 2-3 blogs from any of these authors and top thought leaders presentations.
In Humble, Hungry, and Smart - Core Values Considerations we've shared some of Patrick Lencioni's ideas from his book, The Ideal Team Player: How to Recognize and Cultivate The Three Essential Virtues. We'll share further insights on how to identify people in your organization who have 1-2 of these three values in a future blog.
Lencioni's book, The Truth About Employee Engagement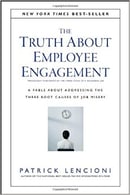 offers some valuable insights on what leaders and managers can do to increase our teams engagement.
The ideas on employee engagement flowed seamlessly with Lencioni's Core Values principles on humble, hungry and smart. Lencioni shared three factors that contribute to Job Misery:
Anonymity: It's a job killer. When you're not known by your leader you won't love your job. Lencioni emphatically shared it's our job as leaders to let our people know we care about them. Lencioni offered a story about a nurse who didn't like her job in the ER. The exception was when Dr. Trimbel worked. One day she overheard him speaking to an orderly. He asked him if he knew the person was who provided the surgical instruments. The orderly responded that his name was Carlos. "Good!" Dr. Trimble responded, "Now by next Monday I want you to find out something about Carlos that I already don't know and report it to me." People want to be known and appreciated. Dr. Trimbel understood this, which is why the nurse liked her job when she worked with Dr. Trimble.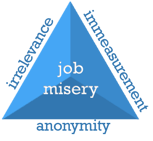 Irrelevance: All jobs matter one way or another. To someone, our job makes a difference in their lives. Since every job matters, your people need to be connected to their jobs. Your people need to know their job is relevant. Lencioni used Peyton Manning as example of this principle. Even after Manning had left a team; he would stay in contact with the people he knew there. The equipment manager when his wife had surgery or when he retired. He still remembered them for their contribution, and the relevance they provided to him. Unless your people know what they are working for they will not find fulfillment in their jobs.
Immeasurement: You won't find this word in the dictionary. Ask yourself, would you be happy if you weren't being measured? When waiters or waitresses have tips taken from them it's demoralizing! Everyone needs to know HOW they are doing. At a drive through, the manager struggled to discover what to have the person taking orders measure. Accuracy, speed, weren't areas in his control. The measurement chosen? How many smiles he received from customers. Everyone's job can be measured. Some managers don't provide measurement for their team because they want to hold all the cards. Figure out what measure provides feedback to your people on their job. Then report it to them. Measurement motivates. Remember Pearson's Law.
If you struggle with this idea, please take a few moments to read You Can't Measure What I Do – Measuring Performance and my newsletter What Don't You Understand?
LEADERSHIP INTERVIEW TIP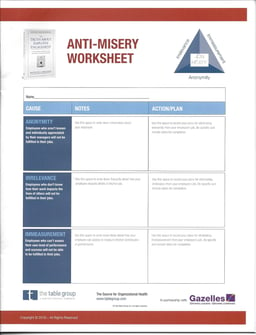 Next time you're interviewing a candidate for a leadership position make sure their qualifications include avoiding these detriments to Employee Engagement. Ask them how many people they manage. Ask, "What's their names?" Further discover what they know about each of the people they managed. If they don't recall the people they manage, they can't recall something about them, they're probably guilty of one if not more of these employee engagement deficiencies.
Lencioni offered several ideas on interviewing. One I particularly like is taking the candidate out of the office for an extended period. Take them shopping. See how they interact with others. You'll probably be rewarded with some keen insights on how they will react with your people as well.
There's a treasure trove of ideas, insights and trends to share with you from the Dallas Growth Summit. If these insights and ideas are valuable, consider joining me at the next Growth Summit, May 23-24th in San Antonio. In ten minutes, Ari Weinzweig, Founder and CEO of Zingerman's, provided valuable insights why the projects and obstacles we face at work have more to do with us and our beliefs than anything else. I'll share those insights next blog.
You still a few days left to register your team to explore the Four Decisions that drive growth in your business: Strategy, Execution, People and Cash at our Scaling Up Business Growth Workshop Cedar Rapids, IA, Wednesday, November 2nd at The Hotel Kirkwood Center. Plan to attend to make 2017 your best year ever. You can register by following the link above or click on the links in the upper right hand column of this blog.