Do you hire, evaluate, and release people in your organization based on your Core Values?
Patrick Lencioni new book, The Ideal Team Player: How to Recognize and Cultivate The Three Essential Virtues explores that idea.
In Lencioni's fable telling style he weaves a story of a new CEO forced into the position due to his uncle's immediate health condition. Jeff Shanley heads a successful construction company which needs to hire significantly more people due to an unprecedented surge in new business.
How they go about finding the right people for their "bus" is intriguing. It may force you to rethink your hiring practices, your Core Values and how you use them in your selection, evaluation criteria and who you continue to employ.
The Ideal Team Player suggests Humble, Hungry, and Smart as strong considerations for your Core Values.
This story and book is timely for me. One of my customers is working through the process of crafting their Core Values.
During our July Monthly meeting we had a lively discussion on Core Values. Two Core Values emerged in that discussion: Teamwork and Thirst for Knowledge the team unanimously agreed upon.
Lencioni in his book The Advantage shares helpful distinctions between what Core Values are and aren't. Still more helpful might be Lencioni's distinctions and Jim Collins which Collins and Jerry Porras provided in an HBR article Building Your Company's Vision (you'll need to be a subscriber to access). Read Jim Collins or Patrick Lencioni's Vision of Core Values for my insights into these differences.
CORE VALUES BEGIN WITH LEADERSHIP TEAM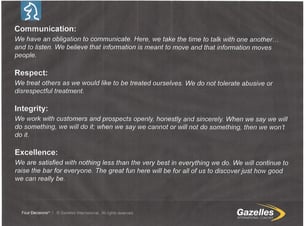 On the occasion of my meeting with this customer I shared the following group of Core Values from a highly regarded company from 2001.
The group agreed. These ideals exemplify excellent behaviors for the people in the company to follow.
The reason I shared this slide and these Core Values is to emphasize where the Core Value behaviors need to start and be thoroughly followed. If the leadership team doesn't pay attention to these attitudes, actions and conduct, no one else will either.
This list of thoroughly perfect Core Values is Enron's. The behavior of the three men at the top of the organization, founder Kenneth Lay, CEO Jeffrey Skilling, and CFO Andrew Fastow, certainly failed to meet these exemplary standards.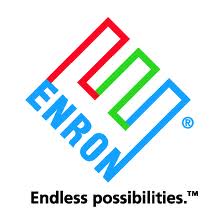 Their immorality and impropriety not only led to the downfall of Enron, it also collapsed one of the greatest accountancy companies in the world, Arthur Anderson. Jeffrey Skilling developed a staff of executives that, by the use of accounting loopholes, special purpose entities, and poor financial reporting, were able to hide billions of dollars in debt from failed deals and projects.
At the height of Enron's deceit, Arthur Anderson received $1M a week. When the Enron scandal was revealed 29,000 Arthur Anderson employees lost their jobs.
Is that adequate support for why your leadership team needs to embody your Core Values?
MISSION TO MARS
As Gazelles coaches we often use Jim Collins 'Mission to Mars' exercise to help our customers identify their Core Values.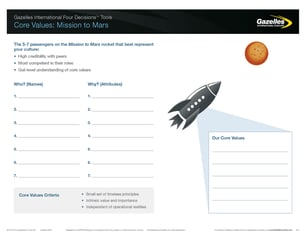 Here is the exercise: Pretend that you have been asked to provide team members from your company to go to Mars and be observed by the Martian culture. The Martians want to observe that which most accurately illustrates your company's culture – that which is right, best and noble about your culture.
You are to choose 5 team members that best illustrate your Core Values – by the way, the Martians cannot speak or understand human language, so your team members can only be observed living out your Core Values, they cannot verbally communicate them!
Who would you send? Why?
Which Core Values do they illustrate in your company? How?
EMPLOYEE CORE VALUES LIST
My customer decided since his leadership team needs to manifest the Core Values he would ask them to provide their Leadership group with a list of three of their personal Core Values. Sharing these with the group he feels should help them determine the company's Core Values.
Shortly after this discussion last week, one of my customers sent me an article on Academic Research based Employee Core Values List. In the article they share 18 of the 36 core values Psychologist have identified to describe how an "individual" behaves. Note: "The research proves that core values are hardwired by the time we hit the working world. Because core values do not shift over time they are an awesome starting point in an otherwise massive attempt to understand people."
It's important to understand when you create Core Values for your company, these values shouldn't change.
You won't find values like integrity, innovation, customer service and teamwork included in this core values list. From the article these are their three reasons:
Most people are noble and virtuous. Yup, you heard that right! Most people genuinely care about other people. Think about it! How many dishonest people who hate working with others on innovative solutions do you hang out with? Since most people are noble and virtuous, those values don't do a great job of describing a unique person.
Integrity was a stated value at Enron. If we included those obviously noble values in our list it would be tough not to select those values as descriptors, especially if they see those values on your website, walls, and coffee mugs. That's called selection bias. That leaves you with info that isn't a great reflection of an individual.
In some situations it can be useful to think of certain values as actions or behaviors. Just rewrite a few values as actions to see what I mean.
Again from this article here's some examples:
| | |
| --- | --- |
| VALUE | ACTION |
| We value exceptional customer service | We provide exceptional customer service |
| We value Teamwork | We work together as a team |
| We value Innovation | We innovate |
Read the article for a good example how a customer's support team wasn't living up to their Core Value of exceptional customer service. The company had a problem with their Core Values not being aligned with the process and procedures within the team providing customer service.
CORE VALUES TEST
In order for a Core Value to stand, it must withstand some important criteria and tests. The best is time and adversity, but for now, the 3 simple tests of a Core Value are:
Would you fire a team member who consistently or blatantly violated one of your Core Values?
Would your company be willing to take a financial hit (lose money) in order to maintain the integrity of a Core Value?
Is this Core Value alive among your team today (can you identify the name of a team member that is living out each of your Core Values in an energetic and obvious manner)?
In The Ideal Team Player: How to Recognize and Cultivate The Three Essential Virtues, Lencioni goes to great lengths sharing how your hiring process, and evaluating your current employees for Hungry, Humble and Smart is critical to having the right culture.
How are you doing there?
Experience is what distinguishes good leaders from the mediocre. How can you become a better leader without enjoying the benefit of experience? We'll share how and what might be a self-serving message next blog.