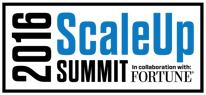 There was no PowerPoint to share, few metrics and no major book to push.
Yet Ari Weinzweig, Founder and CEO of Zingerman's Community of Businesses, was perhaps one of the most entertaining and engaging presenters at the Atlanta Growth Summit.
Weinzweig's presentation focused again on the changing needs of your organization. Specifically Weinzweig focused on making change happen itself.
For about a year one of my customers requested my help to train their customer service area of their business. The resources I used were largely Zingerman's examples and tools.
Ari began his presentation reminding everyone of the importance of fundamentals by referring to John Wooden's practice of investing the first day of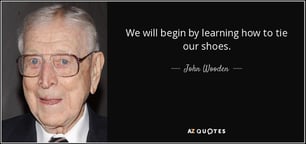 practice at UCLA on simply learning how to put your basketball shoes on properly. His point: if you're unable to run, you lose time, which cost us a basket, which in turn costs the game.
Many businesses are failing to reach their potential simply because they have not process in place to effectively change.
MAKE CHANGE HAPPEN FROM THE BOTTOM UP

Keeping with the theme of the Scaling Up Fortune sponsored Atlanta Growth Summit, Ari Weinzweig pressed home the idea of getting your change process to begin at the tactical or floor level of your business, the people who most frequently touch your customers.
Weinzweig first emphasized why your organization needs a change process offering these 7 Bullet Points:
Better Bottom Line Results – Zingerman's bottom line has improved as more and more employees initiate this process
Faster Change Implementation – When the bottom line employees start the process and see it work, they initiate more change where it is necessary. This speeds up fixes that are often ignored in most organizations.
The Change Actually Sticks – Weinzweig noted one of the reasons Phil Jackson won 11 NBA titles was his use of the Triangle Offense. In the triangle offense anyone can start the play, it didn't depend on star players. The less heroes the better, in fact in the Triangle Offense everyone is a potential hero. Allowing the people at the bottom of the organization to initiate change and see it work builds positive belief. It builds hope!
Develops More Skillful leaders – If you wait to develop leaders until you promote them it's too late. Leadership development in Weinzweig eye should start when people are hired. Everyone in the organization is responsible for management. Leadership in an organization should be everyone's responsibility just as customer service should be.
We Get Good At Change – Management guru Peter Drucker noted that 5% of decisions are unique set of circumstances, while 95% are repetitive in nature. Most leaders try to apply unique solutions to repetitive problems. Getting front line employees initiating the solution eliminates this issue.
We Become the Organization We Want to Be – Weinzweig referred to Adam Grant's new book Originals. Most people in an organization won't speak up unless they know they are going to be heard. The system is designed to allow everyone to participate and to be committed to the system.
In Line with Open Book Management Practices – Weinzweig believes in the concept preached by Great Game of Business. He believes in sharing financial information with his team to help them understand the business and get stronger commitment. To learn more about his Change system and his commitment to Open Book Management check out this article: Changing the Way We Change: Zingerman's Approach to Organizational Change.
UNDERSTANDING RESISTANCE
Weinzweig shared his complete system with us which he calls Bottom-Line Change Recipe. You can see pictures describing each step along the margins in this blog. By far the most valuable piece for me was why it's difficult to get change started and what needs to be built up in order to get your people believing change can happen.
Zingerman's uses recipes, which is a neat take on what they do with their food stuffs. In order to achieve change the recipe Weinzweig provided is D x V x F = R.
D = Dissatisfaction
V = Vision. Where are you going?
F = First Step. This is your action plan to eliminate the dissatisfaction.
R = Resistance
The three, Dissatisfaction, Vision, and First Step when multiplied together need to exceed the resistance you can expect when you implement the change.
How often does your organization plan, need, or want to change? When you attempt to change you meet resistance.
Would it be helpful to have tools that would help you know if you could overcome that resistance? Even better wouldn't it be great to have the front line people leading the charge on change. Imagine if you could get your front line people believing in change, initiating it and actually being the people who helped implement it?
INTUITION IS DATA
Weinzweig feels intuition is data too!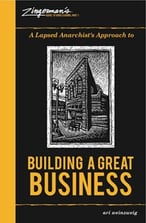 He commented, "If we don't act on intuition we quit being intuitive!" How does it feel in your gut is an important aspect of change.
Getting your front line employees to initiate change is critical. He reminded us of Henry Ford's quote, "If I'd just asked my customers all we'd had was a faster horse."
Weinzweig cautioned that most of the time this process appears to be failing. Even half-way through the bottom line change process Weinzweig indicated it will feel like it's failing.
This process teaches employees to learn to lead. It helps them to learn how to handle adversity. If employees are not asking for help as they go through this it's not good. Any human being is capable of helping and implementing this process Weinzweig has found.
Zingerman's got rid of their Employee Suggestion Box. Employees need help being coached through the process, yet again another opportunity for leadership.
How comfortable are you at networking events? Would you like to be more comfortable? Would you like to learn the proper way to shake hands and when to give business cards?
Molly Wendell the next speaker, author of The Networked Organization, provided a highly entertaining presentation on how to network properly. That's our next blog topic.