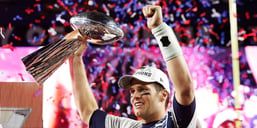 When you've led your team to 7 Super Bowls, winning 5 of them, your record of accomplishment speaks for itself.
Comparing the NFL to your business, it might be like achieving your Strategy Statement or BHAG five times or more. Or possibly it's getting Super Green on your Annual One Thing 5 out of 7 years.
Despite enduring a four-game suspension to begin the season, due to a ridiculous ruling about air pressure in footballs 2 years ago, Tom Brady set aside his personal resentment, and moved forward flawlessly.
How many of us would be able to forgive and forget an injustice?
In the Peter King article Tom Brady Opens Up: 'I'm Not Going to Give Away My Power' King quotes Brady as saying, "I don't want to give my power away to other people by letting my emotions be subjected to what their opinions are. So if someone calls me something, that's their problem. I'm not going to give away my power."
I love this! Brady is living Wayne Dyer's belief, "When we judge others we don't define them we define ourselves" in reverse! Brady's belief comes from Agreement #2 of The Four Agreements.
The essence of giving away your power comes from a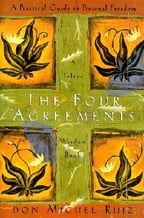 mind-fixing book Brady loves called "The Four Agreements," by Don Miguel Ruiz.
If it works for Tom Brady, I figured I should discover more.
The Four Agreements
Ruiz believes people adopt storylines that others create for them, and people are just supposed to fall into line and accept them as truths, whether they feel that way or not. He calls this domestication. It's a belief system we all were taught by our parents, schools, law enforcement, etc. The belief system is like a Book of Law. It rules our mind. Without question, whatever is in that Book of Law, is our truth. We base all our judgments according to the Book of Law, even if these judgments go against our own inner nature. Even moral laws like the Ten Commandments are programmed into our mind in the process of domestication. One by one, all these agreements go into the Book of Law, and these agreements rule our dream.
Deep, spiritual, too transcendental?
In reading, I discovered many of the principles agree with Quantum Physics, matching up with the Joe Dispensa's Breaking the Habit of Being Yourself which helped my defeat cancer through spontaneous remission.
You be the judge on these Four Agreements. The essential elements are: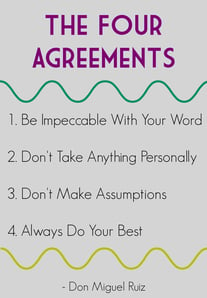 THE FOUR AGREEMENTS
BE IMPECCABLE WITH YOUR WORD
Speak with Integrity
Say only what you mean
Avoid using the Word to speak against yourself or to gossip about others.
Use the Power of Your Word in the direction of Truth and Love
DON'T TAKE ANYTHING PERSONALLY
Nothing others do is because of you.
What others say and do is a projection of their own reality, their own dream.
When you are immune to the options and actions of others, you won't be the victim of needless suffering.
DON'T MAKE ASSUMPTIONS
Find the courage to ask questions and to express what you really want.
Communicate with others as clearly as you can to avoid misunderstandings, sadness and drama
ALWAYS DO YOUR BEST
Your best is going to change from moment to moment; it will be different when you are healthy as opposed to sick.
Under any circumstance, simply do your best, and you will avoid self-judgment, self-abuse, and regret.
Understanding the Four Agreements
The first three agreements will only work if you do your best. That's because, You're not always going to be able to be impeccable with your word. Your routine habits are too strong and firmly rooted in your mind. But you can do your best. Don't expect that you will never take anything personally; just do your best. Don't expect that you will never make another assumption, but you can certainly do your best.
By doing your best, the habits of misusing your word, taking things personally, and making assumptions will become weaker and less frequent with time. You don't need to judge yourself, feel guilty, or punish yourself if you cannot keep these agreements. If you're doing your best, you will feel good about yourself even if you still make assumptions, still take things personally, and still are not impeccable with your word.
If you do your best always, you will become a master of transformation. Practice makes the master. By doing your best you become a master. Everything you have ever learned, you learned through repetition. You learned to write, to drive, and even to walk by repetition. You are a master of speaking your language because you practiced. Action is what makes the difference.
Whatever current "laws" we are following, the truth is even if they are wrong for us, they make us feel safe. We've been indoctrinated (domesticated as Ruiz calls it) to believe this is the way we need to live. Most of us have not even given thought to the question, "What's true for me?"
One of my favorite sections from the book is:
How many times do we pay for one mistake? The answer is thousands of times. The human is the only animal on earth that pays a thousand times for the same mistake. The rest of the animals pay once for every mistake they make. But not us. We have a powerful memory. We make a mistake, we judge ourselves, we find ourselves guilty, and we punish ourselves. If justice exists, then that was enough; we don't need to do it again. But every time we remember, we judge ourselves again, we are guilty again, and we punish ourselves again, and again, and again. If we have a wife or husband he or she also reminds us of the mistake, so we can judge ourselves again, punish ourselves again, and find ourselves guilty again. Is this fair?
Sound familiar?
The Four Agreements make great sense for your leadership team meetings, and your core values. What other value can you gain from these?
Need help with any of the Four Decisions: People, Strategy, Execution, or Cash? Contact dwick@positioiningsystems.com.
NEXT BLOG
Success requires discipline and creating habits. How long can you maintain engagement/discipline before you give in or give up? Next blog I'll share new ideas on creating habits from Michael Bungay Stanier's The Coaching Habit.