To say the last several weeks here in the hospital have been challenging might be an understatement. I'm sure my wife, Michelle, and my family thought I was worse than I did. Despite a lack of energy at times I still found time to work my routine and enjoy my passion for working with my clients.
On July 9th University of Iowa performed and very important biopsy on me. Upon it hinged my future and whether I would need to pursue more clinical trials (experimental) or whether other alternatives for fixing me needed to be considered. One option would have been to simply give up (Not the option I would have chosen of course!)
Ussually the biopsy takes one to two days to get results. When Wednesday passed and we still hadn't received the verdict it was a bit disconcerting. I affirmed that this was good and would turn out for the best. Well once again patience seemed to be the lesson.
Finally on Monday with my wife in my room Dr. Link by new staff doctor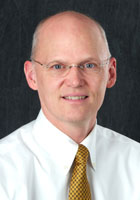 arrived to let us know he would be taking over for Dr Whebe. When we inquired about the biopsy results he said," I can get them." For some reason I felt that Dr. Carter, my physician, should be delivering this information so I was a bit apprehensive when he offered.
Dr. Link is now my new favorite doctor. He reported to us that my bone marrow was less than 1% and that any cancerous cells they could find comprised .3% of my bone marrow. That report was a miracle to me. It meant that my leukemia is in remission and I am eligible to move on to bone marrow transplant. You can't get there unless you are in remission. Through 5 chemotherapies, and finally one clinical trial I had arrived where my prayers, meditation and your support and prayers had expected me to be.
Faith is an important part of my life. My meditation exercises that I do each day (minimum 1 hour 15 minutes) helped changed who I am and make me realize how selfish I have been. Quantum Physics is part of the meditation process, and I bring that up because some people don't have faith in God, yet I find that the principles in Quantum Physics and Dr Joe Dispensa's meditation guide only support my faith in God.
Finally I owe a great deal to the Strategic Discipline Principles I teach to my clients. Routine is critical, and throughout this challenge I've chosen to wear my business or casual clothes, not choosing to believe I am a patient. I practiced choosing my six top priorities daily, with meditation each day as my #1 priority.
The Stockdale Paradox still remains heavy on my mind as I approach getting my lung infection fixed and moving toward bone marrow transplant. "This is a very important lesson. You must never confuse faith that you will prevail in the end—which you can never afford to lose—with the discipline to confront the most brutal facts of your current reality, whatever they might be."
There is still a long road ahead to full recovery including first overcoming the lung infection I have now. I'm more confident than ever that I will make a full recovery and become a new better person. I believer more than ever as Vice Admiral James Stockdale stated, "I never lost faith in the end of the story, I never doubted not only that I would get out, but also that I would prevail in the end and turn the experience into the defining event of my life, which, in retrospect, I would not trade."
I'll be back on the trail of lessons from Strategic Discipline, Rockefeller Habits and best practices when the blog continues next week. Thank you all for your prayers, support and encouragement. There is no possible way for me to thank you all, but your words of encouragement have lifted me up so often, I can't thank you enough. God Bless you all!
PS. Dr. Link moved up higher on my list of all-time favorite doctors when he indicated this morning there was really no reason for me to be in the hospital as well as I am doing and that following my biopsy on Monday they're probably going to allow me to go home until bone marrow transplant begins!