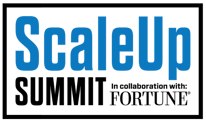 We all suffer from it. Long, disorganized, indirect, and poorly written emails.
The average employee spends about 9 hours reading emails.
Most of that communication is totally meaningless. This doesn't mean the emails are meaningless. The content, it's point, words, and meaning is lost in vagaries and jargon. Messages fail to get to the point, direct us to take action, leaving us avalanched, and to search the intention of messages.
Josh Bernoff, author of Writing Without Bullshit, shared his techniques to improve communication at the St Louis Scale Up Summit.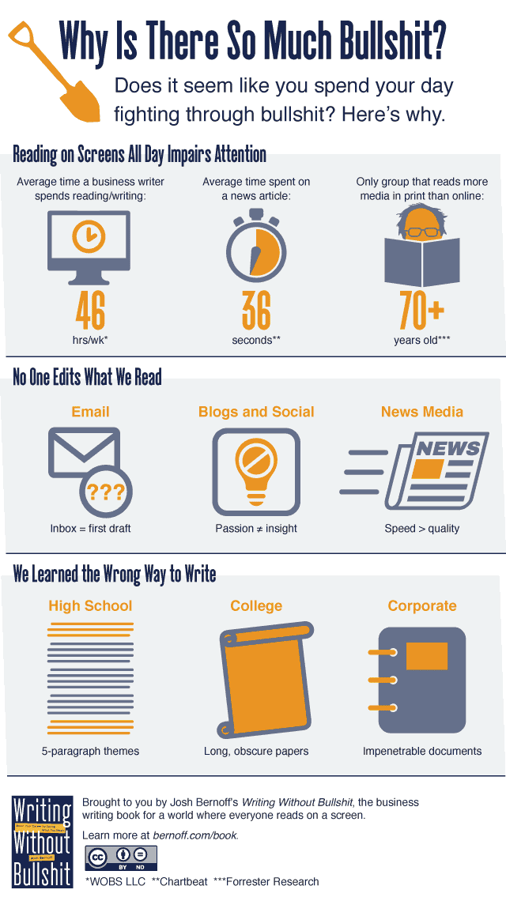 Bury the Lead
Bernoff isn't just talking about middle and lower management. From frontline staff to the CEO, all are guilty of poor communication.
Bernoff shared former head of Nokia, Executive Vice President of the Microsoft Devices Group, Stephen Elop's horrible email burying the news of 12,500 layoffs in the 11th paragraph of a long, rambling corporate strategy memo. Read Microsoft Just Laid Off Thousands of Employees With a Hilariously Bad Memo.
The memo/email would be comical if it weren't delivering such bad news.
Ask yourself if you've been ever guilty of failing to get to the point? Have you ever sent out a memo/email, to receive a "HUH?" Did people run to your office to ask you its meaning?
81% agree written materials waste our time. Read Bernoff's Harvard Business Review Bad Writing Is Destroying Your Company's Productivity.
You don't have to. You already know this if you receive any emails.
If you own a business, 6% of your employees waste time reading poorly written material.
When you consider the average time spent reading a news article is 36 seconds, you don't have much time to get attention, and deliver your message.
Josh Bernoff provided some ideas on how to write better, starting with ….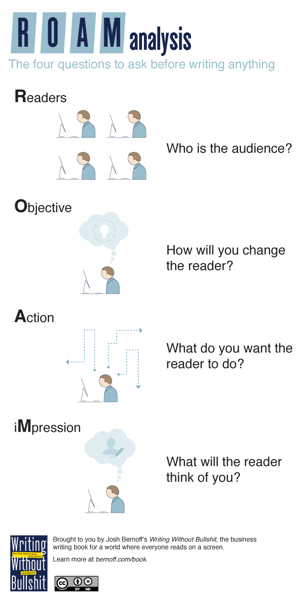 Treat readers time as more valuable than your own.
Bernoff recommends when you write, ask these 4 questions:
Who is the reader?
What's your Objective? To make a change in the mind of the reader? (the only purpose of any message.)
What do you want your reader to do?
Impression: What will they think of you? (Every time you send, you say something about yourself)
In school, remember having to write a 500 word essay? It's possible it started a lot of bad habits. Longer isn't better. In today's short attention span society, brevity, and getting to your point is critical. (See the 36 second average news article reading time above.)
Stephen Elop's 1200 word email on "strategy" exposes a trap. Write too long and you lose control of the message.
Had Elop's message subject line said 12,500 people are going to lose their jobs, he would have achieved #2 of Bernoff's 4 questions decisively.
WRITING RULES
Consider the following writing rules to help you improve your communication.
Never write anything without having a word limit in mind. (Microsoft Word counts your words, as does your email correspondence.)
Always edit the first draft- When you figure out what you mean, rewrite.
Delete and reorganize relentlessly.
Front load your writing. (Don't bury the lead)
Cut the opening paragraph until it hurts. (delete the first paragraph, now look at the next and delete it.)
Make the opener the summary. The title and first two sentences should reveal what's coming.
Rewrite the title and opener at the start and end of every draft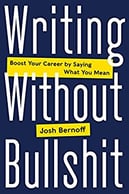 AVOID - Toxic, Weasel, Vague Intensifiers, Not Taking Responsibility.
Bernoff defined toxic voice as using weasel words, not being direct, passive voice, or jargon. Jargon creates insiders and outsiders. Outsiders don't understand what you're saying. Jargon Bernoff called, "The curse of knowledge."
Bernoff suggests taking a picture out of the person(s) you're messaging. Focus on your audience. What language you should use?
Will this person understand your message? Use only terms common or you define upfront.
What are weasel words? Words to make something stronger. Examples: very, deeply, desperately, often, rarely. These are adverbs and adjectives used as vague qualifiers and intensifiers. They often have the opposite effect. Remove them and you won't change the meaning.
Finally take responsibility by using we, and I. Avoid being indirect or avoiding who is responsible.
How to Write – Better Document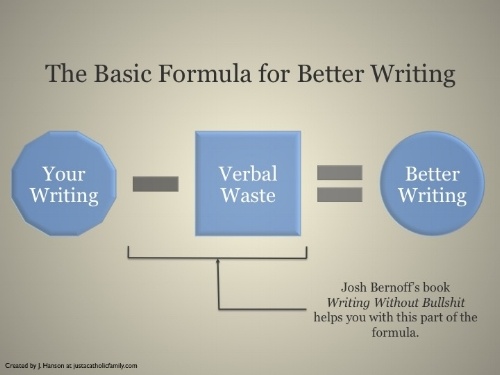 A few more simple rules to follow.
Prepare
Draft (find place where no one will bother you)
Review
Revise
Get to point. Front load content.
Purge toxic prose
Manage time and review
You still have time left to join me this Wednesday, November 1st for simple, practical, and actionable exercises at the Scaling Up Business Growth Workshop in Cedar Rapids, IA. We'll share foundational principles from Scaling Up and Strategic Discipline. Ideas to help your business grow exponentially.
Want to achieve exponential growth and Scale Up to your business? Contact dwick@positioningsystems.com. Or take our Four Decisions Needs Assessment to discover how your business measures against Scaled Up companies. We'll contact you.
3 Things Make People Happy – Next Blog

Less is more. Some of the shortest presentations, make the biggest impact. Rabbi Stephen Baars, a frequent comedic quest at our Summits, shared three surprising things that make people happy. That's next blog.