The universe is expanding.
In fact scientists tell us it's expanding at an accelerating rate.
How does this having anything to do with business being a noble pursuit?
If the universe is expanding, does it make sense that in order for the human race to remain in harmony with our environment we also need to continually challenge ourselves to grow and improve to achieve our potential?
What's the reason any of us exist? What's the reason for a business to exist?
This blog we'll explore some deeper ideas, and some leaders who explored and lived for a deeper purpose. In doing so my hope is to provide you with a perspective on what is important for our lives and our business and why business is a noble pursuit.
We often speak about the critical value of learning and education for a person and for your business. The most successful businesses see training employees as a competitive advantage. General Electric, Dell, The Container Store and many, many others are companies that embrace these ideals.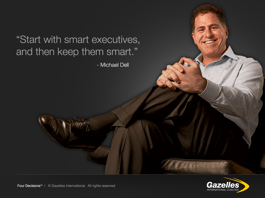 Gazelles Coaches meet monthly to exchange and learn ideas on how to help our business growth customers expand. Verne Harnish's partnership with Fortune Magazine, and our expanding Leadership Growth Summits, Gazelles Growth Institute, partnerships with top thought leaders to provide their learning videos to our growth companies are prime examples of our philosophy advocating education and learning.
Even the most talented companies need a boost to keep up. A mid-stage star outgrows its start-up team. A new player grabs market share. Your people lack the skills to seize new opportunities. Promise and potential drain slowly away. The ugly truth is this: tactics that fueled growth may not keep you growing. The flat-footed are likely to lose.
If you want to stay competitive and grow, you need to keep your people smart.
If you have trouble believing that, I remind you of Singularity University's Salim Ismail presentation on the forces of Disruptive Innovation. The lifespan of S&P 500 company at one time was 67 years. That number has dropped to 15 years. What's even more remarkable is that in the 9 months that it took for Salim to write his book, The Exponential Organization, the number dropped to just 12 years.
Some quotes provided in that blog should remind if not startle you if you're still of the mindset education and learning are not critical to your business growth and survival:
"Success is a lousy teacher. It seduces smart people into thinking they can't lose." Bill Gates
"Any business still doing business as they did in the 20th century will not survive the 21st Century," David Rose, economics professor University of Missouri-St. Louis. Author, The Moral Foundation of Economic Behavior.
Survival and Creation
I'm a cancer survivor. My chances of survival were less than 2%. As documented in many of my blogs on Acute Myeloid Leukemia and my Bone Marrow Transplant, I used meditation, adopting some of the specific ideas outlined in Dr. Joe Dispensa's book Breaking The Habit of Being Yourself: How to Lose Your Mind and Create a New One, and principles of Strategic Discipline miraculously achieve victory over this challenge.
In Breaking The Habit of Being Yourself: How to Lose Your Mind and Create a New One, Dispensa offers his belief about the brain. We live in two states of mind: survival or creation mode.
Most people spend the majority of their time preoccupied with negative thoughts and feelings. Is it likely that most of the things that are happening in our present circumstances are negative? Obviously not. Negativity runs so high because we are either living in anticipation of stress or re-experiencing it through a memory, so most of our thoughts and feelings are driven by those strong hormones of stress and survival. Scientists estimate we spend 90% of our time in the negative or "survival" state of our brain. When our stress response is triggered, we focus on three things, and they are of highest importance:
The body. (It must be taken care of.)

The environment. (Where can I go to escape this threat?)

Time. (How much of it do I have to use in order to evade this threat?)
Living in survival is the reason why we humans are so dominated by the Big Three.
If you've begun reading Christine Comaford's Smart Tribes, you probably recognize some of the similarity to her ideas presented in the book and which she provided in Create Safety, Belonging, Mattering at the Orlando Growth Summit.
Our brains learn two ways, through knowledge and experience.
Experience is a great teacher, yet the trouble with experience is it causes us to repeat what we know from memory, what we've been doing. We keep repeating the same success or failure we've been achieving. The trouble is, as noted by the changes in the lifespan of the S&P 500, change is occurring faster today than ever.
It is absolutely incumbent upon you and your organization that your people learn new ideas and are impacted by new knowledge or your business will be overtaken by another that is adapting and learning faster than you are.
Unless you and your team is consistently learning new approaches, adopting and adapting to how the market and world is advancing you're falling behind and in danger of being swallowed up by a competitor.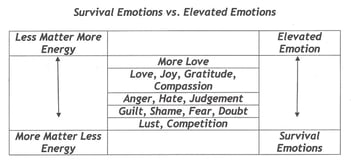 Knowledge without experience is philosophy. Experience without knowledge is ignorance.
Can you see why creation or the learning phase is so critical to business and personal growth? Creation places us into the positive emotions, as outlined by the chart on the left.
Greatness Is Holding Fast to a Dream, Independent of the Environment.
Mahatma Gandhi, Martin Luther King, Abraham Lincoln, Winston Churchill, Steve Jobs. These are people who believed and held resolutely to a dream and a vision when there was no physical evidence that the outcome they believed in could be achieved.
In business Steve Jobs lost the company he had founded, only to return and power Apple to unprecedented growth and esteem.
Steve Jobs was relentless in his pursuit of new ideas, innovation and learning. His efforts paid huge dividends for Apple.
Is your business in creation or in survival mode?
If you're not investing in the consistent continuous education of your people your business is in danger of extinction.
Recently I've been re-listening and reading Dispensa's book Breaking The Habit of Being Yourself: How to Lose Your Mind and Create a New One. Dispensa specifically focused on discovering how people who have achieved spontaneous remission from serious illnesses and cancer achieved results. He found 4 major similarities in every instance. Interested to discover what those are? Join us next blog and discover what they can mean for your business.