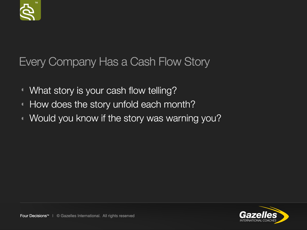 Is it possible that a few small wins could make a dramatic improvement in your businesses cash flow?
In my experience, I've found that even a few points in gross margin, operational expenses, price increases elevating gross revenue can have a significant impact on your profit and cash flow.
We'll get to one example, but first a description of the Tool – The Power of One, and a brief review on CASH DECISION, one of the FOUR DECISIONS we coach our customers on to eliminate losing time, energy, cash and growth on the table for your growing business.
The result of getting the CASH DECISION right in your business is OXYGEN: having sufficient, perhaps abundant, cash to have options and make wise decisions.
The past two blogs we've shared ideas on how to increase CASH in your business. If you've missed these, check out:
Does your business we have consistent sources of cash to fuel growth?
Using the intellect and experience of your entire team, can you find cash flow you didn't know was there?
YOUR CASH FLOW STORY
Let's start by looking at your Cash Flow Story.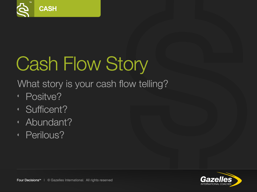 Every company's cash flow tells an important story about the health and the near-term future of the business. Through experience, building the skill to "read" your cash flow story is an important one to master.
Do you know what your cash flow story is?
Is your story telling a story of abundance? Peril? Sufficiency?
Have you always had sufficient Cash Flow to fund your businesses growth? Meet payroll? Pay your vendors?
When you were unable to, what was the primary cause of your shortfall? Has your cash flow changed in recent months? If so why?
Be as specific as you can about the answers to these questions. Discovering why you've had sufficient or short falls in cash will reveal a great deal about your business.
Perhaps the biggest question, do you know why?
POWER OF ONE (1%): 7 KEY FINANCIAL VARIABLES YOU CAN INFLUENCE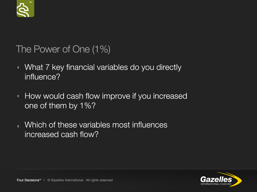 The Power of One (1%) is a principle/tool to help provide significant positive (or adverse) impact on your Cash Flow Story. Alan Miltz, one of our Gazelles Faculty Members and Contributing Thought Leaders, identified 7 key financial variables companies can directly influence to strongly impact cash flow.
The seven most influential and impactful financial variables to the Power of One (1%):
Price
Volume
Cost of Goods Sold
Accounts Receivable
Accounts Payable
Inventory (Turns)
Overhead Expense
Two important questions arise:
How would your cash flow improve if you increased any or each of these by 1% over a period?
Of these 7 key financial variables, which ones most influence your company's cash flow?
POWER OF ONE (1%) EXERCISE
The worksheet here is to help you estimate and document the changes (1% or more) to the Seven financial variables.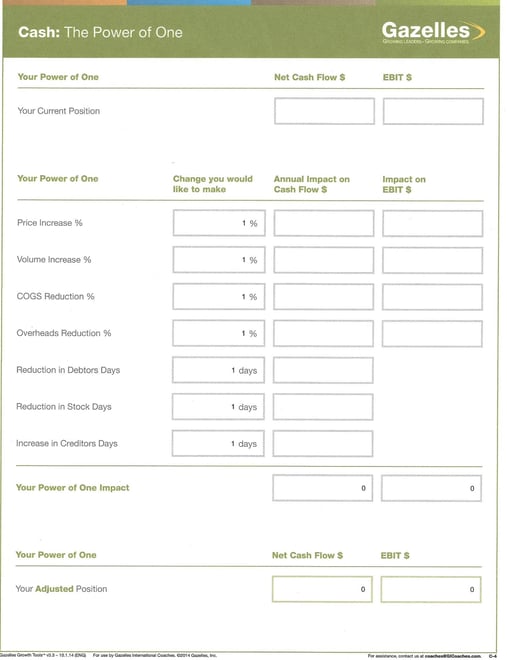 Document your Net Cash Flow and EBIT (Earnings Before Interest and Taxes) for the past rolling 12 months or previous fiscal reporting year.
Then collaborate with your team to discuss the impact of a 1% improvement in each the 7 key areas.
Finally, estimate the positive impact on your Net Cash Flow and EBIT over the coming 12 months.
What could these improvements do for your business if you acted on the Power of One (1%)?
EXAMPLES
Here is an example of the Power of One at work.
A commercial and retail furniture company I began working with in June struggled to make profit. Their last business P&L showed them operating at nearly -$200K in debt for the year. The business was on a fiscal calendar with the company's year ending in November. It meant they only had 5 months to turn the profit number around.
We worked through the Power of One. The eldest son in the business, immediately took responsibility for reducing the overhead expenses. The exercises helped them see how they could find at least 1% reductions in this area. Most importantly it opened their eyes to how increasing their margins in both their commercial segment and retail division by even a couple of points would greatly contribute to their bottom line. Furthermore, the exercise see the value of cash. They convinced one of their customers, a Credit Union, to pay for their order in advance.
In just five months the leadership team reversed their loss to a net profit of $35K. Over a $200K turnaround!
Does your business need help with discovering the cash inside your business? Contact dwick@positioningsystems.com for help with this or any of the FOUR DECISIONS your business needs to grow.
NEXT BLOG – PLAN YOUR QUARTER
I'm on vacation next week. First quarter is about to end, and it's time to prepare for second quarter. Do you have a 2nd quarter planning meeting scheduled? Legendary Alabama football coach Bear Bryant said, "It's not the will to win, but the will to prepare to win that makes the difference."
Next blog I'll be sharing a repeat of a blog I previously did on the value and importance of quarterly and annual planning.