Perhaps you're familiar with the expression, "When the student is ready the teacher appears."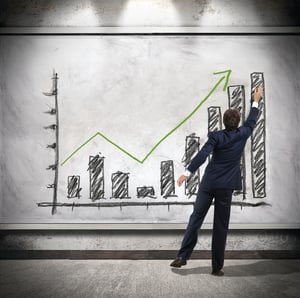 Are you ready to learn and discover how you and your business can achieve its potential?
An opportunity to discover and learn is yours in about 30 days, November 11th to be precise at Bankers Trust in downtown Cedar Rapids at Positioning Systems Scaling UP workshop.
I don't use this blog very often to pontificate a marketing message so forgive me if you take offense to this approach today. The remainder of this blog will be what you can expect if you as a student are ready to learn.
Here's the tentative agenda for the Workshop. It's tentative simply because I'm open to adapting it to the interests of the attendees. If you attend I always have a short meeting prior to your attending to discover specifically your expectations. If there's something you are explicitly wanting I will include it in my agenda if "humanly" possible.
7:45 am Arrival / Check in/Breakfast
8:00 am Connection Exercise / Introduction(s) / Overview (30 min)
8:30 am Rockefeller Habits Vision Summary (30 min)
9:00 am Rockefeller Habits Checklist / Accountability (www) (30 min)
9:30 am Core Values I (Mission to Mars) (60 min)
10:30 am Break
10:45 am SWT or SWOT (choose one) (45 min)
11:30 am Key Thrusts (3 to 5-year Chess Moves) (60 min)
12:30 pm Lunch / Networking (45 min –Bankers Trust Sponsor Recognition)
1:15 pm Talent Assessment (45 min)
2:00 pm Cash Acceleration Strategies (CCC) (45 min)
2:45 pm Break
3:00 pm Annual Plan (Critical #s / Goals / Priorities) (45 min)
3:45 pm Quarterly Plan (Critical #s / Goals / Priorities) (45 min)
4:30 pm Vision Summary/ Review of Concepts / Actions / Closing (30 min)
5:00 pm Workshop Adjourns
We'll start with an introduction of the Scaling Up/Rockefeller Habits principals and the outcomes each of the Four Decisions intend to produce. These are critical for helping your business discover what should be your One Thing.
Next we'll create an Accountability Tool to keep you and your people answerable to their intentions and obligations. The Rockefeller Habits Checklist is a tool that is awesome to discover how close your business is to running and a well-oiled machine. Excellence in execution results in bottom line profits. Every owner and CFO is profoundly interested in squeezing every penny out of their business and this tool will help you achieve higher profits than you ever dreamed imaginable.
Next we look at the behavior of your team. What's that like in your business? Do your people perform to your expectations in regards to intention, purpose and performance. Performance is a reflection of how well your team believes in the behavior you expect. Have you explicitly stated what behaviors you expect in the workplace? If not this is the time to work on develop this. If you already have Core Values we'll have an exercise for you to discover how ALIVE they are in your business.
Is your business doing a SWOT (Strengths, Weaknesses, Opportunities, & Threats) at least once a year? We suggest you do this with your middle management team and then do a strategic focus with your leadership team on SWT. SWT stands for Strengths, Weaknesses and Trends. The key here is Trends. With the pace of technology and change in today's society businesses can get swallowed up and extinct in a very short time. Witness Kodak's abrupt fall from a leader to extinction we discussed in Is Failing an Inside or Outside Job? – The Case for Culture.
Are you keenly aware of the trends influencing your industry? What about trends in the world? More people search the Internet now on their mobile phones than they do on their computer. That's certainly a trend you've adapted to in your web presence right?
Your business has a 3-5 year plan right? If so our next exercise is to develop the key thrusts you will need to make to achieve these objectives. As an example, you have some very aggressive revenue goals. This will require possibly hiring or developing more A players in your organization, key marketing initiatives, new brands or products, a better sales strategy or possibly better lead generation or sales people. Identifying those key thrusts that are critical to achieving the 3-5 year objectives will be our focus.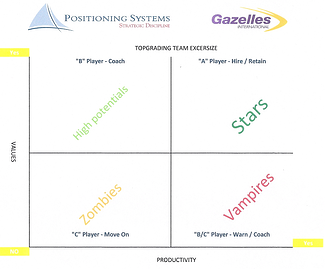 After lunch we'll come back to work on assessing your talent. This exercise is similar to performance evaluations. It's based on judging your team on two scales, core values and performance. The former is largely subjective, however if you have Core Values you can develop a scale for assessing this. Performance should have little if any subjectivity to it. In most cases businesses fail to accurately assess employee performance, frequently failing to have key accountabilities and metrics for these measured.
If you're Topgrading you have the tool to achieve this performance equation with the Job Summary Scorecard.
Following the Talent Assessment we'll work on Cash, a vital component for every growing business. I plan to provide a story at the beginning of the workshop from an attendee to the first workshop I ever did as a Gazelles coach. Sat's story offers insights on how your greatest problem can become your crowning achievement and competitive differentiator. Sat took a problem and turned it into his X Factor, Profit per X and ultimately a winning formula for his business. The Cash Conversion Cycle will give you new insights on how you can manage and discover unseen streams of cash for your business.
After a short break we'll focus on execution, including how to develop your annual and quarterly plans. Achieving your priority for the year and each quarter requires good planning. Even with the correct priority you need to have everyone on board pulling in the same direction to achieve it. You need to select the right activities to reach your priorities. We'll look at how to do this by choosing the right ratio of leading and lagging indicators and then how to build accountability through meeting rhythms and dashboard reporting.
Finally we'll wrap up the workshop with another personal story on how your One Thing focus gets results.
If you have questions regarding any of these agenda items contact Positioning Systems for help or consider attending our November 11th Scaling Up Workshop in Cedar Rapids, IA.
What's your One Thing? One of my customers had the same One Thing for their Annual Priority for three years. Not achieving it may suggest they did a poor job executing against this. Yet this year when they achieved it the success is unprecedented. That's my next blog Thursday!