Just about every business I know can put together a one year plan for their business. How many actually do is another question. The biggest issue is whether the plan has the teeth to succeed. Does it muster the proper support and accountability to achieve the expected result? You need only refer to my last blog Strategic Planning - Great Strategy Isn't Enough to understand the multitude of reasons why most business plans fail. That's why you need Strategic Discipline.
Your 3-5 year plan is the foundation for determining what your Annual Plan should look like. Revenue and profit are the easy steps in most cases to developing your plan.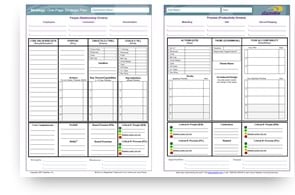 The Key Thrusts and Capabilities in Gazelles One Page Strategic Plan are crucial to recognizing what you need to do to achieve your 3-5 year plan.
From these Key Thrusts and Capabilities you need to decide which you need to implement in your annual plan. Which of the key thrusts and capabilities need to come first? Which have the greatest priority? When you know where you are going in 3-5 years it's much easier to know where you need to be in the next 12 months.
Thus A Key Thrust or Capability can show up as a Key Initiative on your Annual Plan. Perhaps just a portion of a 3-5 year key thrust or capability will need to be achieved this year. Your ultimate 3-5 year goals for sales, profits, market share, revenue per employee, or customer satisfaction will most likely be achieved in stages. Reality may even demand that you go backwards before you can go forward. These steps need to be recognized. Your annual plan needs to account for this. Can you see why it's important to do the 3-5 year plan first?
Suppose your 3-5 year plan is to reach $10M in sales by 2015. If you're currently at $5M your Key Thrusts and Capabilities may have included expanding your market from regional to national, or possibly to international. What does that look like in terms of what you need to accomplish this year to achieve that goal by 2015? Will you need to expand your present sales staff by adding more sales people, sales managers, or will you improve your sales system? Will you change the sales model to include sales through your website versus sales support?
Ultimately your Annual plan is a small piece of your larger plan. What you wish to achieve in 3-5 years needs to include the baby steps that will lead you there.
The critical element to achieve your 3-5 year and annual plan is communication and implementation.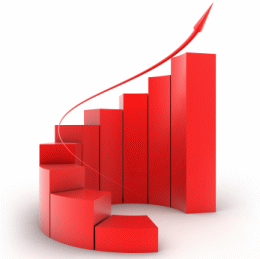 It needs to get your people contributing. Not just playing lip service, but performing measurable tasks and activities that advance the company's goals.
Your Quarterly Priorities break down your annual plan into 4 smaller bite size pieces developing incremental steps to achieve the larger annual goal. When done right, your quarterly priorities use the principle that Aubrey Daniels describes in Oops, Bringing Out the Best In People and what Dan and Chip Heath describe in Switch discussed in my blog Stretch Goals - Give Them a Head Start.
Next time we'll discuss quarterly priorities and begin to translate how these break down into responsibilities that eventually form the basis for individual accountabilities. The One Page Strategic Plan is a vital communication matrix that drives accountability down to the tactical level of your business. Developing your quarterly priorities is the lynch pin to achieve this.