Ask yourself a question about your business practices:
Are you proactive, establishing your business focus for each quarter and year, rarely if ever responding to competitive pressures or market dynamics, or are you reactive?
Do you constantly respond to competitive and marketing dynamics?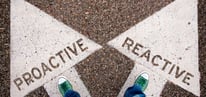 The answer will reveal the importance of discovering your Hedgehog Concept and specifically the question of: What can we be best in the world at? (See previous blog: A Brand Promise and Guarantee I Bet My Life On for more insight into this Best Practice.)

Not being clear at what you do best puts you in a position to be reactive. It's no wonder that Collins' research on Good to Great companies discovered once they were absolutely clear on what their Hedgehog Concept was they achieved greatness shortly thereafter.

This is no different from understanding your own personal strengths. The people who are happiest, achieve the greatest success personally and professionally know themselves, their strengths, weaknesses, and discover where their personal attributes fit best to be happiest and most successful.

So why do we fail to discover intentionally what we can be best at?

ENTREPERNEURIAL FAILURE

When I started my first business, a radio station in Wausau, WI with several other partners, I was so excited to do things differently from what I'd experienced at radio stations I'd worked at. My plans included great purpose, core values and best practices. Yet several years into this successful business I'd lost this vision.

When your focus turns to the operational efforts, the tactical work of making a business work, it is frequently difficult to extricate yourself from anything else. Superior execution is critical to allow the leadership team to invest time each week dedicated to the big picture, long term focus for the business. Nothing happens that dramatically affects the business without this strategic planning element. When you are only consumed with the tactical, it severely limits your ability to develop solutions that look beyond the present day-to-day micro focus. You must make a habit of investing time to consider the long term. Collins points out the value of making time for this practice is to achieve your greatness by discovering your Hedgehog Concept.

What could be more important long term than that?

SUPERBOWL GAME CHANGING MOMENT

In McCarthy's plan, personality part of play-calling in the Milwaukee Journal/Sentinel, Green Bay Packers coach Mike McCarthy discussed a specific play he called in Super Bowl XLV against the Pittsburgh Steelers that ultimately led to the Packers winning the game.

The writer described McCarthy's decision to call this particular play this way, "This particular one is the culmination of two weeks of thorough study and painful editing and is his lifeline with a game like Super Bowl XLV on the line.

Yet when McCarthy made that call,

with the Packers clinging to a 28-25 lead over the Pittsburgh Steelers and facing a third and 10 at their own 25-yard line, he made it not based on what the card (laminated play call sheet they use for game planning) might have suggested was the best call against the anticipated defense, but rather on his supreme confidence it was the best play for his offense.

When Rodgers fired a strike over the middle just over the outstretched fingers of cornerback Ike Taylor and into the hands of receiver Greg Jennings for a 31-yard gain, it was a statement. McCarthy had just called his best against legendary defensive coordinator Dick LeBeau's best and won.

"That was more about Aaron and Greg," McCarthy recalled during a break in training camp. "That was a perfect example of what we were going to do. They were in the right coverage, they were in a good coverage. The guy couldn't have played it much better. That was a good defensive call against a basic, standard play that we had that we believed in."

What's your business confidence to call your best play against your competitors' best play? How do you feel your best salesperson stacks up against their best? How does your operation, your HR, your delivery team stack up against your competition?

"Life in competition is still about behavioral patterns, being in touch with behavioral patterns," McCarthy said. "If you're going to focus on their behavioral pattern or your behavioral pattern, if it comes push and shove, make sure you're focused on your own.

COURAGE TO BE BEST

This is not an effort to compare your business to sports. The comparison doesn't work. Too many variables and differences. It's to have you consider whether or not you truly are focused on what you do best. Do you know what you can be best in the world at? Do you work on discovering this, or is it not even a prescient thought that occupies your mind? Have you given up on believing you can achieve this, or is it simply an idea you never explore?

If you've not, particularly if you are the owner, what happened to the vision you had for your business that you have abandoned the idea of creating a business you could be proud of and be the envy of your competition?

The Hedgehog Concept demands answers to these three simple questions: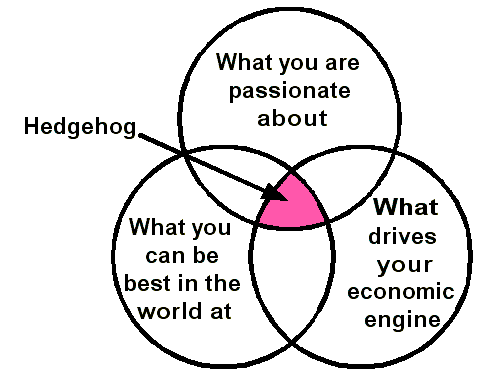 Do we really understand what we can be the best in the world at, as distinct from what we can just be successful at? (Brand Promise)
Do we really understand the drivers in our economic engine, including our economic denominator? (Profit per X)
Do we really understand what best ignites our passion? (Core Purpose)
Each of these questions correspond to a specific tool we coach our customers on identifying and element of the One Page Strategic Plan (See parenthesis above).
The clarity of knowing these answers leads to greatness. Patrick Lencioni, one of our speakers at the next Fortune sponsored Growth Summit in Dallas, crystalized the value of clarity in his book The Advantage.
Clarity brings with it enormous power, leverage, and alignment.
Do you want help identifying and putting your Hedgehog Concept into practice? Contact us for more information on how we can help.

How well do your price your service, product or offering? One of the speakers at the Dallas Growth Summit is Hermann Simon, author of Hidden Champions of the 21st Century and most recently Confessions of the Pricing Man. In advance of seeing him at the Growth Summit I've been reading his book. We'll explore some of his thoughts, particularly on companies that use low price as their focus, and how several of his examples do dramatically better at being profitable then many of their higher priced competitors. That's next blog.