Last blog we discussed how understanding your customer and their needs is key to establishing an effective brand promise.
What is McDonalds brand promise? ...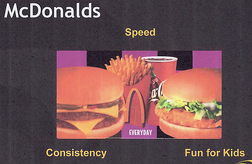 McDonald's brand promise an inexpensive, familiar & consistent meal delivered in a clean environment. At least that's what it appears to be now. Several years ago it was Speed, Consistency, and Fun for Kids.
You may have recalled the timing clocks McDonalds had for a span in their restaurants to reinforce their speed of service. Experts confirm McDonald's measure the time it takes for customers to even reach McDonalds to place and receive their orders. Consistency was a major focus for McDonalds and appears it still is. Corporate inspections and mystery shoppers all contribute to measuring this. Fun for Kids can be measured by the number of happy meals they serve.
For other examples visit What's a Brand Promise?(Southwest Airlines) and Discipline – Why Hard Is Good For You (Rackspace).
Let's look at a specific example for my business Positioning Systems.
What are small to mid-size business needs? Perhaps you can provide your answers in the comment section below. Please do so.
There's a multiplicity of needs that include: accountability, organization, focus, teamwork, systems and process, hiring and recruiting, employee retention, job performance, strategy, sales, communication, etc.,
When prioritizing these you can come up with many variations. Accountability, communication and focus were the three we determined were not only most important to our customers (these also address a number of the other needs as well). They were also areas Positioning Systems knowledge, tools, expertise, and experience would perform particularly well.
My 25 years of experience as a broadcaster and owner, followed by ten years as a Senior E-Myth Consultant increased my expertise in execution. Positioning Systems focus is on Strategic Discipline and this fit naturally into developing a Brand Promise that's lead promise and supporting promises support this discipline. The promises need to be measureable.
Positioning Systems lead promise is:
Priority: Determine your #1 Priority and achieve measureable progress in 90 days to accomplish it, subsequently repeat this every 90 days.
Our two supporting promises are:
Meetings: Establish an effective meeting rhythm pattern to compound the value of your priorities and metrics. Your business pulses faster, builds momentum to increase measurable revenue and profits.
Metrics: Develop measurable Key Performance Indicators. Company and executive team members develop reporting dashboards to increase accountability, following Pearson's Law for dramatic performance improvement.
We naturally measure this progress with each customer, especially during the initial 90 days of engagement.
Finally through the help of Bob Bloom's working with Positioning Systems to build our Inside Advantage our HOW translates into our Brand Promise Guarantee:
Positioning Systems believes and is so committed to your success that unless you see results you pay only for what you feel our coaching is worth or do not pay for our coaching at all.
It's a Value Guarantee based on Jim Collins HBR Article, Turning Goals Into Results: The Power of Catalytic Mechanisms, July/August 1999 and our blog Brand Promise Guarantee – Seven Strata of Strategy.
Most companies are unwilling to make a Brand Promise Guarantee, let alone develop a Brand Promise.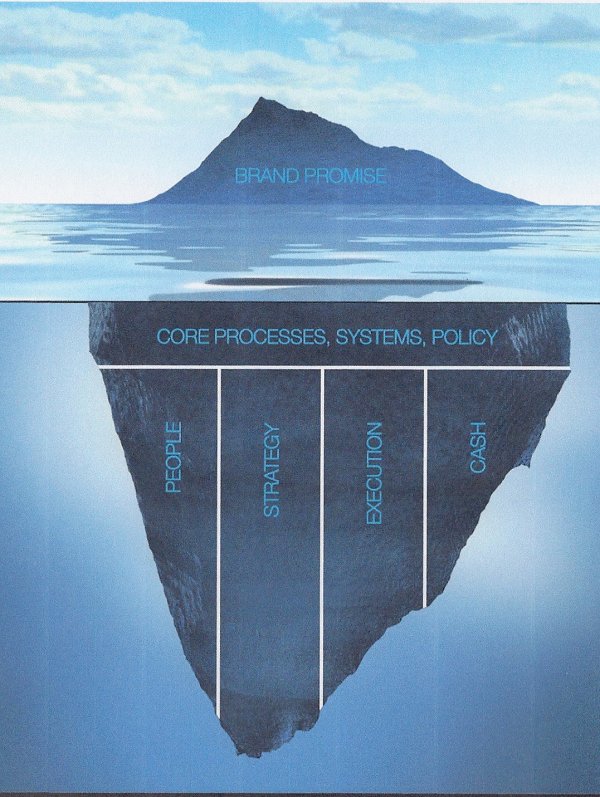 The former requires significant systems and process to back up your promise. My experience prior to my successful recovery from Leukemia provided ample evidence in the value of Strategic Disciplines tools. Using the priorities, meetings, and metrics to achieve remission for a bone marrow transplant when it appeared there was no hope, only solidified this.
Strategic Discipline works! Discovering and committing to a ONE THING focus provides the necessary concentration to achieve remarkable success.
What's your Brand Promise? Do you want to make a significant impression in the market place? Do you have the determination and commitment to develop and provide a Brand Promise to your customer?
If you're looking for help to develop a Brand Promise, we'll be discussing Brand Promise at Mastering the Rockefeller Habits Four Decision Workshop. Download the Mastering the Rockefeller Habits Four Decision Workshop flyer. Register to attend this event November 12th in Cedar Rapids.
Annual planning is just around the corner. As the leader, president, or CEO are you in charge for facilitating the event? Next blog we'll discuss why it may be more advantageous for you to hire a facilitator for maximum results.