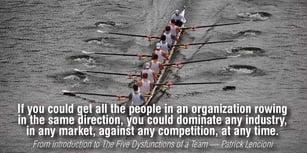 "If you could get all the people in an organization rowing in the same direction, you could dominate any industry, in any market, against any competition, at any time."~ Patrick Lencioni (The Five Dysfunctions of a Team: A Leadership Fable)
Instinctively we know if we could get every member of our team with their oars in the water rowing in the same direction we'd be unstoppable.
At the very top level of your organization, your leadership team, this is critical.
It's why on the Rockefeller Habits Checklist, discipline #1 is: As goes the Executive Team goes the rest of the firm
Two of my customers are working through the Five Dysfunction of a Team exercises, to achieve this.
The base of Patrick Lencioni Five Dysfunctions of a Team is trust. Start with the Team Assessment.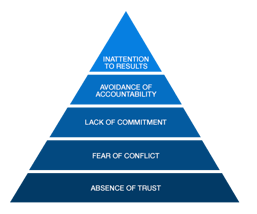 It gives your leadership group insight into how well it's doing against each of the Five Dysfunctions: Trust, Conflict, Commitment, Accountability, and Results.
Each of my customers is working on a different level of the pyramid.
The assessment provides benchmark to measure your team's progress. One of my customers did the assessment and exercises several years ago. Their scores improved on the assessment, more importantly the business achieved significant growth overcoming several major obstacles.
Trust is the basis for achieving results and elevating your team through the stages of dysfunctions.
One of the most important barriers to gaining trust is something called the Fundamental Attribution Error. We've shared this in several blogs previously: Communication Barrier – Fundamental Attribution Error, and an article on Scrum, Human Reactions to Systems – Understanding Fundamental Attribution Error.
I invite you to visit each of these to understand why this self-serving bias we all have limits trust in the workplace and most certainly within our leadership teams.
This step, building trust at the leadership level is crucial to achieving high levels of teamwork.
One of my customers is working through the second step in the pyramid, fear of conflict.
FEAR OF CONFLICT
What happens when Teams Fear Conflict?
Ask yourself if any or all are symptomatic of your leadership team:
Have boring Meetings
Ignore Conversational topics that are critical to team success
Fail to tap into all the opinions and perspectives of team members
Create environments where back-channel politics and personal attacks thrive.
Strive for Artificial Harmony
When leadership team members avoid discomfort among themselves, they only transfer it in far greater quantities to larger groups of people throughout the organization they're supposed to serve.
Does this at all sound familiar to how your organization is operating?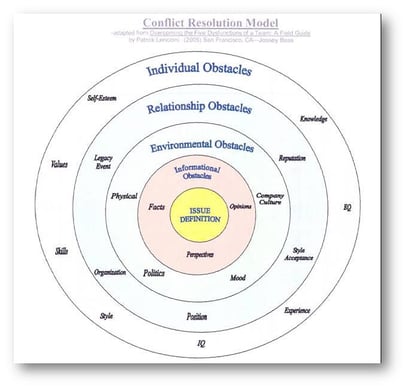 CONFLICT RESOLUTION MODEL
The model shared here demonstrates why it's so challenging to get to the heart of any issue. There are several different layers of obstacles that prevent teams from discussing and resolving issues.
The goal is to get to the middle of the chart. This is where the issue itself becomes the focus of the conversation.
To get there, teams must acknowledge and address other topics, many of which are unrelated to the issue at hand but still create distractions and barriers.
You may have asked yourself why it always seems the issues you feel you should be resolving, never gain resolution.
The reason very well might be your team's inability to handle conflict and the barriers in this model preventing you from getting to the heart of the matter.
From the outer edge of the circle inward here are the four different kinds of obstacles preventing issues from being resolved:
Individual: Most challenging, due to the person involved. A flaw in their personality or character inhibits "clean" conversation. This may be due to lack of experience, education, self-esteem or EQ(Emotional Intelligence). This person's motives or values may differ considerably from others in the leadership group.
Relationship: Involve the people involved in the discussion or conflict. An unresolved past incident, stark differences in their management/leadership styles, inhibit their ability to focus on the issue. Past reputations of individuals may influence others in the group. In leadership meetings, a person who is higher in the organizational ladder may prevent others from voicing their concerns, or departments may be in conflict (operations vs. sales) and this long-established adversary relationship prevents honest, open discussions.
Environmental: Nothing to do with the issue, it's the very environment in which the discussion is happening. A hallway, airport, conference room where others might hear the conversation, shortage of time, people in a bad mood. Distractions and misinterpreted behavior provide an atmosphere where it's difficult to resolve issues. Office politics, a pending layoff, even people involved in the discussion that might be affected by the issue, all provide an environment not conducive to resolving issues.
Informational: These obstacles are related to the issue being discussed. They are the easiest and most comfortable to discuss. Conflicts that achieves resolution, require teams to exchange information, facts, opinions, and perspectives. Most teams believe that's what they are doing, even when one of the other types of obstacles (1-3 above) get in the way.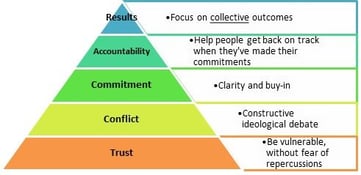 Be aware of these obstacles during discussions. Refer to the Conflict Resolution Model when a conversation gets derailed. Once a given obstacle is identified, a team can either address it or, more likely, acknowledge its existence and agree not to let it color the nature of the conversation.
Obstacles on the outside of the circle are more difficult to address because they involve personalities and related issues not changed as easily as the privacy level in a conference room or the time allotted to make a decision.
The key to addressing these more challenging obstacles is trust, because the effort involves some level of personal risk.
Want help creating a harmonious culture of accountability with your leadership team? Contact dwick@positioningsystems.com to discuss methods to achieve greater results.
NEXT BLOG: LEADERSHIP PRIORITY – TEAM YOU MANAGE, OR TEAM YOU'RE A PART OF?
What's your leadership team's priority? Is it the team he/she managers or the team they're a part of? We'll explore the silo, solo, or team concept next blog.