If you read my blog Create Safety, Belonging, Mattering – Christine Comaford Orlando Growth Summit you may have caught the video with Christine and Verne Harnish from the Leadership Summit at the end of it. If so this may be a bit of review. Understanding how to get more from your people is critical in every organization. Please visit this blog to listen to the five minute interview and pick up a copy of her book Smart Tribes.
Comaford shared how past research finds that the Human Mind is capable of holding 5-7 things. When I was in radio I recall this research as being essential to positioning, since if you owned a business it essentially indicated if you weren't in the top of mind you wouldn't earn someone's business. With extremely competitive industries it's critical to have top of mind awareness. In reality new research has discovered we are only capable of holding 3-5 maximum.
The importance of this is to remind us of how much our own mind can hold, and even more importantly how much the people we manage can hold on to.
True leadership inspires people with vision. Vision pulls people not only to take action but also to care about the outcome, to take personal ownership of it, and to bring their "A game" every day.
Comaford emphasized to build and lead a SmartTribe,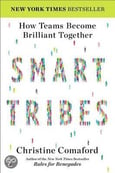 you need to make sure our people shift from their fear- and safety-driven Critter State to their innovation- and possibility-driven Smart State. How? By ensuring their survival needs are met and they know they belong and are valued.
If you've not read The #1 Key to Successful Managing - Google's Management Study you possibly are unaware of the Google research findings that support the frequent use of one on one meetings to foster development and empowerment of your people. Comaford suggested a Feedback Frame to reinforce the stage your people are in (Safety, Belonging, and Mattering) through this concept of One on One Coaching.
She affirmed the need for these one on one meetings to be bidirectional, meaning discourse back and forth throughout the encounter. This is not a lecture, or a one person conversation. You must include and invite the person you're coaching or mentoring to fully participate. She highly recommends framing your conversations/discussion in the positive. She further emphasized that each question should be asked a minimum of 3X. If you are challenged to understand the importance of focusing on the positive I recommend you read the three blogs on Positive Reinforcement:
Here are the questions Comaford suggested using in your one on one with your co-worker. Please note again she recommended asking each of these two questions 3x minimum. Hopefully you can see the value in starting with positive frame on what when right, or worked. This can immediately help move the person you're managing out of their fear or safety driven "critter state."
What worked/What I liked was ______

What I'd like to see more of is _______
It's important to be quiet after asking each question. Comaford insisted you let the person load up and deliver what's on their mind.
How do you deal with non-performance with one of your subordinates? Again Comaford offered some great ideas on what she referred to as 4 Conversations to have in this situation. Instead of being judgmental she underscored the necessity of being empathetic and to be curious:
Be human here, after all something may have happened to them.
Is there too much on your plate?
If this is true you may need to consider how to prevent it so it doesn't happen again.
Is this role not the right fit for you?
This may be a situation where if the person is a good fit for your culture that you bring in HR to reassign a better fit for them.
Do you really want to work here?
Comaford called this the Kumbaya step. My term for this is "come to Jesus" meeting. A good way to approach this is your behavior says you don't but verbally you're saying you do, which is it?
I'm continuing to explore Smart Tribes and expect I'll have more to provide you after I get further through it. We'll be continuing our journey through the presenters at the Orlando Leadership Growth Summit with 3 time Emmy Award Winning Director, and author of Story Selling, Nick Nanton. How can you sell your brand or business to your prospects without truly selling? Having a powerful story is key.