Recently Google conducted a management survey on the #1 key to being considered an effective, successful manager in employee's minds. Gazelle's coaches have been offering these key insights to our coaching partners to help them improve manager development and the individuals in their teams.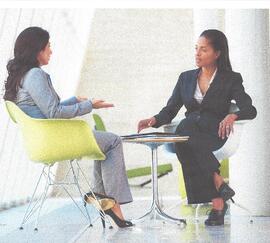 What do you think that key attribute or action might be?
The attribute and action that the most successful managers take is conducting regular one-on-one coaching with their direct reports.
When I was in radio sales management and subsequently General Manager and part owner I would conduct one-on-one meetings with my salespeople weekly and then as GM we had the same focus/frequency with the other leadership areas of the station. I've seen first-hand what one-on-one meetings can achieve with the people you are managing.
One-on-one coaching results in 3 key outcomes in the manager-employee relationship:
Clarity of goals and performance progress: People like to know how they are doing so they remain on track and/or can take action to improve.
Building of trust and alignment in the relationship: People perform at a higher level when trust is built and deepened through time.
Development of an understanding of where and how their individual role is important in the overall company purpose and objective (people like to have a "line of sight" between their role and the BHAG and big picture)."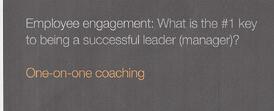 If the #1 action for strong employee engagement in a manager is regular one-on-one coaching, then what other attributes are indicative of successful managers? Here are the top 5:
Hire fewer People, pay them more: Attributes of successful manager's flow from the senior leadership team's choice on strategy, talent, and compensation. It is the concept of fewer, smarter, more productive people being paid more. A key characteristic of Jack Welch (former CEO of GE) was that he would rarely take the status quo as acceptable and would try and find ways to make processes, people, and business better under a new set of operating principles. His strategy regarding people at GE when he was at the helm: "Less people, paid more with a lower total wage cost."
Proactively recognize, show appreciation: Successful managers realize that this attribute is fully within their control and is quite simple: They regularly, proactively recognize team members and show appreciation to them individually and as a group
Set clear expectation: Successful managers revolve around their ability to help their overall team. Successful managers help individual team members, grasp where their roles, actions and results feed into the company's ultimate ability to reach their BHAG. This requires showing them a "line of sight" between their daily performance and the "big picture" attainment of the company's purpose, BHAG and KPI's.
Dehassle not demotivate: It is very important for leaders and managers to educate and coach their direct reports on key items on the One-Page Strategic Plan. The "educate" objective is to help team members learn the purpose, value and concepts on the One-Page Strategic Plan ("if you cannot put your business plan on one page you are making it too complex!" – Verne Harnish, Scaling Up). The "coach" objective is to help them understand what the most important individual components of the One-Page Plan mean and how they can internalize and apply them to their role.
For example, for every team member to understand what a Big Hairy Audacious Goal (BHAG) is, how it is measured, and its purpose ("guiding North Star to inspire and keep on track") is vital for full team alignment. Similarly, knowing the Core Customer, Brand Promise, annual and quarterly plans are also vital. It will take a few months (perhaps quarters) to fully internalize and apply these concepts, but this is the great leadership challenge (opportunity) you have in your company! Successful managers de-hassle work environments and take care not to demotivate team members with unnecessary hurdles, policies, bureaucracy and people. We'll examine these more in a future blog. Here are the top five hassles in growth companies:
Tolerance of B and C players or clients
Inadequate tools and resources
Bureaucratic, unnecessary policies and procedures
Slow decision-making and/or lack of empowerment
Lack of trust leading to politics and role confusion
Discover and leverage the strengths of the team: Successful managers become students of their employees and learn what strengths they have as individuals and how to ensure they spend the majority of their time working in their strengths and avoiding or offloading areas of non-strengths. Successful team members consistently play to their strengths. Managers learn their strengths and place them in roles, projects and situations where their strengths are engaged and can make a real difference in the business. In doing so as a manager, a team member experiences success, fulfillment, and affirmation from the culture.
Let's define what we mean by strength to better identify how to touch your people and get maximum return on the time you invest in them.
Strength is something (an activity) you are good at AND that gives you strength when you do (perform) it. Think about a traditional definition of a strength…"something you do and are good at it" – the challenge here is that there are some things that each of us are individually good at but frankly dislike doing. It drains our energy level when we do it.
Now, think of modifying this traditional definition to add "AND it gives you energy when you do it." As a contributor, will you be more productive day in and day out, and over the long term, if you focus on what you do well? Or focus on what you do well AND brings you energy.
We define a weakness as something (an activity) that when you do (perform) it, it drains energy from you (and it becomes something you don't look forward to doing).
A tool to help you with your strengths is Strength Based Leadership. To discover your staff strengths have them complete Gallup's Strength Finders test.
In 2010 one of my customers was having difficulty getting his leadership team to execute on their priorities. During our Annual Planning and Strategy meeting we reviewed the results of his team (Strengths Finder 2.0), to discover where each individual team leader's strengths were.
We created a matrix to identify each team member's strengths, and then placed these strengths underneath the Four Domains of Leadership: Execution, Influencing, Relationship Building, and Strategic Thinking. We had a lot of flexibility with his leadership team. We discovered we had plenty of leaders who are good at executing. We decided to move many of them to new roles in the company to support another leader whose weakness in execution was impairing progress. In other cases we moved a good executor into a new role that best fit a position that demanded good execution.
Soon the company was thriving. Those important execution elements were finally being followed through. The company grew 25% that year after we identified this challenge and implemented it.
As you can see by this blog on successful managing, communicating clear expectations is extremely valuable. Let's explore the value of clarity with two examples from Good to Great leaders who had clarity of purpose.