When I last addressed positive reinforcement and superior human relationships in To Improve Your Relationships Improve This in early December I promised to provide four steps to help make others feel important. These are from my notes Brian Tracy's "The Psychology of Achievement" taken many years ago.
Why are they relevant to you or your business?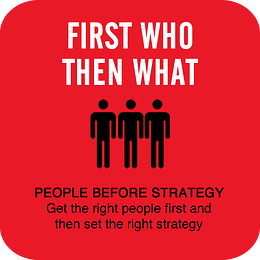 Jim Collins in Good to Great notes that the first place any company needs to start is with, "First Who, Then What!"
This requires not only making sure you are hiring the right people, but achieving higher levels of performance with those people who work for and with you. It's about multiplying the levels of performance of those who you lead and coach. The book Multipliers, co-authored by Greg McKeown and Liz Wiseman, is a great source for learning how to do this as is Gallup's First Break All the Rules.
The Four Rules Brain Tracy describes in "The Psychology of Achievement" are therefore exceptional tools to remember when working to generate maximum effort and achievement from those you lead.
A quick reminder, individuals who go through life consciously and deliberately trying to make others feel good about themselves also build themselves and feel great about themselves. So there's a reciprocal effect that you need to remind yourself of. In essence whenever you make others feel good about them, you are throwing the boomerang. What you give comes back to you often with redoubled force. Keep that in mind and perhaps it will help you make others feel important.
Tracy identifies the four ways we can make people feel important as:
Acceptance
Approval
Appreciation
Attention
We'll look at these in two blogs since there is plenty of ground to cover to understand each of the four starting with;
Acceptance: This means we totally and unconditionally without judgment without condemnation accept others for who they are, for what they think, the way they dress, and especially if they are different from us. It's very easy to accept people just like us if they are consistent. People we need to accept are those different from us.
What's the clearest and simplest way to express your acceptance of another person? SMILE! Smiling conveys a thousand words in one simple gesture. Isn't that easy? A smile says I accept you as worthwhile and valuable, and just as importantly, I accept you on your own terms.
Our first interaction with someone is always in the form of acceptance and non-acceptance. The first thing each of us is looking for is confirmation of our value.
Approval: Let's start here with the definition of self-esteem: the degree to which a person feels praise worthy. Giving praise and approval then raises others self-esteem.
Here are some clues to help you with giving approval that will raise another's self-esteem.
Praise must be specific.
It's not sufficient to say, "You're a great person!" or "You're a great secretary!" This kind of praise is largely discarded as being worthless and insincere. If you've been complimenting people by using general terms like this you are probably disappointed that people don't respond more favorably to your compliments.
To improve the outcome of sending approval, praise a specific act or action. Tell someone, "Roger terrific sale on the Jones account yesterday!" "Betty, the letter you wrote to the Jones company yesterday is spot on. Exactly what I wanted to convey! Nice job!" or "Fred, awesome job achieving your quota this month!"
Key here is you need to praise the specific act or actions you wish to see repeated.
Here's another clue. Praise needs to be intermittent, not continuous. Tracy doesn't offer an explanation other than praising each time tends to reduce the effect of your approval. While you need to praise on a regular basis make it intermittent and unpredictable. Surprise praise, but not every time is more effective.
Another important aspect for approval is the need to praise immediately. If you're truly interested in getting better performance from your people be especially careful to praise your people as immediately as possible after the action you wish to reinforce. This is emphasized in
Aubrey Daniels book, Bringing Out the Best in People, which should be a primer for every leader and manager to read about the fundamentals of positive reinforcement.
Why is it important to praise immediately? The more immediately you praise the person after the action, the more likely it is to be repeated. Furthermore if you praise a day or two or a week after the action often you'll be reinforcing the wrong thing. They'll either be confused or feel you are praising them for something they are doing then, and if it isn't something you wish to reinforce you will only achieve reinforcement on an action you didn't necessarily wish to reinforce.
Have you been attempting to get someone to change who works with you or you want to improve their performance?
If we wish people to change if we praise them each time, intermittently each time they do something they consider praiseworthy, and ignore all others actions, you'll find that over time, they will do more and more of the things they get praised for and less and less of those things they get ignored for.
Over time their behavior will be permanently modified. This is especially a powerful tool with children as well as being equally successful in personal relationships and with employees.
We've covered two of the four ways to make others feel important. Next are Appreciation and Admiration with some special tips on why you should never criticize. That's next blog.