"You've got to find what you love. That is as true for your work as it is for your lovers." Steve Jobs, Stanford Commencement Speech 2005.
Bad Advice.
Cal Newport, author of Deep Work shares this is not what Steve Jobs did to achieve success. Instead Newport offers, "don't do what Steve Jobs said, do what he did."
There's a lot of material written about following your passion notes Newport, yet it simply not true.
He offered these two observations:
The path to passion is complicated.
There's not a lot of evidence to support "following passion" works.
When Jobs approached a computer store with his idea to offer his computer idea to him he had a much smaller scheme in mind. The plan was to sell just the computer boards for $40 each, however The Byte Shop owner asked Jobs and Wozniak to build 100 complete computers instead. It was a small-time scheme that suddenly went big.
Newport's theory is, "Don't follow passion, let passion follow you."
What's Deep Work?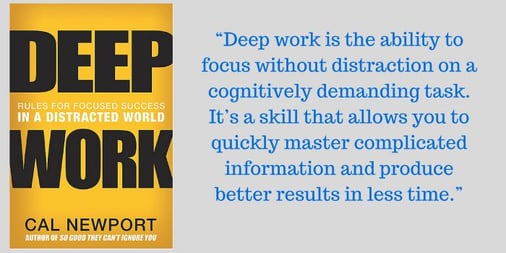 Deep Work is about learning the lessons that skill matters, and that skill must be used as leverage.
Deep Work is proactivity.
It's pushing your cognitive creativity to the limit.
You might have heard, "Practice makes perfect." I've heard it said best, "Perfect Practice makes Perfect."
The truth is simply pushing yourself beyond your comfort zone won't necessarily improve your skills. In our knowledge economy, it's critical you go deeper.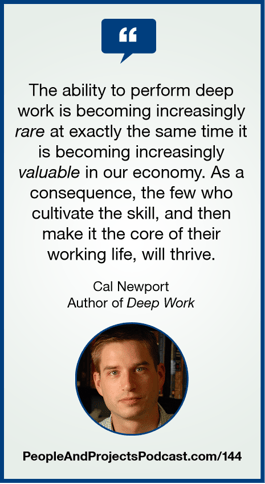 Newport suggests Originals author Adam Grant (see also Give and Take – What About Giver Burnout? And How Much Should You Give – 3 Lessons from Give and Take) as an example of this. Grant is the youngest full time professor at Wharton School of Business. How does he do this? He engages in Deep Work. He doesn't work more, he focuses better. In the fall, he teaches full time. During the spring/summer he works on writing and publishing. He engages in deeply unbroken concentration. The result? He produces more articles and documentation by a factor of 2x than his peers.
KILLER APPLICATION OF KNOWLEDGE ECONOMY
Our ability to concentrate and have deep focus has never been more comprised than it is today. We are interrupted constantly. When we are interrupted research shows our performance plummets!
If you are one of the few who can maintain or build the ability to concentrate, develop the habit of Deep Work, you stand to reap outsize rewards.
Deep work is the act of focusing intensely, without distraction, on a cognitively demanding task. The better you are at it, and the more priority you give it, the more success and satisfaction you'll experience. Here are three big ideas along with corresponding action steps for cultivating deep work in your own life.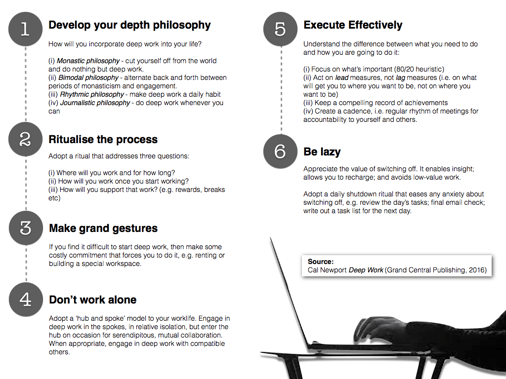 Deep work is an ability that must be trained.
Instead of scheduling breaks from distraction, schedule the distracting behaviors, and make all other times, by default, free from digital stimuli.
Practice productive meditation in which you go for a walk while trying to keep your attention fixed on a single professional problem
Set aside timed dashes in which you attempt to concentrate as hard as possible on a cognitively demanding task. Increase the time of these dashes once you become comfortable with the current duration.
Deep work is an ability that must be supported.
Have a clear scheduling philosophy that specifies when, where, and for how long you perform deep work.
Surround your deep work sessions with rituals to ease the shift into a focused mindset.
Deep work is an ability that must be fought for.
If you work for someone else, have a discussion about the role of deep work and agree on a target ratio of deep work to shallow work hours that you should strive for during a normal week. Measure your performance, discuss regularly, and adjust expectations and culture as needed until the target is reached. If you don't work for someone else, have this conversation with yourself.
Deep Work is Boring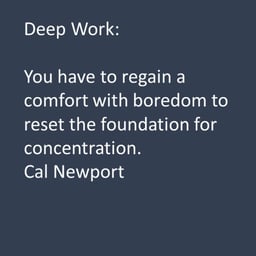 Perhaps the biggest challenge is that Deep Work can be boring. Newport recommends you break your addiction to novelty stimulus. Research shares we check, open, or touch our phones 85 to 2617 times a day. These statistics speak to the addictive quality phones play in our lives.

It's why Deep Work at first can feel boring. We are addicted to the stimulus nature of technology.

Deep work versus shallow work should be a ratio you measure. Newport recommends to schedule deep work on your calendar – four weeks in advance. Make it as critical as any appointment you have. Clear your desk, dim the lights and put a do not disturb sign out.

Does deep work? My own experience says yes. At the hospital in my challenge with cancer (AML) I placed a Don't Disturb Sign on my door when I meditated daily. Some of the doctors and nurses were upset, yet over time they all complied with my wishes. I feel my daily quiet time, meditating on the outcome I asked Providence to provide, the result I visualize, is the greatest contributing factor to my miraculous recovery.

NEXT BLOG

A prison yard builds nature murals in their yards. Violence drops 50%! It's called biomimicry. Jay Harman author of The Shark's Paintbrush: Biomimicry, How Nature is Inspiring Innovation provided some amazing stories of companies who are discovering natural solutions to profoundly change business