Have you ever tried to drink from a firehose? Probably not.
It would be challenging to drink any water or quench you thirst from a fire hose, let alone prevent yourself from drowning.
The Growth Summit is a little like that. So much information, insights, revelation occurs it's difficult to drink it all in. On my trip back from Dallas I spent a good deal of my two hour flight reviewing my notes, absorbing and reflecting on what I'd taken in.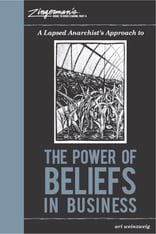 Ari Weinzweig, Founder and CEO of Zingerman's gave a brief 10-minute presentation on his newest book, Zingerman's Guide to Good Leading, A Lapsed Anarchist's Approach to The Power of Beliefs in Business.
The significance of Ari's presentation may have had more impact on my due to: My Beliefs.
You may or may not be familiar with my story, how through meditation, my deep faith, the support, love and prayers of others, plus a disciplined practice of using the principles of the Rockefeller Habits and Strategic Discipline I conquered a death sentence from Acute Myeloid Leukemia.
Did my beliefs impact my outcome?
I certainly believe that.
In Kids Say the Darndest Things – Formula for Human Potential I shared a number of my beliefs. Ari allows three kinds of beliefs:
BELIEFS

NEGATIVE

NEGATIVE OUTCOMES

NEUTRAL

NO OUTCOMES

POSITIVE

POSITIVE OUTCOMES
Ari noted with negative beliefs we can never create anything sustainable.
The challenge: we tend to filter out what we don't believe, and allow in what we do believe.
We frequently cannot believe anything about any situation or circumstance not already supported by our current belief system.
What does that mean in business?
It means we and the people who work for us will have great difficulty making progress on a project/assignment/objective with the wrong belief system.
THE BELIEF CYCLE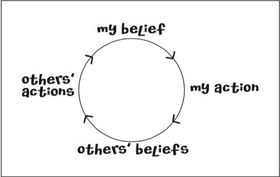 At the Growth Summit and in his blog Are Your Beliefs Affecting Your Business Ari provides the following chart from Wright Institute.
Ari explains it: It works like this: When we have a belief, it's likely that belief will lead us to take some sort of associated action. For instance, let's say we believe that our ideas aren't worth much and no one really cares about what we think. The action that follows might be that we rarely voice our views at work. That behavior will likely feed the belief in others that we have little to offer, or perhaps aren't very committed to the company's success. Which will then lead those coworkers to take action accordingly—they might not ask us for our views on important issues or include us in discussions. Which will then reinforce our original belief that others don't value our views.
The cycle will surely continue onward from there. Imagine what it will feel like after 20 or 30 years. We start to believe that the reality we're experiencing is "who we are" rather than a result of how our beliefs have been acting steadily—if surreptitiously—on our reality. We know from studies of brain change and development that when we think in a certain way for a long period of time, the "routes" in our brain grow ever more deeply embedded. The deeper they get, the more we follow along the same path onto which our beliefs long ago led us."
Self - Limiting Belief Cycle
Whether we realize it or not, what we believe in our heads is highly likely to happen in the world around us. Good beliefs often beget good outcomes. If we believe things are going to be bad, it's likely that they will be. In which case it will be as authors Bob and Judith Wright tell us in their very fine book Transformed! "In fact, what we believe limits our reality and keeps us from realizing our potential. We think, This is how it is, this is who I am, rather than This is how I'm programmed, this is what I believe, but it is not necessarily the full truth. It causes us to believe, I can't be assertive like that or I'm kind and thoughtful; I can't be angry.
This possibly comes under the heading of responsibility. I've longed believed that everything, and I mean everything in my life is my responsibility. I create it somehow, some way either consciously or unconsciously through my thinking. Ari apparently agrees, "It showed me that if I was frustrated with an action taken by others, I would do well to look away from them and turn back instead to inspect my own beliefs about the subject because, quite simply, our own beliefs are very often the cause of actions we don't like by others. The change starts with a decision to adopt a new belief, or if you're thinking big, a whole new set of them.
Ari's business Zingerman's is a classic example of a great business. One of Ari's principles he shared with us is: Great organizations are changing the beliefs of their customers.
CHANGE OUR BELIEFS
Ari shared a story about a woman picking up her daughter from school. Her daughter had poor grades. Every day she asked about school. Her daughter responded defensively. The conversation would stop or get heated.
Realizing her beliefs (mother) caused the friction with her daughter, she decided to change her beliefs. Her relationship with her daughter was much more important than grades.
By changing her focus with her daughter within a week her relationship had drastically improved.
If you've not read Claude Bristol's The Magic of Believing, I highly recommend it. I've spent many hours listening to the audio version of this classic effort on human potential.
Here are just two examples of Bristol's truths:
"We usually get what we anticipate." ~Claude M. Bristol
"Every person is the creation of himself, the image of his own thinking and believing. As individuals think and believe, so they are." ~Claude M. Bristol
Take a personal inventory of the outcomes you've not achieved. The outcomes your business hasn't achieved.
Is your belief preventing you from achieving success?
FINAL INVITATION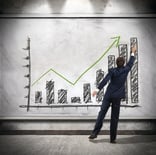 This is my final invitation to register your team to explore the Four Decisions that drive growth in your business: Strategy, Execution, People and Cash at our Scaling Up Business Growth Workshop Cedar Rapids, IA, Wednesday, November 2nd at The Hotel Kirkwood Center. Register by following the link, or drop in at 7:45 AM Wednesday!
NEXT BLOG
What's your business Value Proposition? Do you have a clear value proposition?
Value Proposition Design author Alex Osterwalder provided a systematic approach to building a value proposition. How this tool helped HILTI change its business model is our next blog.