My youngest son Noah recently got his first job.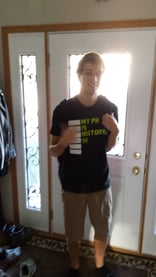 (Coincidently on the same day he learned he would receive a sizeable scholarship to University of Iowa that should cover most of his tuition for four years!)
He's always introducing me to new words, latest slang, what all those abbreviations mean, IDK, LOL, etc.,
Recently he's been saying he works from 9 AM until BD. Of course I had to ask what BD means. It's business decline.
Of course being the smart business coach I thought that meant store closing. It's not. It's when business declines and they don't need as many staff.
What's the shape of your business?
Could it use a dose of adrenaline to get it moving in the right direction?
SCALING UP YOUR BUSINESS
I'm fond of the quote, "prescription without diagnosis is malpractice."
Decisions equal success. There are four decisions, in growing your business, you must get right or risk leaving significant revenues, profits, and time on the table.
These four decisions: People, Strategy, Execution, and Cash generate the following outcomes inside your business:
| | |
| --- | --- |
| DECISION | OUTCOME |
| People | Harmonious Culture of Accountability |
| Strategy | Top Line Revenue Growth |
| Execution | Profit |
| Cash | Oxygen and/or Options |
When you look at the outcome of these four Decisions, what pops out to you?
What is the result you're not achieving in your business?
Even though most businesses face continual challenges in all four areas, at any one time the challenges in one of these areas overshadows the rest. Therefore, your first decision is to choose which one of the four to focus on next.
ONE THING
You simply can't accomplish everything at once. As much as you believe you need to work on everything that is confounding you and your business, this practice doesn't work effectively.
Instead of helping you get more accomplished, working on everything makes matters worse. It's a simply understanding of what Verne Harnish (author of Scaling Up and the Rockefeller Habits) reminds us, "less is more!"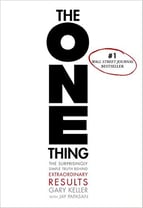 We spent a lot of time exploring The ONE Thing: The Surprisingly Simple Truth Behind Extraordinary Results by Gary Keller, Jay Papasan.
A foundational principal we teach at our Scaling Up Business Growth Workshop Cedar Rapids, IA, Wednesday, November 2nd at The Hotel Kirkwood Center is One Thing. We recommend when you choose a priority, you select One Thing for the year or your quarter to focus on.
Look at the outcome from each of the four decisions above. Determine which outcome is most problematic in your business and then ask this question:
What's the ONE Thing I can do such that by doing it everything else will be easier or unnecessary?
Before reading Keller's book I asked this question: What One Thing could you do that would impact your business the most?
Can One Thing make a significant difference? Watch this video to get an idea of how this principle works.
A domino can knock over another domino 1.5x larger than itself. A chain of dominos of increasing size makes a chain reaction starting with a tiny push knocking down a subsequent array of much larger dominos.
EASIER OR UNNECSSARY
The key result of choosing the right thing is these unnecessary and easier pieces that fall into place with the achievement of your One Thing.
When I was in radio I recall my sales manager saying, "Doug there are damn few problems that increase sales can't fix!"
While the statement is true, it's also true, increased sales (The result of having your Strategy Right) cover up a lot of underlying problems as well.
Achieving your One Thing, when you choose the right Decision to focus on, carries with it a solutions to a multitude of your other challenges. Increased sales can improve cash flow, help you add more people, and solve problems in other areas of your business.
Subsequently achieving One Thing allows you to find the next One Thing and make much more progress!
INVITATION
In order to achieve this One Thing formula, you need a game plan, an action plan to achieve it. You need to repeat this approach continuously. To identify and focus on your next One Thing.
When you attend Scaling Up Business Growth Workshop Cedar Rapids, IA, Wednesday, November 2nd at The Hotel Kirkwood Center you'll have a front row seat to learn how your organization can put the habit of Strategic Discipline in place to repeatedly achieve your One Thing.
We'll provide you with tools and resources to help you:
Identify Your Core Values

IF you have Core Values – make them come alive in your business

Identify your "A" players, and create a plan to develop and discover more.

Improve your Cash Flow by discovering the

4 elements to the Cash Conversion Cycle: Sales, Make/Production & Inventory, Delivery, and Billing & Payment. Then walk through an exercise with the three ways you can improve each element.
Complete a SWT of your business: Strengths, Weaknesses, and Trends. Discover why Trends are an important aspect for forecasting your business' future.
Discover how to Execute consistently using Strategic Discipline, the 3 key elements for identifying Priority, Metrics and the proper Meeting Rhythms to seamlessly achieve your objectives.
Develop an Annual Plan for 2017

Develop a Quarterly Plan for your first quarter.
Bringing your leadership team to this workshop allows you to work through these exercises together. You may not complete everything to perfection: as a rule, for our Positioning Systems customers plan two days to complete an Annual and Quarterly Plan. We dedicate time to identify key strategic elements to implement.
Having a coach to help facilitate this process dramatically improves your ROI. P&L Technology practiced the Rockefeller Habits principles for years. Yet gaining agreement on their One Thing, organizing and aligning their team at their annual planning sessions was at best chaotic. The result was uneven performance and achievement of their objectives. Read about the results P&L attained in just six months with the help of Positioning Systems Strategic Discipline at What Value Do You Offer to Support Your Pricing – Scaling Up Example.
Explore the Four Decisions that drive growth in your business: Strategy, Execution, People and Cash at our Scaling Up Business Growth Workshop Cedar Rapids, IA, Wednesday, November 2nd at The Hotel Kirkwood Center. Plan to attend to make 2017 your best year ever. You can register by following the link above or click on the links in the upper right hand column of this blog.