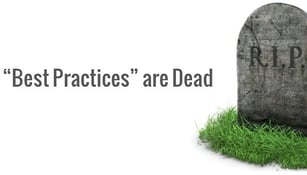 Digital is taking over every aspect of business.
At one point in time, we as business coaches could serve up best practices to help business achieve better results than their competitors. Now from an article from Strategy-Business.com comes evidence best practices will not give you the edge you and your business are looking for.
This weekend I watched Back to the Future for the umpteenth time.
A line in the movie struck me, "history is gonna change!" Watch the video to hear it at 32 seconds in.
History did change.
Goldie Wilson went for cleaning floors in the diner to mayor, George McFly wrote a science fiction book and put Biff Tanen in his place. And Marty got the off-road vehicle and girl he wanted!
We can control our future. But you need to act NOW.
Rather than back to the future, your business is facing a whole new future.
BEST PRACTICES ARE DEAD?
At heart I'm an optimist. I'm not a person who enjoys preaching doom and gloom. However, the present moment call for action.
You need to be aware of the challenges your business is facing if you don't respond to Digital Disruption.
In Best Practices are Dead, Tom Puthiyamadam outlines how digital transformation is eliminating the reliance of best practices as a viable strategy for improvement.
Why?
"Best practice models are great for incremental improvements; they will reliably help companies get from 95 percent accuracy on billing to 99 percent. But for transformations, in particular digital transformations, they're less helpful."
Puthiyamadam emphasizes speed, "The pace of change makes it dangerous to rely on best practices. Technology is so quickly shaping the future that using only your own personal and professional experience to inform your counsel will make you look behind the times."
His forecast, "Advisors and leaders have to be ready to build business models that don't necessarily have a precedent."
OUTTHINKER PROCESS

This blog may be a little late to the party. Outthink the Competition by Kaihan Krippendorff was published in December of 2011. We started blogging about the book and it's ideas on innovation and digital disruption in August of 2017 with a brief introduction to it at the end of Change is Good - How to Do It
The historical narratives on how athletes, teams, and military leaders used the strategy and tactics to Outthink the Competition excited me.
The more I read and understood the principles, the more I realized this wasn't just a strategic principle whose time had come, it was a necessary approach for anyone doing business today to get onto tp determine strategies for the wave of Digital Disruption overtaking business and the economy.
To review what Digital is: the nearly instant, free, and flawless ability to connect people, devices, and physical objects anywhere.
Ask yourself: how is my business doing against this definition?

Is your business doing anything remotely close to achieving this?
Does a cab company have the capability to compete with Lyft and Uber's app? Both Lyft and Uber allow you to put your destination in your phone. It provides a cost estimate, and then informs you when your ride will arrive. In addition you can watch your ride approach your location, so you get an update on its progress and arrival time.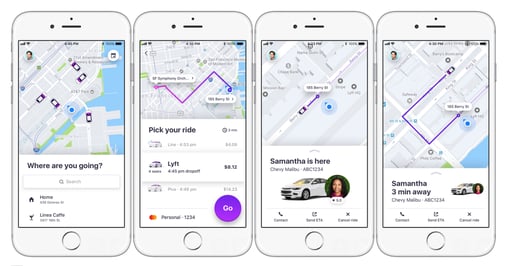 That's instant, free, flawless ability to connect you to a driver with your phone.
The reality is, if you can do anything like this, your business is TOAST!
Customer Purchase Criteria
To achieve the success Lyft and Uber did disrupting the public transportation industry, they studied the customer.
What did someone who hailed a cab want? What features and benefits would improve and make their experience more enjoyable, comfortable, faster, affordable?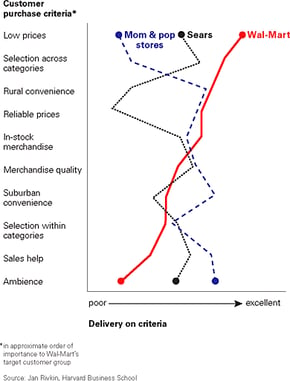 In What Does Your Customer Care About – Product Attributes we explored this after Kaihan Krippendorff's presentation at the St Louis Scale Up Summit in October.
How well do you know your customer? Do you know why they buy from you? Do you know your competitive edge? Do you know, like Wal-Mart does, if you're not getting customer complaints no one is helping them, you're overstaffed?
What's your metric to know you are providing your service precisely the way the customer wants it in order for you to maintain your competitive edge?
If you have a business coach, and he's not helping you confront digital disruption, develop ideas to take advantage of this opportunity, you need to ask him why, or find someone who will!
Growth demands Strategic Discipline.
Digital Disruption is here. If your business is not doing anything to move in the direction for a digital strategy, you are already behind. You risk being obsolete.
Positioning Systems is uniquely qualified, through The Outthinker Process, to provide you with a digital strategy.
Positioning Systems helps mid-sized ($5M - $250M) business Scale-UP. We help you align everyone in your business to focus on Your One Thing! To achieve growth, you need to evolve in today's rapidly changing economic environment. Are you avoiding a conversation with yourself on how to can grow your business? Contact dwick@positioningsystems.com to Scale Up your business! Take our Four Decisions Needs Assessment to discover how your business measures against other Scaled Up companies. We'll contact you.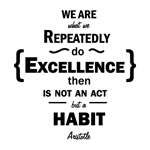 Next Blog - Excellence is a Habit – Required Time to Develop a Winning Habit
Aristotle said, "We are what we repeatedly do. Excellence, then, is not an act but a habit." How long does it require to create a winning habit? We'll explore this next blog.