How do you know what your first One Thing should be?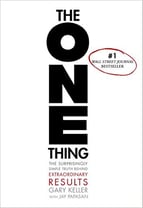 We've been reviewing Gary Keller's The ONE Thing: The Surprisingly Simple Truth Behind Extraordinary Results.
The six lies that keep us from achieving our One Thing have been revealed.
Keller points to two great men to emphasize the value, again, of the One Thing.
On June 23, 1885, in the town of Pittsburgh, Pennsylvania, Andrew Carnegie addressed the students of the Curry Commercial College ending his address with, "I tell you "put all your eggs in one basket, and then watch that basket." Look round you and take notice; men who do that do not often fail. It is easy to watch and carry the one basket. It is trying to carry too many baskets that breaks most eggs in this country."
Mark Twain agreed with Carnegie and described it this way: "The secret of getting ahead is getting started. The secret to getting started is breaking your complex overwhelming tasks into small manageable tasks and then starting on the first one."
Both of these men felt this advice on the One Thing was a secret.
Keller doesn't believe it's a secret. He believes people know but they don't give this the proper weight or importance. He mentions the Chinese proverb, "A journey of a thousand miles must begin with a single step."
So, how do you know what the first one should be?
Most of us never stop to fully appreciate the truth in the Chinese Proverb. In placing little weight on this, we then take the wrong first step and begin a journey that could end as far as two thousand miles from where we want to be. The Focusing Question: keep your first step from being a misstep.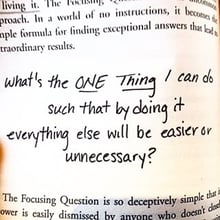 "There is an art to clearing away the clutter and focusing on what matters most. It is simple and it is transferable. It just requires the courage to take a different approach." —George Anders
Keller understands you may be asking, "Why focus on a question when what we really crave is an answer?"
It's simple. Answers come from questions and the quality of any answer is directly determined by the quality of the question. Ask the wrong question, get the wrong answer. Ask the right question, get the right answer. Ask the most powerful question possible and the answer can be life altering.
This is one reason hiring the right business coach can have such a powerful impact on your business. The key responsibility of a coach is to make you accountable and ask the right questions: The questions you are afraid to ask, the questions you don't recognize, the questions that prevent you from going in the wrong direction from your priority.
Every discoverer and inventor begins his quest with a transformative question.
More than 2,000-year ago, Greek philosopher Socrates created the Socratic Method, teaching through questions. It is still embraced by educators from the heights of Harvard Law School to the local kindergarten class. Questions engage our critical thinking. Research shows that asking questions improves learning and performance by as much as 150 percent.
Author Nancy Willard wrote, "Sometimes questions are more important than answers."
Keller notes, "How we phrase the questions we ask ourselves determines the answers that eventually become our life. Anyone who dreams of an uncommon life eventually discovers there is no choice but to seek an uncommon approach to living it."
Extraordinary results are rarely happenstance. They come from the choices we make and the actions we take.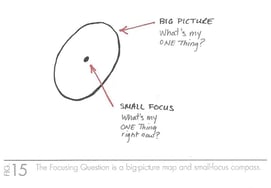 The Focusing Question, when properly utilized, aims you at the absolute best. It's both a map for the big picture and a compass for your smallest next move, forcing you to do what is essential to success—make a decision.
Not just any decision—it drives you to make the best decision. It ignores what is doable and drills down to what is necessary, to what matters.
The Focusing Question
The Focusing Question collapses all possible questions into one: "What's the ONE Thing I can do / such that by doing it / everything else will be easier or unnecessary?"
The Focusing Question leads you to the first domino.
Keller offers this insight into the question; "The last phrase, "can do," is an embedded command directing you to take action that is possible. People often want to change this to "should do," "could do," or "would do," but those choices all miss the point. There are many things we should, could, or would do but never do. Action you "can do" beats intention every time."
Keller breaks down the question even further in the book, yet it comes down to this simple quote: "Success is simple. Do what's right, the right way, at the right time." —Arnold H. Glasow
As always, Keller closes his chapters with big ideas. Here are his four chapters entitled: The Focusing Question.
BIG IDEAS
Great questions are the path to great answers. The Focusing Question is a great question designed to find a great answer. It will help you find the first domino for your job, your business, or any other area in which you want to achieve extraordinary results.
The Focusing Question is a double-duty question. It comes in two forms: big picture and small focus. One is about finding the right direction in life and the other is about finding the right action.
The Big-Picture Question: "What's my ONE Thing?" Use it to develop a vision for your life and the direction for your career or company; it is your strategic compass. It also works when considering what you want to master, what you want to give to others and your community, and how you want to be remembered. It keeps your relationships with friends, family, and colleagues in perspective and your daily actions on track.
The Small-Focus Question: "What's my ONE Thing right now?" Use this when you first wake up and throughout the day. It keeps you focused on your most important work and, whenever you need it, helps you find the "levered action" or first domino in any activity. The small-focus question prepares you for the most productive workweek possible. It's effective in your personal life too, keeping you attentive to your most important immediate needs, as well as those of the most important people in your life.
Monday in our next blog we look at Arnold Glasow's quote and determine how to make success a habit. You won't want to miss this important step.