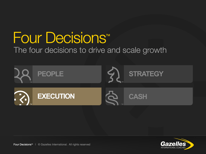 Every day, every week, every month, every year, your people either feel defeated, excited, or undistinguished about their performance.
As the leader or your organization, how does it feel when you are defeated or simply mediocre about your performance?
You feel feedback each day. Whether it's reviewing your income statement, cash flow report, hearing about conflicts, sales victories, orchids or onions (Michael Gerber's description for customer complaints or compliments). As the head of your business, you get feedback daily.
Imagine how empty it would feel not to.
If you're the leader of your business, in any capacity, isn't it your responsibility to provide your people with the same tools, resources, and measurements to help them measure their performance?
Measuring Performance is an Execution Decision in your business. The outcome of getting Execution right in your business is?
Profit!
Would you be more attentive to measuring your people's performance if you knew your business profit depended on it?
Measuring Performance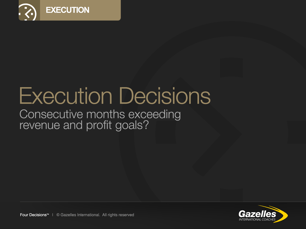 In Tools to Measure Employee Performance we shared several tools we coach our Positioning Systems (Gazelles) customers to implement to increase individual and team execution. Five key attributes of successful managers are:
The ability to hire fewer people, paying more for each performer.
To proactively recognize and show appreciation for specific performance.
Set clear expectations: share "line of sight" - what your people do to the outcome it produces.
Dehassle, not demotivate; clear obstacles and bottlenecks to empower your people. (Fix the system)
Discover and leverage your team member's strengths. Discover individual strengths, use this advantage to achieve superior results.
How are you doing against this scorecard?
In 1984 shortly after Tom Peters wrote In Search of Excellence I had the opportunity to meet and receive a few minutes of counsel from Ralph C. Stayer, President of Johnsonville Sausage Company, one of the companies Peters highlighted in his book.
Imagine if your employees would effectively run off (eliminate) other employees who were not producing to the standards your business expected.
That's exactly what happens at Johnsonville Sausage. Employees who aren't contributing to the team are self-selected to be eliminated by their teammates. It's a cultural. It's based on Johnsonville's uncommon practice of rewarding team bonuses and incentives based on the production of the team.
The following quote reflects Johnsonville Sausage's philosophy:
"Do the people in your company know how well they've done before they go home every night? People perform what they measure – help the performers to measure the 'right' stuff." ~Ralph C. Stayer - & James Belasco, Flight of the Buffalo
How well do you measure employee performance in your business?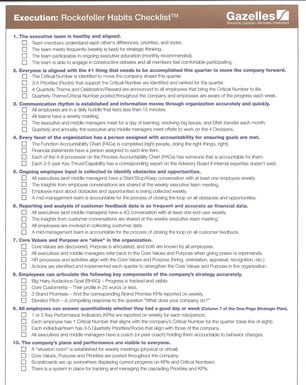 Rockefeller Habits Checklist
In the Rockefeller Habits Checklist, our Gazelles' Execution tool to discover your company's capability to achieve maximum profitability, Discipline #9 states: All employees can report at any time what their productivity is and how it compares against goals. (Request the Rockefeller Habits Checklist)
Scores here reflect your businesses' truth to employee performance measurement.
The Rockefeller Habits checklist is a tool we use to measure Execution, and thus attaining profitability. At minimum our customers score this with their leadership team twice each year. A drop in scores may not immediately signal decreasing profits, however this is often a good leading indicator of future profitability. Score yourself with your team on the Rockefeller Habits Checklist by downloading it now. Ask yourself if the score is reflective on how much profit you are leaving inside the business. Chances are, you're leaving a lot more than you feel. (Make sure to watch the 2-minute Alan Rudy video on the download page.)
Once you know the outcome of executing right in your business is profit, you begin to understand the extreme value and impact Strategic Disciplines best practices of Priorities, Metrics and Meeting Rhythms have on your business.
Metrics is simply ensuring your people can measure their performance. Do they have line of sight to how what they do impacts the business? As a leader, a manager, it's your responsibility to know they do. You are accountable for the results your business, your department delivers. Without your people understanding what to measure, so they know they've made a difference each and every day, you are failing in your role.
Balance Productivity and Relationships
Employees may complain about measuring their performance. Frequently this can indicate a poor fit of an individual with their position. In many cases, businesses aren't balance productivity with the People or relationship driver in their business. At the conclusion of Tools to Measure Employee Performance we share an excellent tool to measure employee engagement: Gallup's Q12.
The reason I especially like this tool is its ability to give management feedback on what needs to be done to correct and improve engagement. You may not be providing enough praise and recognition, or clear expectations. If you're scores from your staff come back low to these questions, you know exactly what you need to correct it.
Two other tools that are effective in getting the People/Relationship balance in your business are eNPS and the Stop, Start, Continue survey. The latter is a tool we require to start an engagement with our coaching practices. We recommend our customers complete this employee survey at least once a year.
Dougy Fresh
This past week I was honored to attend one of my customers Christmas Party and 1st Quarter Planning Session in New Orleans. The company had a staff meeting the day before their Christmas Party to share the results of their Q12, and the Stop, Start, Continue employee surveys.
The leader presenting the results to the staff did an impressive job not only sharing the numbers, he also shared why the company wanted to know. A little over a month earlier we'd use these results to lay out the Annual Plan. In these surveys staff shared the long hours they work to achieve their record year. The leadership team listened. Their One Thing for 2017 is Hiring. A critical number to hire 7 additional people reflects heeding this message to ease the long hours their team is putting in.
The picture at right is from their Christmas Party.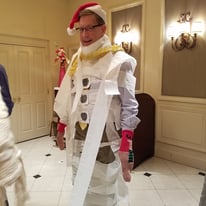 It reflects the fun this group had. Concluding the events Saturday evening each partner (they asked me to fill in for the founder of the company) was decorated like a snowman. It mirrors the leadership teams understanding of this balance of productivity and relationships. Humbling yourself to be wrapped up in toilet paper, may not seem significant. By itself it's not. Asking, listening and responding to employee feedback is at the fulcrum of creating a harmonious culture of accountability.
It's been said that people don't give nicknames to people they don't like.
One of the leadership team members for this customer has decided to call me "Dougy Fresh!"
He and I have occasion to joust about why we do some of the elements of the Rockefeller Habits. Judging by his presentation on the Q12 and Stop, Start, Continue customer surveys I'm convinced he's committed to the principals. His delivery impacted the staff, demonstrating his knowledge and conviction.
This reflects the Jim Collins' GROUND RULES (from Good to Great) we share at the outset of Annual planning
1) Brutally Honest
2) No Shame, No Blame
3) Disagree and Commit
NEXT BLOG
People are the most important element of making your organization Great! In Topgrading, Brad Smart suggests building a virtual bench for faster hiring decision-making. We'll share how one of my customers is doing this and why it's so important with employment levels at record highs.