In our last blog Amazon's Culture Flaws? we shared the NY Times article Inside Amazon: Wrestling Big Ideas in a Bruising Workplace. Remarks from employees suggest increased pressure in Amazon's environment to perform.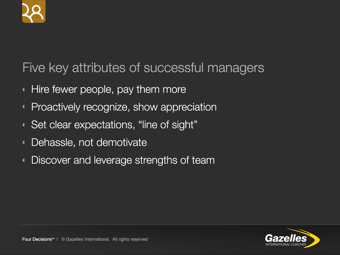 Amazon does a remarkable job of measuring employee productivity. This as critical. Gazelles and Rockefeller Habits employ many measures to ensure team members are accountable and meet the measure of the quote I love from Ralph C. Stayer & James Belasco, in Flight of the Buffalo "Do the people in your company know how well they've done before they go home every night? People perform what they measure – help the performers to measure the "right" stuff."
Daily Huddles require team members to measure their performance on a key metric which should tie to the company's One Thing for the quarter or trimester, and/or connect with their position top accountability. Team members should update their dashboards in weekly meetings, displaying their success criteria so that peers know how well they are doing against their priority. Dashboards display their progress.
The issue Verne had with Amazon's Anytime Feedback Tool, is while the boss knows who sends comments, the identities are not usually shared with the person who is the subject of the remarks. We've shared the reasons for transparency from Patrick Lencioni's The Advantage in Accountability - Three Reasons Group Meetings Produce Better and Lack of Accountability Show the Group or Behind Closed Doors?
Lack of transparency creates mistrust. While competition can be motivating, competing against your own team members, with the threat of possibly losing your job if you don't score better as Verne's Why Jeff Bezos Needs an Army of Robots... Now! points out is ineffective. It's far better to have your employees compete against themselves to improve their previous efforts, and save their greatest energy to fight your competitors in the marketplace.
Gazelles/Rockefeller Habits is constantly working to develop best practices and better tools to measure performance. A good example of this is Metronome Growth Systems, developed by one of our Gazelles coaches to help your company have greater visibility and track how your business is doing against your Quarterly and Annual Objectives. Metronome Growth Systems is an online technology to help you track employee performance, meeting rhythms, tasks, your One Page Strategic Plan, Rockefeller Habits Checklist progress, a War Room, Job Summary Scorecards, and individual evaluations of each team member. One aspect I've found to be superior is their customer service. Without question they respond quickly and have been extremely helpful if you encounter any challenges or have questions or need help with a tool or application.
A great tool for monitoring staff, especially those working remotely is Hubstaff, a time tracking app to monitors various productivity metrics to give you an idea on how your team is working. You'll be able to see the total time spent on each project and task, the apps, and URLs that team members used and visited while working, as well as activity rates based on their keyboard and mouse input
One of my customers who achieves 75% A players uses several other tools that you may wish to consider in your quest to increase employee performance.
IDP & Job Summary Scorecard
IDP is abbreviation for Individual Development Plan. Each employee has one, and it's based on working with one of their four executive team leaders who conduct a Job Summary Scorecard review twice annually. The Job Summary Scorecard includes the key accountabilities for each position. Each team member has clear metrics and benchmarks to attain which are based on attaining "A" player status. The Job Summary Scorecard also includes for this exercise a listing of Core Values with both the team leader and the individual scoring on how this individual reflects the company's culture. Upon completing the review of their performance each employee completes an action plan to work on building their strengths and improving weaknesses. The emphasis is on strengths since mediocrity is often the best result of improving a weakness. Strength building is more enjoyable and rewarding.
360 Reviews
Once a year each executive team member is scrutinized with a 360 review. 57 multiple choice questions measure the leaders effectiveness in Leadership, Planning and Managing Achievement, Flexibility, Collaboration, Innovation, Risk Management, Organizational Sensitivity, Strategic Thinking, Managing Customers, Networking and Personal Impact. Respondents are also asked to provide feedback on the managers' strengths, weaknesses and What Steps does this Manager need to take to increase his or her skills as a Manager?
The executive team leader is graded by the staff he/she supervises as well as the executive team members (peers). The result is a comprehensive appraisal of their leadership and management capabilities. It can be revealing and penetrating to see what people truly feel about your performance.
Once the 360 is shared and reviewed in a one on one coaching meeting that the CEO asks me to facilitate, each leader prepares an action plan which includes:
Describe the behavior or situation you wish to change.

How do you presently respond? (What do you think, feel and do in that situation.)

How would you like to respond? (What would change about how you think, feel or act in that situation? What is your goal?)

List as many ideas and actions as you can for meeting your goals (Identify alternate solutions, brainstorm.)

What might hinder you from reaching your goals? (Negative self-talk, time constraints, etc.)

What might help in reaching your goals? (People, resources, new skills, etc.)

What specific steps are you willing to take to create change? By when? (date)

Who will you ask to help or support you in achieving your goal?
Finally there's a commitment requiring a signature.
Every six months this customer conducts Gallup's Q12 employee engagement survey. From their first survey several years ago, this customer has made remarkable progress on every one of the 12 questions. In most cases improvements of 150-200%. The margin for improvement is diminished after such progress. Still score changes reflect concerns where managers may have let down, or new employees (mostly additions since the company has low turnover) share their feedback.
The best thing about the Q12 from a leadership point of view is the ability to pinpoint the behavior you need to change. For example declining score on question #4: In the last seven days, I have received recognition or praise for doing good work; lets the leader know exactly what they need to improve.
Tools like these help our Gazelles customers grow their teams and business. While employees score all of these confidentially, there is no hidden agenda except to improve leadership capabilities and make the workplace more enjoyable. There is no deception or conspiracy motive.
Meeting rhythms are one tool to increase employee performance. Collective Intelligence is a benchmark in every weekly meeting to solve bottlenecks using the collective genius of the team. CI is perhaps the greatest value of the weekly meeting rhythm. Often the leadership group can get sidetracked and begin CI during the meeting when an issue is confronted in any of the segments that precede it (Good News, Numbers, Customer & Employee Feedback, Accountabilities). Entering into these CI discussions in the moment many times feels right, confront the issue in the moment right? Yet there is an unconscious challenge that reduces the overall effectiveness of Collective Intelligence by doing it then. Discipline is a critical factor in business growth. We'll discuss how discipline and the practice of Collective Intelligence as scheduled produces better outcomes.