The Scaling Up Workshops we do in the fourth quarter as Gazelles coaches serve as a tune-up to the work we engage our customers in for 2016 Annual Planning.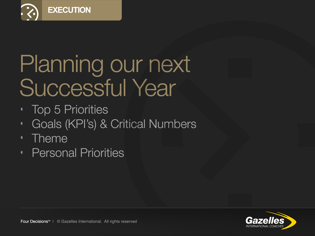 The past week included two Annual Planning sessions with my customers. If you've not planned or begun yours I'd encourage your business to begin the process early. In both cases we fell short of completing the 2016 annual and first quarter plans. My first planning sessions was shortened due to weather and flight delays. The second meeting was cut short due to the Owner and CEO having to be called out for an important personal matter.
We made excellent progress in the two planning sessions, however, we should have scheduled more time for them. Subsequently, we've decided to add 3-4 hours for a planning meeting early in December. By not completing the session's means everyone involved will have more time to contemplate the initiatives we discussed, along with the strategy elements introduced, to be more firmly planted in their beliefs and convictions for our focus on 2016.
Planning these meetings early allowed us to still have enough time to schedule a planning meeting before the start of 2016.
From these two meetings the following two ideas emerged that I feel are beneficial to you in your strategy and planning for 2016. I'll get to these in a moment.
Employee Feedback
It's a good idea to ask employees to complete the following set of questions prior to your annual planning sessions:
What do we start doing?

What should we stop doing?

What should we keep doing?

What are we doing too much of?

What are we not doing enough of?
These surveys should be channeled through the supervisor of the department, reviewed, catalogued and passed on to the leaders attending. The employee's input should be measured and used to help determine the priority and initiatives for the next year. How frequently do you ask your employees for their input? We recommend you do this a minimum of once a year.
The two recommendations are regarding the size of your planning team and managing conflicts:
Planning Team Size
The size of your leadership team dictates the length of time you should meet. As a rule, Positioning Systems recommends two full days to work on Strategic Planning. A group larger than ten is a bit cumbersome to work with. If you feel you need to include more than ten people, our recommendation would be to have a short meeting before the Strategy and Annual Planning meeting so everyone's voice can be heard. We refer to this meeting as the "Accelerator Session," a pre-step to senior team annual planning. In this meeting, a detailed, sequential, brutally honest SWOT facilitated exercise should be conducted. Recommended discussion with your team's middle managers in this ½ day session would be a review of Core Values and Top 5 recommended priorities for the coming year.
Reduce your Strategy and Planning meeting to less than 10 leadership team members. Include those you would have invited in the "Accelerator Session."
The biggest challenge with a larger group is getting everyone's voice heard. With more than ten people it's difficult to not slight someone. Since everyone you invited to this meeting is important, failing to get their input not only limits the results, it can produce negative developments with those who were constrained due to time, or suppressed because of others who are more dominate in the group. The latter is really another discussion on why you should have an outside facilitator such as a Gazelle coach conduct both this "Accelerator Session" and the Annual Strategy and Planning session. Check out Leadership Dominance for ideas on why not to have the CEO lead your meetings.
Managing Conflicts
If your strategy and planning session fails to have conflicts I would submit that you either have a team that is unparalleled in its unity of thoughts and ideas, or you have an uninterested and uncommitted group of leaders. The former is unprecedented, the latter dangerous! Here's where having the CEO or someone from your group leading the meeting is precarious. Egos, politics and insensitivity can lead to leadership team members feeling obstructed, ignored, stonewalled or simply muted. Not the outcome you want for uniting your team efforts to achieve your critical initiatives and most importantly your One Thing for 2016.
Conflicts should emerge. As Patrick Lencioni notes in Five Dysfunctions of a Team,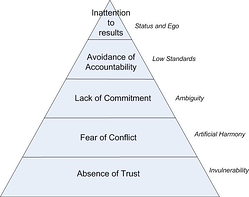 "Trust is important for a very practical reason: without it, teams cannot, and probably should not, engage in productive, ideological conflict." Conflict only exists in leadership teams that trust each other. If you don't feel your team trusts each other enough to argue and disagree, we highly recommend conducting the 4-5 training sessions associated with Lencioni's Five Dysfunctions of a Team. We've experienced great shifts in the trust, mastering of conflict, achieving commitment, accountability and results of leadership teams who work through these exercises.
An absence of conflict suggests someone is fearful. It suggests no one is truly committed to the ideas of initiatives to achieve success for 2016. You want your leadership team to fight for their beliefs, to display passion and courage. They should defend their choices for where the business should focus its attention. Commitment to a course of action makes sense in your leaders. They're ardent about their beliefs.
Just remember conflict is good. It means people are unafraid to voice their opinions and they're convicted in their beliefs. At the end of your planning meeting, everyone should agree on the priorities set. We always end the session asking everyone to commit to your company's plan.
We always begin our meeting by reminding everyone of Jim Collins, to follow these ground rules from Good to Great:
Brutally Honest

No Shame, No Blame

Disagree and Commit
Next blog a message for Thanksgiving, including a story about a sketch on Praying Hands that is touching, but is it true?