"Plans are Worthless, Planning is Everything!" General Dwight D Eisenhower.
What exactly does that mean?
As an Air Force fighter pilot in the Vietnam, Jeff Sutherland, author of Art of Doing Twice the Work in Half the Time,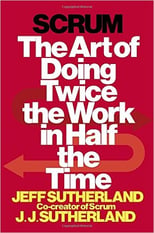 discovered that following the flight plan cost lives.
80% of the pilots who followed their flight plan got shot down.
The pilots who didn't follow their flight plan only got shot down 20% of the time. The pilots who immediately went into evasive maneuvers once they crossed the North Vietnam borders achieved higher mortality rates.
This is the same discovery Eisenhower made when he planned the D-Day invasion of the Normandy Beaches in 1944. The military teams had to self-organize once they hit the beaches. The plans they made were disrupted and had to be reformulated.
Sutherland discovered there were a lot of similarities from the military to completing software projects on time. At West Point, he quickly learned the key to progress was to Make Work Visible and to have Self-Organize Teams.
It's impossible to digest everything our Growth Summit speakers offer. My effort is to condense their presentations into a short synopsis. I plan to digest most of these speaker's books, including Sutherland's, in the hopes of offering you more insight in the future.
Less is More - Teams
Verne Harnish and authors like Greg McKeown, Essentialism, speak of the need to keep the main thing the main thing or "less is more!" Sutherland discovered that the more people you add to your team the more it slows things down. An example he noted: it might take a team of 6 people a year to complete a project, by adding 4 to the group, it requires 18 months to complete the same project.
According to Harvard Business Review the optimal size for a team is 4-6 members. Keep that in mind when you assign a team to a project.
Sutherland also agrees with the meeting rhythm idea Gazelles and John D. Rockefeller followed. He shared how meeting rhythms in a company begins at 7 AM and then cascades through the organization in 15 to 45 minute intervals until by 9 AM all the bugs in a software project had been addressed and fixed. By meeting every day like this you ensure the short, agile work gets done.
Sutherland offered the Iraq war as testament to this. When General Stanley McChrystal took command of the Joint Special Operations Task Force in 2004, he quickly realized that conventional military tactics were failing. Al Qaeda in Iraq was a decentralized network that could move quickly, strike ruthlessly, and then seemingly vanish into the local population. The allied forces had a huge advantage in numbers, equipment and training—but none of that seemed to matter.
In the midst of a grueling war, McChrystal and his colleagues discarded a century of conventional wisdom and remade the Task Force into something new; a network that combined extremely transparent communication with decentralized decision-making authority. The walls between silos were torn down. Leaders looked at the best practices of the smallest units and found ways to extend them to thousands of people on three continents, using technology to establish a oneness that would have been impossible even a decade earlier. The Task Force became a "team of teams"—faster, flatter, more flexible—and beat back Al Qaeda.
General McChrystal led a hierarchical, highly disciplined machine of thousands of men and women. To defeat Al Qaeda in Iraq, his Task Force acquired the enemy's speed and flexibility by using this technique of creating small teams. All this is explained in McChrystal's book, Team of Teams: New Rules of Engagement for a Complex World.
Another conclusion from Sutherland's work with teams; make teams stable. The result is an increase of as much as 700% in productivity.
#1 Corporate Problem - No Clear Backlog
Sutherland discovered the biggest obstacle in corporate environments is that project teams fail to have backlogs with a clear priority. In other words, project work becomes stagnated, or stalled. Yet even when a project is completed, time is lost because the next step or project to work on is not clearly defined or prioritized.
Sutherland's message: Focus and Prioritize.
Sutherland noted that the worst word in the English language is blame. He offered this quote, "A man can fail many times, but he isn't a failure until he begins to blame somebody else." ― John Burroughs
We've discussed this approach frequently in this blog, most recently in Steps 3 & 4: Positive Reinforcement: "Make Others Feel Important" providing the late Wayne Dyer's three reasons why you should never criticize. We also discussed the importance of accepting personal responsibility in Spontaneous Remission - Four Common Things of Miraculous Recoveries.
Sutherland also recommends eliminating time sheets. Instead he suggests introducing measured production. Ask your team to show how much they have produced each day that can be sold. When you measure hours, the incentive is on hours worked. When you measure production, the incentive becomes productivity. What you deliver to the customer is what counts.
Cascading Meeting Rhythms is an important element of Strategic Discipline and the process of Scaling Up your business. Join us to learn about these resource and tools plus help you plan at our November 11th Scaling Up Workshop in Cedar Rapids, IA. Join us to learn more how to scale your business for growth in 2016.
We've shared The Container Store Kip Tindell's Core Values, specifically their "1 equals 3" Core Value in Recruiting and Hiring with Core Values. Verne Harnish interviewed Kip at the Dallas Growth Summit. We'll share those insights in our next blog.