Have you ever had someone tell you to slow down?
From this person's standpoint, you're moving too fast, you're ignoring things and possibly people, you're being insensitive, perhaps even placing your own safety or long term happiness in jeopardy at the expense of achieving your immediate agenda.
That's the essence of Essentialism.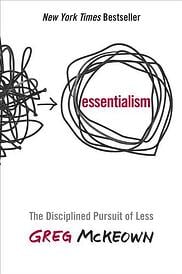 The book by co-author of Multipliers Greg McKeown, Essentialism, provides substantial evidence why "less is more" is so important to business and your personal fulfillment and success.
There are many lessons to be learned. Perhaps the most important one is a step most people wouldn't realize is critical: Taking time to think.
To discern what is truly essential we need space to think, time to look and listen, permission to play, wisdom to sleep, and the discipline to apply highly selective criteria to the choices we make.
"WITHOUT GREAT SOLITUDE NO SERIOUS WORK IS POSSIBLE." —Pablo Picasso
This reinforces the strong components of the Rockefeller Habits making time each quarter, and year to prioritize, plan, and strategize for your business. More importantly we require your business to focus on One Thing. What's that one priority that will impact your business the most? Should you achieve only One Thing in the next 90 days or year, what would provide the most benefit?
It shouldn't be a secret that businesses that focus better achieve more. Greg McKeown quantifies the effectiveness of less yielding more in The One-Word Answer to Why Warren Buffett and Bill Gates Have Been So Successful.
In his book How the Mighty Fall, Jim Collins explores what went wrong in companies that were once darlings of Wall Street but later collapsed. He finds that for many, falling into "the undisciplined pursuit of more" was a key reason for failure. This is true for companies and it is true for the people who work in them.
Jim Collins, the author of the business classic Good to Great, was once told by Peter Drucker that he could either build a great company or build great ideas but not both. Jim chose ideas. As a result of this trade-off there are still only three full-time employees in his company, yet his ideas have reached tens of millions of people through his writing.
The book explains that Essentialists spend as much time as possible exploring, listening, debating, questioning, and thinking. But their exploration is not an end in itself. The purpose of the exploration is to discern the vital few from the trivial many.
Again the principle of developing a One Thing Priority is to determine what the business needs to focus on to achieve the most from the limited supply or resources every business has.
Essentialism provides an extreme"?" example on how to achieve this focus and "time to think" mentality not just as company, but with each employee:
Frank O'Brien is the founder of Conversations, a marketing services company based in New York that has been named to the Inc. 500/5000 List of "America's Fastest Growing Private Companies." In response to the frenetic pace of today's workplace he has initiated a radical practice. Once a month he gathers each employee of his fifty-person company into a room for a full day. Phones are prohibited. E-mail is outlawed. There is no agenda. The purpose of the meeting is simply to escape to think and to talk. Mind you, he doesn't hold this meeting on the middle Friday of the month, when productivity might be sluggish and people aren't getting any "real work" done anyway. He holds this daylong meeting on the first Monday of the month. The practice isn't just an internal discipline either: even his clients know not to expect a response on this "Do-Not-Call-Monday."
He does this because he knows his people can't figure out what is essential if they're constantly on call. They need space to figure out what really matters. He wrote: "I think it's critical to set aside time to take a breath, look around, and think. You need that level of clarity in order to innovate and grow." Furthermore, he uses the meeting as a litmus test to alert him if employees are spending too much time on the nonessential: "If somebody can't make the meeting because of too much going on, that tells me either we're doing something inefficiently or we need to hire more people." If his people are too busy to think, then they're too busy, period.
If a company can make this type of commitment including every employee, the question might be why can't you? Do you not have permission? Do you not understand how valuable time to think is?
How do you make this practice of less is more work? We'll explore Essentialism best practices and definitions in future blogs. First the story of one of the most successful businesses and a copycat that failed because it ignored the reality of trade-offs in focusing on less.
That's next blog.