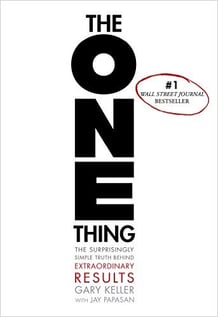 Last blog in Three Commitments Time Blocking Requires we shared the first two of these three commitments. Once again these principles come from The ONE Thing: The Surprisingly Simple Truth Behind Extraordinary Results by Gary Keller, Jay Papasan.
The One Thing is a foundational principal of our Gazelles Scaling Up coaching. It is the first principle of Positioning Systems Strategic Discipline.
Deciding on Your One Thing for the year, and quarter, is the first step toward achievement. Without these three commitments to Time Blocking to achieve your One Thing it's meaningless.
No commitment is more powerful or important than being accountable.
3. LIVE THE ACCOUNTABILITY CYCLE
Keller observes, "There is an undeniable connection between what you do and what you get. Actions determine outcomes, and outcomes inform actions. Be accountable and this feedback loop is how you discover the things you must do to achieve extraordinary results. That's why your final commitment is to live the accountability cycle of results."
This reminds me of how some people confuse activity and results. There are people who believe that if they are continually active, doing something, that is what they are being paid for. They never associate the activity with the result it is producing. Bureaucracy is a wonderful example of this. If we fail to measure the outcomes we expect, we can hardly expect the people who we have work for, and with, to perform to any standard. And yet, as contradictory as this may sound, most people prefer to know what is expected. They desire to know whether they are winning or losing every day. Often times it is management failing to make their team accountable.
In February of 2012 when I discovered I had AML, one of the first things I acknowledged to myself is my responsibility. I wasn't sure at first why I'd been stricken with Acute Myeloid Leukemia, but inside, due to my mental make-up, I recognized somehow my thoughts, my actions, or behavior, even what I'd may have been eating, was responsible for my cancer. The negative surrounding this is you can invest a lot of time beating yourself up. The positive is, if what I did gave me cancer, then, I can also be responsible for fixing it. Concentrating on this I believe led to my ultimate remission and recovery.
If you are reluctant to believe its importance, I invite you to read Spontaneous Remission - Four Common Things of Miraculous Recoveries.
Taking complete ownership of your outcome by holding no one but yourself responsible for them, is the most powerful thing you can do to drive your success.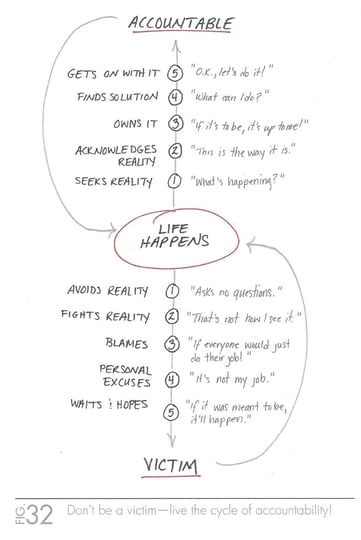 When life happens, you can be either the author of your life or the victim of it. Those are your only two choices— accountable or unaccountable. I've lived by this creed my entire life. I believe if someone steps out in front of my automobile while I'm driving and I hit them, then I'm still accountable. For some reason I was there, and circumstances that I created led me to this. I may need to learn something from this, yet the responsibility for this occurring is mine. Certainly the other person is accountable for their actions as well. Yet that doesn't make me any less responsible for having hit them.
You may feel that is beyond what this means. I've chosen to believe this because ultimately we are the only one who is responsible for our destiny here on this planet. We can blame and accuse others, yet in the final determination we get what we believe and take action to produce.
Accountable people absorb setbacks and keep going. Accountable people persevere through problems and keep pushing forward. Accountable people are results oriented and never defend actions, skill levels, models, systems, or relationships that just aren't getting the job done. They bring their best to whatever it takes, without reservation. Accountable people achieve results others only dream.
How to Make Yourself More Accountable
Keller suggests that one of the fastest ways to bring accountability to your life is to find an accountability partner.
Keller previously shared Dr. Gail Matthews's research that individuals with written goals were 39.5 percent more likely to succeed.
There's more to the story. Individuals who wrote their goals and sent progress reports to friends were 76.7 percent more likely to achieve them. As effective as writing down your goals can be, simply sharing your progress toward your goals with someone regularly, even just a friend, makes you almost twice as effective. Accountability works.
Ericsson's research on expert performance confirms the same relationship between elite performance and coaching. "The single most important difference between these amateurs and the three groups of elite performers, is that the future elite performers seek out teachers and coaches and engage in supervised training, whereas the amateurs rarely engage in similar types of practice."
Maybe there's a reason why individual and business coaching has mushroomed significantly in the past several years. I have two accountability partners who I meet with weekly and biweekly to ensure I'm living up to my One Thing and the significant goals and objectives I set annually and quarterly.
From the Three Commitments Time Blocking Requires chapter in Keller's The One Thing, here are his big ideas.
BIG IDEAS
Commit to be your best. Extraordinary results happen only when you give the best you have to become the best you can be at your most important work. This is, in essence, the path to mastery—and because mastery takes time, it takes a commitment to achieve it. Be purposeful about your ONE Thing.
Move from "E" to "P." Go on a quest for the models and systems that can take you the farthest. Don't just settle for what comes naturally—be open to new thinking, new skills, and new relationships. If the path of mastery is a commitment to be your best, being purposeful is a commitment to adopt the best possible approach.
Take ownership of your outcomes. If extraordinary results are what you want, being a victim won't work. Change occurs only when you're accountable. So stay out of the passenger seat and always choose the driver's side.
Find a coach. You'll be hard-pressed to find anyone who achieves extraordinary results without one.
Remember, you're not interested in just ordinary results— extraordinary is what you're after.
Finally Keller offers this, "When you time block your most important priority, protect your time block, and then work your time block as effectively as possible, you'll be as productive as you can be. You'll be living the power of The ONE Thing. Now you just have to avoid getting hijacked."
Hijacked? We're all familiar with getting hijacked by interruptions, people, events and excuses, manufactured or materialized. Next blog we'll explore the Four Thieves of Productivity to prevent you from ever being hijacked.