Are there some skills sets you find you're not very good at? Every one of us has strengths and weaknesses.
Mike Schulte, Vice President of Sales at Fleck Sales recently gave me his copy of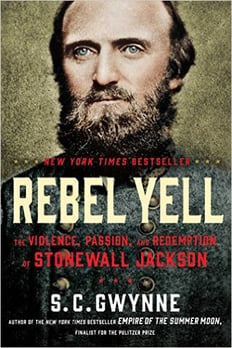 Rebel Yell: The Violence, Passion, and Redemption of Stonewall Jackson by S. C. Gwynne. It's a terrific read particularly if you're a history buff and enjoy learning about military strategy.
One of the exercises we ask our customers to do at least semi-annually is called a performance matrix. It's designed to discover the number of "A" players in your organization, with a focus on moving those who are B players to the level of A player, and to assess whether some people need to "free up their future" or be reassigned.
The case for reassignment is perhaps never better illustrated than in the persona of Stonewall Jackson.
Jackson was a poor student, due to little education prior to entering West Point Military Academy. Indeed he almost didn't get in at all. He was admitted only after his congressional district's first choice withdrew his application a day after school started. Despite being the last student accepted and barely passing the entrance exam, Jackson graduated 17th out of 59 students in the Class of 1846.
He taught Natural and Experimental Philosophy at Virginia Military Academy in addition to Artillery. His ability to teach the former was bad, his instruction of the latter was far better.
Jackson was often insensitive to the pranks and disrespect his students played on him in the classroom and on the drill grounds. In artillery training the cadets often mimicked his commands, which Jackson issued in drawn-out syllables in his high-pitched, mountain-inflected voice. They removed the linchpins so that the cannon wheels would fall away, sending the various pieces of the gun tumbling down the hill. This trick was repeated semester after semester.
Jackson's ineptitude in teaching was so profound just before the Civil War broke out VMI considered dismissing him as a teacher.
Compare this to his performance on the battlefield where his heroics at the First Bull Run earned him the name of "Stonewall," his victories in the Shenandoah Valley in the summer of 1862 kept Federal armies under General McClellan from overwhelming Richmond and ending the war quickly. His last battle, Chancellorsville, perhaps demonstrated his skill and leadership best. With the Confederate armies vastly outnumbered (almost 5 to 1) Jackson swept around the Federal army right flank and drove the Union army under General Howard back into the rear of Hooker's troops so hard they immediately retreated despite their overwhelming superiority in numbers.
How is one person seen so capable, even geniuses, in one endeavor and yet fails so miserably at another?
That discussion is for another blog. Recognize we all have strengths and weaknesses. The key for leadership is to discover where each of our team members fits best, and then get the most out of them.
People are not your most important asset, the right people are. As Jim Collins in Good to Great says it's the right people, doing the right things right.
If you fail to have the right people on the bus, and not in the right position, you end up falling short of achieving your goals. Most importantly you fail to get the maximum performance out of your people
PERFORMANCE MATRIX EXERCISE
Who are the most productive people on your team? Who are the people who most behave in accordance with your Core Values?
The intersections of these two areas are your "A" players.
Want to find out who you're "A" players are, and who you should consider reassigning?
Follow these simple instructions for our Performance Matrix exercise:
The intention of this exercise is: Keep your A Players, get rid of any C Players (reduce cost NOW) and coach your B Players hard to get productivity up. If you need to hire – hire ONLY A Players since it is a "buyers market" (easier to hire top talent at a lower cost).
See the grid provided here and determine where your team members fit.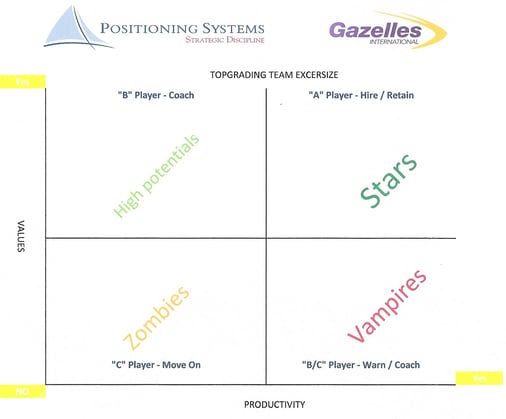 Place each team member's initials on the grid in the appropriate box.
How many C, B, and A Players? (No names, use initials and just numbers) and then ask "What will you do about it?"
Once the exercise is completed the leadership team needs to ask the following questions:
Which Team Members can be coached?
Which Team Members should be reassigned to take advantage of their strengths in another capacity?
Which Team Members need to be replaced?
What is your time table and action plan to achieve the success and goals you need to reach in the next quarter and year?
Recognize that A Players won't work for B Managers. If you have A players working for B managers what's your plan to:

Replace the B Managers as soon as possible so you don't lose your A players.
Make up production levels when your A players leave.
The people to consider for reassignment are those who score high on your Core Values, but lower on productivity scale. These people already are in synch with your culture. Discover where their talents and abilities are so that these well-intentioned and valuable company "believers" can be put to use somewhere productive.
Monday Gazelles and Fortune's Atlanta Scale Up Growth Summit begins. I'll be doing my best to deliver the highlights of the summit with a focus on the speakers messages so you can gain valuable insights about your business and how to generate growth in 2016.