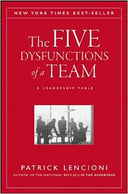 In Leadership Harmony – 5 Dysfunctions of a Team – Conflict Resolution Model we noted intuitively we know when your team works together you can accomplish anything.
Most of us also know when we give we get. Contributing or giving intrinsically rewards us. We shared this idea in To Improve Your Relationships Improve This.
Every single kind, warm, heartfelt, sincere, and genuine thing that we do to make another person feel good about themselves causes us to feel good about ourselves.
It's the law of reciprocal or indirect action. And it works 100% of the time. If we go through life trying to make others feel good about themselves automatically we make ourselves feel good!
Selfishness is detrimental if not ruinous to any organization. If you find someone in your organization, particularly if they're on your leadership team, root them out.
TEAM YOU MANAGE
Does your leadership team have anyone who is more interested in outcomes/performance of the team they manage rather than the team they are a part of (Your Leadership Team)?
You may recognize this leadership team member by these common characteristics:
Lack of Accountability (They're either consistently late on the leadership assignments they have, or they simply fail to follow through.)
Lack of Commitment to the Team. (They fail to volunteer or provide input and ideas to help drive your team and the company forward.)
Arrogance, pomposity, vanity, and self-centered focus on their team's performance.
Critical Behavior (They often put down or assail others efforts to offer help or ideas.)
Contribution (Fail to have conflict with members, push their own agenda, rarely presenting company objectives, their department success frequently fails to contribute to company success.)
Do you recognize this behavior as anyone on your team?
Hopefully not.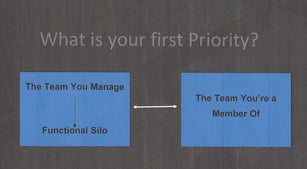 In the Five Dysfunctions of a Team exercise, we share this slide to help the leadership team realize the team they are a part of, your leadership team, should always be their first priority. Pushing their own agenda, placing their department or team in front of the company's objectives is ego driven. It suggests their performance, their efforts are more important, and self-serving.
TEAM YOU'RE A PART OF
In my experience these type of individuals are not effective leaders. They consistently put themselves and their interests above the good of the company's.
What can you do with a leadership team member, who may be effective achieving his team's priorities and objectives, yet consistently fails to contribute to the leadership team and company's priorities?
Here's three recommendations:
Educate – Make them aware of how their self-interests are negative to the performance of the company, and are adversely affecting the leadership team and the business. (This maybe particularly true with a young leader, so focused on his team performing well he is completely oblivious to how it affects the business.)
Five Dysfunctions of a Team Exercises – I cannot recall when completing the Five Dysfunctions of a Team exercises failed to create a more harmonious, committed, accountable, results focused team. At the very worst, you will identify leadership team members who are unwilling to participate and be team players.
Set Consequences –Probably the last straw. Consequences frequently yield only enough effort to avoid the negative repercussion. That type of effort is rarely the type of person who provides long term contribution. Sometimes the people you have placed in a leadership position are unable or unwilling to be anything less than self-centered, cavalier, vain, and egocentric. Time to free up their future.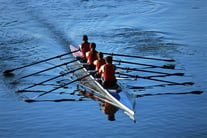 If you're looking to get your team working with all oars rowing in the same direction, the practices of Strategic Discipline and the Five Dysfunctions of a Team are great development tools for your business and leadership teams. Please let us know if we can provide coaching help. Contact me at dwick@positioningsystems.com.
NEXT BLOG – FOUR AGREEMENTS
I'm not a New England Patriot or Tom Brady fan, however I am a fan of success. Peter King's Tom Brady Opens Up: 'I'm Not Going to Give Away My Power' shared a book Brady applied to help him achieve success. The Four Agreements reveals strong philosophy and disciplines. The Four Agreements might be excellent Core Values or guidelines for your leadership meetings. I'll share "The Four Agreements," by Don Miguel Ruiz next blog.