How much influence and commitment does your management team place ion pricing?
My experience with customers, pricing is an often neglected aspect of business. Little understanding of pricing, it's perception on quality, its influence on profit, and the consequence to business value is discussed or considered in most organizations.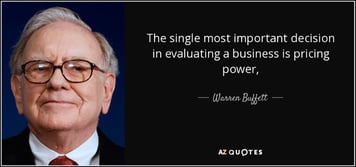 How important is pricing?
Investor Warren Buffett stated, "The single most important business decision in evaluating a business is pricing power. If you've got the power to raise prices without losing business to a competitor, you've got a very good business.And if you need a prayer session before raising price, then you've got a terrible business."
If the value of your business is based on its pricing power, shouldn't you be investing more time considering your pricing and how to increase it?
Pricing should be an integral part of your business Strategy.
Pricing power determines whether a supplier can achieve his or her desired prices. It also determines the degree to which a brand can earn a premium price.
In Confessions of the Pricing Man: How Price Affects Everything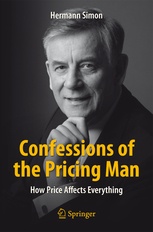 Hermann Simon shares, "The flipside of pricing power is buying power: to what extent can a buyer get the desired prices from his or her suppliers? In some industries, such as car manufacturing, purchasing power is high and buyers wield significant buying power over suppliers. Likewise, retailers can exert their buying power over suppliers when market concentration is high."
Simon believes in reality, the pricing power of most companies is relatively modest. His company, Simon-Kucher & Partners, interviewed over 2,700 managers in 50 countries for its "Global Pricing Study" and found that only 33 % of respondents felt that their companies had a high level of pricing power. This means the other (two-thirds) companies are not able to implement their desired prices in the market. What does this mean? Their profitability is at risk.
Does your business regularly examine its pricing? Do you realize how much pricing affects your profitability?
Simon-Kucher & Partners "Global Pricing Study" insights into the sources of pricing power provides serious guidance to firms looking for an edge. The study reveals pricing power is 35 % higher in companies if top management is involved in setting the framework for pricing decisions instead of delegating authority. Additionally, companies with dedicated pricing departments had 24 % more pricing power than companies without such departments.
Simon notes the key lesson is, "it pays for top managers to make a strong and serious commitment to better pricing and to invest time and energy into this endeavor. This sparks a positive spiral, as higher pricing power leads to sustainably higher prices and higher profits."
Simon shared this story on the famous whiskey brand Chivas Regal. During the 1970s sales were in the doldrums. In order to reposition the brand, the company developed a label with a more high-end look and raised the price by 20 %.
The whiskey itself remained exactly the same.
In spite of the price increase, sales rose significantly!
Price Anchor
Simon shares several pricing concepts in the book, none perhaps more interesting than the effects of Price Anchors.
What do you do as a buyer when you have neither the knowledge or means to make a qualified assessment of a product's quality. You're unaware of any information about the price range for this product category?

Simone offers one method is to do thorough research to reduce the information gaps by looking online, reading test reports, or asking friends. This time-consuming approach may make sense for a major purchase, such as a new car.

What does a buyer do when it is something of much lesser value? Is intensive research worth the investment?

Buyers look for reference points or "anchors."

The following story is valuable both for understanding the concept as well as learning about one of the stories participants. "Two young construction workers became frustrated in their attempts to join a local union in California, so they decided to form their own company. Instead of describing themselves as masons, they claimed to be "European bricklayers. Experts in marble and stone." To underscore this positioning, one of them would make the measurements at a prospective job site in meters and centimeters, and then show them to his colleague. The two of them would argue in German until the customer came over and asked what was going on. "I don't get why he thinks this patio will cost $8,000," the one who took the measurements explained, pulling the customer aside. "Between you and me, I think we can build it for $7,000." After some discussion with the customer and a little more arguing in German, the customer accepted the $7,000 bid. The two immigrants built a solid business in this manner, before one of them left to pursue another career path. The one who took the measurements at the job site was a young Austrian bodybuilder named Arnold Schwarzenegger."

Price anchors work effectively on professionals as well as consumers. Another example from the book: In one study, car experts were asked to assess the value of a used car. Someone stood next to the car, apparently just by chance, and remarked unprompted that the car is worth "x." In one study with 60 automotive experts, the participants assessed the value of the car at $3,563 after the neutral observer gave $3,800 as the price anchor. But when the neutral person gave $2,800 as the anchor price, the experts' average estimate came to $2,520.9 The casual remark by a random person had created a price anchor which altered the price perception of the experts by $1,043 for the identical car. Based on the average anchor price of $3,300 across the two studies, this is a shift of 32 %.

Researchers conclude that "anchoring is an exceptionally robust phenomenon that is difficult to avoid."

Perhaps you've observed this same behavior at a restaurant. You or your guests wish to select a wine. After looking at the wine list, most guests order a wine with a price in the middle of the list. Only a few guests opt for the most expensive or least expensive wine. The middle has a magical allure.

The less a buyer knows objectively about the quality of the products and prices in an assortment, the stronger the pull of the "magic of the middle" will be.

Simon-Kucher & Partners observe time and again the introduction of additional alternatives can significantly increase sales and shift demand toward higher priced products. This finding is one of the most astounding in behavioral pricing research.

Can you take advantage of Price Anchors in your market? Is it possible a product or service you never sell can influence and help you to achieve higher sales and greater profit? We'll explore this the influence of credit cards on your purchasing next blog.