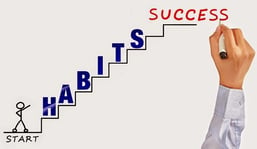 Last Tuesday I visited my lunch buddy AJ at school. A teacher thanked me in the school lobby for what I was doing.
He said, "Appreciate what you are doing. You won't see the reward, but we will! Thanks!" (Special thanks to Wade Hiner for recommending I become a lunch buddy!)
It made me wonder, how long would you be willing to continue do something without seeing a reward?
THE MOST IMPORTANT BUSINESS HABIT
Many business owners work a long time without seeing a reward. Their frustration is most frequently related to an inability to achieve the most important business habit – Prioritization!
A business incapable of determining their One Thing for the Year, and each Quarter can't possibly succeed. Clarity throughout an organization is critical to achieving success.
It's why one of the first steps we build in the businesses we work with is Strategic Discipline: Priority, Metrics, Meeting Rhythms.
"People do not decide their futures, they decide their habits and their habits decide their futures." —F. M. Alexander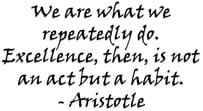 "We are what we repeatedly do. Excellence, then, is not an act, but a habit." Aristotle
These two quotes come from our blog: Developing The Success Habit – Your One Thing
This blog has dedicated many titles to the subject of habits. The very foundation of executing well in your business is tied to achieving high marks on The Rockefeller Habits Checklist.
FIVE ESSENTIAL COMPONENTS TO BUILD AN EFFECTIVE HABIT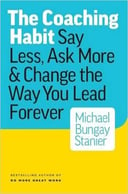 In The Coaching Habit: Say Less, Ask More & Change the Way You Lead Forever, Michael Bungay Stanier quotes a Duke University study revealing at least 45 percent of our waking behavior is habitual. In several books I've read on habits, I've heard this number as high as 95%.
It's why interviewing should focus on a candidates' boss performance grades. "The best gauge of future performance is past performance."
Stanier shares to build an effective new habit, you need five essential components: a reason, a trigger, a micro-habit, effective practice, and a plan.
Stainer adds, "This is simple, but it isn't easy!"
Let's examine his steps:
Make a Vow - Be clear on the payoff for changing something as familiar and efficient (but not as effective) as an old behaviour. In Leo Babauta Zen Habits: Mastering the Art of Change, he suggests making a vow connected to serving others. Leo gave up smoking for his wife and newborn daughter. It may be helpful to think less about what your habit can do for you, and more about how this new habit will help a person or group you care about.
Figure Your Trigger – In Charles Duhigg's book, The Power of Habit, shares: if you don't know what triggers your old behavior, you'll never change it because you'll already be doing it before you know it. The more specific you can be when defining your trigger moment, the more useful a piece of data it is. I'll bet if you're like me, when you get ready to go to bed, you brush your teeth. The trigger – going to bed.
Double-S It: Be Short & Specific – Don't define your new habit vaguely and expect to get any traction. If it takes too long to do, your brain finds a way to messup your good intentions. J. Fogg's (tinyhabits.com) suggests you should define your new habit as a micro-habit. It should take less than sixty seconds to complete. Getting really clear on the first step or two leads to the bigger habit.
Practice Deeply – In The Talent Code, Dan Coyle discovered certain parts of the world are talent "hot spots" for certain skills. Brazil: soccer. Moscow: women's tennis. New York: music. A key factor in each hot spot is knowing how to practice well—Coyle calls it "Deep Practice." The three components of Deep Practice are:

Practicing small chunks of the bigger action (for instance, rather than practice the whole tennis serve, you practice just tossing the ball up).
Repetition, repetition and repetition… and repetition. Do it fast, do it slow, do it differently. Keep repeating the action.
Be mindful. Notice when it goes well. When it does, celebrate success.

Plan How to Get Back on Track - When you stumble—and everyone stumbles—it's easy to give up. Stainer shares, "I may as well eat the rest of the cake, seeing as I've now had a slice." In Can The Four Agreements Help You Win A Super Bowl? The fourth agreement is, ALWAYS DO YOUR BEST. Your best varies from day to day. Forgiving yourself and refocusing on your priority or habit, gets you back on track.
On Stainer's website he has 3 videos to help walk you through Building Solid Rock Habits. This video is Part One.
STRATEGIC DISCIPLINE
Because most business haven't developed a winning habit, the essential first step to form is Strategic Discipline. Your business need to execute properly to consistently produce results. To develop a winning habit for your business contact me, at dwick@positioningsystems.com.
NEXT BLOG – WHAT FOSTERS MOTIVATION?
In order to achieve any priority or objective, you must believe you can attain it. Belief is only one of two critical elements to success. Several of my customers have been exploring the Great Game of Business. The second element to success involves adding this to your equation. We'll explore this 2nd element next blog.