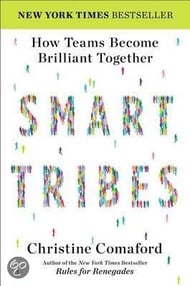 In our previous blog SmartTribes – How to Deliver Accountability we offered how Christine Comaford gets accountability in the DNA of developing SmartTribes by building "containers." Containers are the structures that enable a group of people to achieve real accountability across the board, pulling together like a synchronized rowing team. She offers four key practices that will help you do that:
Utilize the accountability equation.

Create clear accountability structures with Needle Movers.

Track results via weekly reporting.

Reward high performance and provide consequences for low performance.
We covered 1-3 in the previous blog.
This blog is dedicated to the final one:
Reward High Performance and Provide Consequences for Low Performance
It's important to recognize this step requires steps 2 and 3. You must have a success criteria and reinforce progress and peer pressure by tracking measures weekly. No matter what your specific incentive plan is, you create more emotional engagement, more excitement, and anticipation of treats when we spell out what exceptional, adequate, and poor performance will net a person.
You don't have to reward cash for high performance. Social rewards are far more powerful anyway. Compensation can be in points (that are then quarterly or annually turned in for a day off, a massage, a prepaid credit or gift card, a higher percentage of the bonus pool available for colleagues of your category, etc.). The point is to have rewards and consequences for the company, the team, and the individual to keep everyone in their Smart State.
If the company exceeds their Needle Movers (Success Criteria), there is a celebration and everyone prospers. If the team does as well once again, celebrate and prosper. If the individual rises up to peak performance, he or she should be celebrated and prosper. Recognition is one of the best rewards.
Here's Comaford's take on consequences, "Let's consider consequences for a minute. For one of our clients, if you don't send in your weekly status by Monday at 7 A.M., you are not permitted to attend the management team meeting at 8 a.m. They hold this firm—heck, if managers aren't getting their status in on time, what sort of message are they sending to their reports? Other consequences (beyond the most drastic of demotion or termination) include withholding privileges when performance is poor."
Comaford suggests keeping things simple on the consequences front. If you hire people who are aligned with your values, and you have a clear culture of performance and accountability, consequences will need to be applied only rarely.
Comaford follows these four steps. If a team member continues to struggle, set a thirty, sixty, or ninety-day counseling/correction period (whatever you choose to call it). If that doesn't work, we help transition the employee out of the company.
Here are standard consequences found to work very well when a team member doesn't keep commitments:
First miss:

Ask, "Are you okay?" Maybe your team member is dealing with a personal life disaster, and his life has been turned upside down. If he answers yes, then remind him how essential accountability is to the culture and to your trusting him—and walk him through setting up calendar reminders if need be. If he answers no, and he is not okay, work with him as best you can to help him through this personal crisis. Lightening his workload may be required.

Second miss:

Ask, "Do you have too much work?" If so, help lighten his workload. If not, stress how crucial accountability is to trust and ask how he will ensure he's accountable in the future.

Third miss:

Ask, "Is your role too big?" It appears that his role is too demanding for his ability. It may now be time to discuss if he is in the right role and if he needs to move to a reduced role, shift to flex time, or some other option to ensure you get the performance he had promised. At this stage you'll want to bring Human Resources into the conversation.

Fourth miss:

Ask, "Do you really want to work here?" His behavior is showing that he doesn't. That's okay. Just have a frank conversation about the situation so that everyone's needs can be met. If he insists he wants to stay at the company and in his current role, design a counseling period where he'll demonstrate and maintain improved performance starting immediately. If the counseling period concludes and his performance isn't improved, it's time for a transition.
Most valuable in Comaford's consequence and rewards process is how to discover if a person is truly committed. Comaford suggests you look at their calendar, their credit card statement, and their behavior. These will reveal their priorities and what they value most.
If you can gain access to all three you have real insight into the person in question. Arguably their calendar and credit card are all reflections of their behavior. Having all three demonstrates objectively what they're real commitment is. From my own experience it doesn't take too long or much digging to determine what a person values based on these three criteria.
It's important in creating SmartTribes to provide Safety, Belonging and Mattering. People crave these, and they lead to trust in your organization. Satisfying these keeps your team in Smart State and keeps them out of Critter State where unproductivity and dysfunction reign. Next blog we'll look at how trust is broken and egos are triggered.