With the Growth Summit starting Tuesday and our Gazelles Coaching meetings not beginning until Monday this is a modification of a blog (Subjectivity & Objectivity – Required Business Disciplines) written in September of 2010 and another (Critical Numbers - People/Relationship Drivers)in December 2012 . Flying on Delta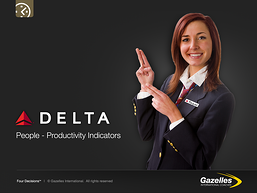 to Las Vegas reminded me of an example we often provide on the critical need for balance in setting priority for your business. I've updated the content to reflect the emphasis to balance the two drivers, people and productivity, in your business.
Establishing a priority for your business for each year and each quarter is a fundamental principle we coach our customers to determine. The One Thing priority helps your business achieve more in a quarter or year than you might over several quarters or years without this essentialism technique.
The trade off in establishing a One Thing Priority is that it can lead to imbalance. Focusing so much on one thing to the exclusion of all others can result in lopsidedness that can dramatically affect your business performance.
Here's an example from Delta Airlines: Driving hard to improve their on-time departures metric Delta focused so hard on on-time departure (a Productivity metric) that they forgot about the People they were trying to serve. By focusing only on on-time departures, they started cutting corners. Delta frequently was unable to load all of the bags on each plane in their effort to get their planes to depart on time.
Has it ever occurred to you that your plane arrived on time but your bags were a day or two behind? This situation isn't as dreadful at the end of a trip, but it can be disastrous when you're starting your trip and all the clothes and items you planned to use are delayed an extra day or two.
Delta's most important People – their customers – were left without their luggage. You can imagine these customers were rather angry. So Delta began measuring missing customer bags and overall customer satisfaction along with on-time departures, and it forced the company to figure out how to provide on-time departures without cutting important corners.
That's an example of why we suggest having critical numbers that balance People and Productivity priorities. These are the 2, as in drivers in the Rockefeller Habits 4-3-2-1 formula to achieve business success. In case you're wondering my bags did arrive on time at the baggage claim. Whew!
So here's your challenge.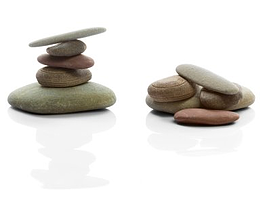 If you plan to embrace this One Thing Priority concept, recognize the need to balance whatever your focus is with an opposite driver, either productivity or people to ensure the other isn't pressed out of balance. You don't want your company to suffer in the same way Delta did.
Let's suppose you're planning to focus on increasing revenue in the first quarter of 2015. You should drill down into this objective to make sure your focus concentrates on a specific aspect of generating more revenue. It may be providing a discount to customers to drive revenue. It may be by increasing conversion rate or the number of leads you speak in order to generate more revenue. Make sure you have a specific set of supporting activities to achieve your desired outcome. More on this in another blog.
You decide you can boost revenue by increasing your conversion rate. Furthermore the specific focus is to shorten the buy cycle of prospects by improving the sales process. What metric would you choose to ensure that by converting more prospects you wouldn't be disrupting or hurting your business? This is a productivity driver.
You may be concerned that by converting prospects in a shorter time frame more of the conversions may fall out. A closed customer decides, because the sales person either pressured or short circuited the buying process, to bail despite his previous commitment. You may wish to measure buyer's remorse. You may also wish to measure customer satisfaction within the first 30 – 45 days to ensure these converted prospects remain happy with their decision.
Whatever your choose, the focus should be on the people, or customer and their satisfaction with their decision to absolutely ensure the process of improving conversions didn't result in more buyer remorse or decrease satisfaction then you've had in the past. Of course this puts an additional emphasis upon having previous metrics in these areas to measure if the new conversion process is succeeding or failing.
Tomorrow begins a day long coaching training to sharpen our proverbial axe. Then Tuesday begins the two-day Fortune Growth Summit. I plan to blog each day with ideas and insights I gain to help your business perform better.