In Bringing out the Best In People, Aubrey Daniels points out that the greatest issue with managers is not that they don't understand the need for reinforcement and recognition, they simply don't understand the amount of reinforcement required to create peak performance and a high performance organization.
Compare the need for reinforcing behavior in your organization to the requirements for a young person through fourth grade to achieve competence in math.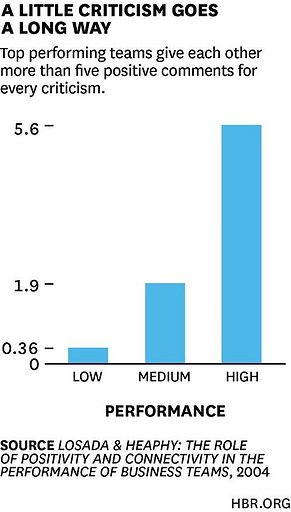 B.F. Skinner in The Technology of Teaching explains that it may take as many as 50,000 reinforcers to teach basic competence in math. If you're wondering how much that is in terms of hours, it's about 70 reinforcers per hour per student. Reality is far different. The median number of reinforcers students receive is about six per hour. This may easily explain the problems we're having in schools today.
As noted in PIC – Positive Immediate Consequence a linebacker practicing for an upcoming game will need to see an opposing teams play run 300 times before he is able to immediately recognize it during a game. Is it any wonder our people fail to see errors or don't continue to do best practices every time? As discussed in Positive Reinforcement: Make it Immediate if we're not in the field recognizing our people when they are following the right behaviors it's impossible to reinforce as required in order to achieve a consistent performance outcome.
Are you familiar with George Orwell's book 1984? Published in 1949 it describes a world of omnipresent government surveillance, mind control and limited freedoms. Little did Orwell realize that his story would not become true, yet a much more important innovation occurred in 1984 impacting positive reinforcement and the need for frequency to change behavior. This was the introduction of Nintendo and its powerful influence on reinforcing frequency.
The linebacker story and children learning math should provide a frame of reference for the understanding that occasional reinforcers at work only make a small difference in performance. In Employee Feedback Measurement for Positive Reinforcement we discussed the 4 to 1 Rule for positive reinforcement. Positive reinforcement should be balanced in a 4 to 1 ratio of positive remarks to one punishment or negative reinforcer. Realize that this doesn't mean you should conform to this ratio and make sure you punish once to every four times you positively reinforce. Aubrey Daniels reports research (See chart above) suggesting this ratio should be as high as 6 to 1. Few of us would feel that this number is even close to being achieved in most organizations. There is no research to support being over this ratio hurts performance either. So when in doubt positively reinforce your peers and coworkers!
Positive reinforcement needs to be a daily affair. If you have difficulty remembering to positive reinforce, or feel you are already doing enough, take the challenge of writing down your efforts on a 3 x 5 card. Record each time you reinforce or punish with each of your team members. Most likely you'll be very surprised at your numbers. It may reveal a great deal of who really is culpable for your team's performance.
Further discussion on the need for frequency to reinforce positive reinforcement can be found in Employee Feedback – The Need for Frequent Positive Reinforcement, Positive Reinforcement Didn't Work! and The Dawn of Impatience – Increase Positive Reinforcement. The latter provides possibly the greatest reason it's critical to reinforce positively at a great frequency.
The final word on positive reinforcement: Increase your frequency. You can hardly go wrong.
So what's the point of the 4 Rules for Positive Reinforcement? If your business is not getting the result from your people you expect understand the power to change this is in your control. Your people are not producing the results you want because you don't understand and apply these principles, and you are rewarding the wrong behavior to earn the results you want to achieve.
It's not too early to prepare for 2014 to ensure your business growth. Mastering the Rockefeller Habits Four Decision Workshop is coming to Cedar Rapids, Iowa November 12th and we'll discuss the value of this one day event and how you can participate next blog. You can view details in the left margin of this blog page.