Nature generates variations through a massive and ceaseless set of experiments. Mutations test a wide range of survival strategies.
Most of the variations end up as failures. Evolution is a low odds game. 99% of the species that ever existed are now extinct!
Compare that with the track record for American businesses. According to Dun & Bradstreet only 7 percent of the 9 million companies currently registered in the US are over fifty years old.
As in nature, the rules of survival in the marketplace are similar to Darwinian.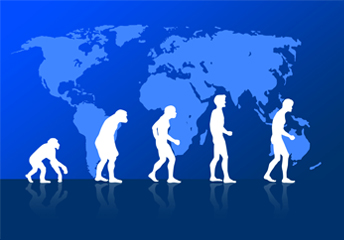 "Never sit still" is how William G Pietersen describes it in Strategic Learning. Nature's low odds are due to two learning disabilities:
When nature fails, it doesn't know why.
When nature succeeds, it doesn't know why.
We have a crucial advantage over all other organisms: The ability to think and learn. Organizations have the capacity to overcome these learning disabilities. It is our power to harness learning that increases our chances for survival. The quality of that learning determines our odds of success.
As we've often noted in this blog, effective learning is at the heart of successful adaptation.
Arie de Geus, former head of Shell Oil Company's Strategic Planning Group and author of The Living Company notes, "In the future, an organization's ability to learn faster than its competitors may be its only sustainable competitive advantage." It's a basic tenant of our Gazelles coaching principles. Learning at the executive level and beyond is critical to business growth. It's another reason why according to Topgrading's Brad Smart, A players read 24 books a year.
Strategy is a concept that requires business to change. We're in agreement with Strategic Learning's William G Pietersen who feels that the concept of leadership must change from the pursuit of static goals to the challenge of continuously modifying a firm's strategic focus in response to changes in the environment. Indeed the very premise behind Strategic Discipline is to provide a dynamic platform that allows for strategy to adjust with changing competitive and economic forces.
Yet how does one manage with limited resources and the growing gap between the volume of information and the ability to make sense of it all?
The main job of strategy is to make the most intelligent choices about how to use our limited resources. Remember too that strategy is one thing, planning is another.
As Henry Mintzberg, author of The Rise and Fall of Strategic Planning (Free Press, 1994), points out, strategy is one thing, planning another. Strategy should come first,planning afterward. The key challenge is to both create strategic focus and continuously adapt to the changing environment.
In many companies, there is widespread frustration that their strategic plans do not do their main job—creating competitive Breakthroughs. Strategic planning in most cases is 10 percent strategy and 90 percent planning—number crunching, forecasting, and budgeting. the main job of strategy is to make the most intelligent choices about how to use our limited resources.
How can business leaders create and lead adaptive enterprises?
According to William G Pietersen in Strategic Learning this challenge contains two separate questions—the what and the how:
What are those few things organizations must be able to do outstandingly well to generate ongoing renewal?
How can organizations accomplish these things in practice?
Strategic Discipline in practice achieves answers to these two questions. It provides the structure in response to what William G Pietersen describes as the Strategic Learning cycle.
We'll explore what the Strategic Learning Cycle looks like more in our next blog and how Strategic Discipline's priorities, metrics and meetings deliver it for your business next blog.