Is the mood in your company for meetings one of anticipation or aversion?

A prospect this past week reacted to the suggestion of meetings by indicating they have to be careful in their organization to mention the word meeting. His people dislike meetings and generally greet them with annoyance and impatience. It suggests that the meetings they've conducted in the past are possibly disorganized, not well prepared, unexciting, lack conflict and do little to energize those participating. It's also a reflection of what I believe many businesses suffer from. They feel meetings are boring, and a necessary evil.
Allow me to reflect on my current condition and place this in perspective. I'm currently suffering from a condition called dry mouth. It's a symptom of Graft Versus Host Disease (GVHD)which can occur after bone marrow transplant for leukemia patients.
This isn't the first time this has visited me. It's clinging longer than previous experiences. Previous bouts lasted for a week or so. It's longer this time. The biggest challenge with Dry mouth is the uncomfortableness that occurs when eating. Your mouth is not producing enough saliva and so food while initially tasteful compacts and the delightfulness of eating, even with generous amounts of water or liquids, diminishes progressively the more you eat. Your cheeks and tongue can feel inflamed.
If you're like me you love eating. Imagine not enjoying that aspect of your day. Okay it has its positives; I'm eating less and losing some weight. However looking forward to a good meal or even a piece of chocolate is not something that is occurring right now. I'm learning how much I've been dependent upon food for enjoyment in my life, and how frequently I may have substituted a momentarily indulgence to uplift my spirits.
Still I know and have experienced the delicious sensation that comes with enjoying good food.
Imagine I didn't know any better. That I didn't know that food was enjoyable and provided not only nutrients but a spark and upliftment in your day, even if only for an instant gratification.
I'd be just like those businesses that believe meetings have to be boring, a temporary inconvenience, a necessary evil, wasteful and unproductive.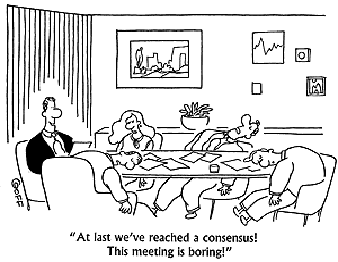 Many businesses don't realize how meetings can elevate their people and organization. Meetings, when conducted correctly will put a bounce in the step of the business and your people, generating growth and renewed enthusiasm.
Positioning Systems' Strategic Discipline builds an integral connection between your priorities and accountability metrics to make meetings meaningful. The agendas for each meeting, daily, weekly, monthly, quarterly and annual are aligned to move the business and your people toward progressive achievements. When you Execute Meeting Rhythms – A Cadence of Accountabilitythe habit of success penetrates your business. There are so many advantages to developing the meeting rhythm patter that any business not proactively engaging in meetings is absolutely ignorant of the power that successfully orchestrated meetings provide. In Business Alignment – Why Don't Your People Get It? we explained the dynamics of growth. Just moving from 2 to four people in an organization increases the number of interrelationships by a factor of 300%. The difficulty in gaining alignment and propelling your business forward is the failure to recognize how vital communication, clarity, and frequency of delivering your message are to building a thriving business.
If meetings are a dirty word in your business we suggest you begin by reading Patrick Lencioni's Death by Meeting. Many of the principles and fundamental business meeting he lays out are very similar to the patterns we suggest.
Some of Patrick Lencioni's suggestions for running better meetings include:
1. Know the purpose of your meeting.
2. Clarify what is at stake.
3. Hook them from the outset.
4. Set aside enough time.
5. Provoke conflict.
These are all solid practices for meetings in general. Positioning Systems Strategic Discipline and Gazelles Rockefeller Habits for meetings goes beyond this to provide a template for meetings that cascade throughout the organization and develop the healthy organization that Lencioni trumpets in The Inside Advantage.
Failing to understand the enormous competitive advantage and building block for success that meeting rhythms provide is no better than placing yourself in a position to believe food is simply fuel for the body. Just as eating can provide a spirit of enjoyment not only to nourish but make life more enjoyable, so can meetings propel your business to a higher level of performance that will make you and your people enjoy work to an extraordinary level.
Let us know if we can help you on your journey. Next blog, a discussion on how your leadership may be inhibiting your business and leadership teams growth. We'll return to Great by Choice's leadership qualities of empirical creativity and productive paranoia.