Who should your leadership team be made up of? This depends on the size of your company. Your leadership team that attends daily huddles, weekly, monthly, quarterly and annual planning meetings should be the people that have the greatest impact on your business, and provide critical data and influence on your customers and employees. Regardless the size of your company your leadership team shouldn't exceed ten in number. Beyond this it gets a bit unyielding.
Take a good look at your organizational chart, a good place to look to determine who should be on your leadership team.
The first place to look is management.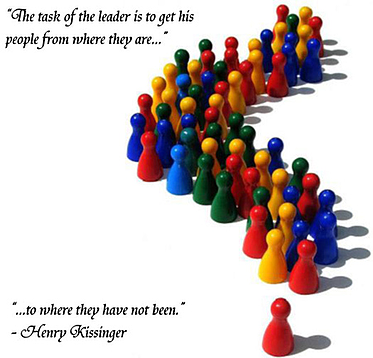 Who is on your management team and how big of a team are they managing? Your management team is responsible for reporting back to their reporting positions to ensure the work you are doing at this level is being communicated so your entire business is properly aligned. Your leadership team should be conducting similar weekly meetings and daily huddles to keep their team informed, accountable for their responsibilities, and most of all delivering upon their metrics. Remember Pearson's Law.
Are your managers responsible for this? How well do they communicate with their team on the progress that the company is making and the priorities the business has? This is the fundamental reason why meetings need alignment and why developing meeting rhythms in our organization is critical.
Many times an organizational chart doesn't provide the greatest overview of who contributes and impacts the business. There are a number of supportive tools that help our clients identify who should be on their leadership team as well as serve as for improving clarity and growing the business. These include:
Your People Key Indicator – Jim Collins: Jim Collins provided this list of three short questions at the Fortune Growth Summit in Dallas(2009). It stemmed from his book How the Mighty Fall. Key seats are where there is a key risk if you don't have the proper person occupying. Collins offered that if the number is not consistently north of 2/3's you probably will not be able to sustain consistent growth
Organizational Processes: Every business has between 4 to 9 processes that drive the business. This document should identify what the processes are, who is accountable for the process and finally what the Key Performance Indicators are that help the process perform better, faster or cheaper. Do you know what those 4 – 9 processes are in your company?
Organizational Structure: the first requirement is to identify the key roles/positions in your company. We have a list to help you get started. This can be more of a challenge than you might think. Once you've identified this roles, then you need to identify the people accountable for each position. Here's where problems begin to identify themselves. The next step is to identify the key measures (Key Performance Indicator – similar to what Your Organizational Processes should measure) for each position. What are the accountability metrics these positions should be responsible for? Finally you will want to take a look at your P&L and Balance Sheet to list the line items these positions are accountable for. The latter should provide lagging indicators while the former step should be to identify leading indicators. Once you've accomplished this you need to review your list to do the following: Identify where more than one person is occupying a seat, where one person is in more than one (multiple) seats, and then the final step in this analysis is to determine whether or not the person occupying that seat is the right fit.
These three tools provide much more than a way to identify the proper people on your leadership team. These are critical steps that every organization should have in place and should review annually if not every six months.
Finally as you prepare to initiate or continue these leadership meetings ask yourself whether or not as the leader you are the best person to facilitate them. Gazelles Business Coach and author of Execution Without the Drama, Patrick Thean, discovered that when the CEO/President/Owner of the business facilitates these types of meetings, contribution from the leadership team is reduced 40%. Add the facilitator pen to your hand – and it reduces group effectiveness & people IQ by another 20%. People work for you because they respect you – so they have 'respected opinion' of what you say. So if you have an experienced facilitator – it really helps.
With an experience facilitator what you're really gaining is not only the contribution and the increased effectiveness and IQ of your people your also gaining the opportunity for you as CEO to really listen hard and learn from what they observe, feel, and hear in these sessions. Often that alone can be worth the investment in a company like Positioning Systems leading your weekly, monthly, quarterly, and annual planning meetings.
Next blog we'll look at the organizational structure for identifying your key people, their Key Performance Indicators (Leading & Lagging Indicators) and the exercise to determining where you have too many occupying seats, one person in multiple seats and if you have the right people in those seats.