Friday afternoon I finally put the finishing touches on my blog I'd hoped to have published much early. It was about how good it felt to be home again. I planned to publish it Friday. I felt good that I'd come home and spent 3 days with my family and my oldest son Dan who'd come in from Washington DC and met with an old classmate and client. I felt solid that I'd be able to adjust my routine and get my Strategic Discipline patterns established again in the safety of my home. I never published it.
Friday evening the roof caved in. With a fever over 102 we had no choice but to go back to the hospital.
There I spent what I consider a lost weekend. Saturday I was virtually down and out, the worst I've felt since I started my treatment. It wasn't so much that I felt bad; I was tired and continuously chilled. I slept most of the day.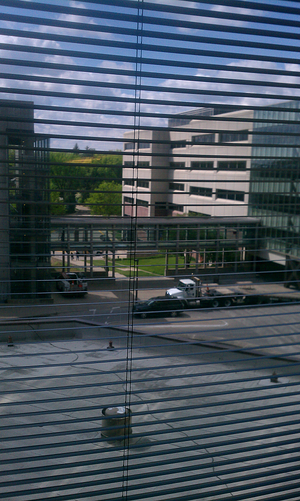 Sunday was better, much better, yet prone to a more chills and energy drain. My temperature ranged from 99.6 to 102, more in the lower range. My son and a friend came up to watch Get Smart with me. I laughed until I cried several times. A good thing to share with your son!
Best of all I got a call from a former high school classmate, Sue Kallas. Long forgotten in my memory, Sue Kallas endured lymphoma just four years out of college. We weren't close in high school, however Sue was in most of my classes and her high academic ability is evident by her being in every college prep class that I took in high school. Sue is a smart woman.
Sue didn't have many friends in high school. She had one that we shared, my closet friend, Steve Swed. As it turned out Sue was not given a chance to survive lymphoma. She was transferred to University of Wisconsin Hospitals where unbeknownst to me she would be let out at times from her treatment to live amongst the real world. Steve was a frequent visitor and escapist from her hospital room.
The fact that Sue is alive today some 37 years after her treatment is a credit to her tenacity, stubbornness and refusal to give in. She refused to believe the doctors. While today she suffers from the chemotherapy and radiation treatments she received, she wouldn't trade that for the 37 years she's lived.
Her advice to me: "Don't believe the statistics or doctors who are doomsayers."
Does this not sound like the Stockdale Paradox?
Sue confronted the brutal truth. Sue indicated most days during her two years of treatments she would be sick, vomiting from the chemo and radiation therapy.
So far this is the worst I've experienced. I can't imagine what Sue went through, nor how painful and depressing James Stockdale's 7 ½ years of beatings and torture were in Vietnam.
Commitment to a desired outcome or priority requires persistence, tenacity, a refusal to give in even when the odds tell you should. I'm not sure why or how I'm going to get to the other side of this bout with leukemia. I'm just confident I will.
How confident are you in your team's commitment to reach your 2nd quarter priorities? You have identified them? You have dashboards to report weekly on progress? Meeting rhythms established for reporting metrics? People don't plan to fail, they fail to plan.
It's been my experience that when pain is involved it's much harder to maintain a good attitude. My question to you is which of your employees might be in pain which is causing them to carry a bad attitude and affect your workplace? That's next blog.